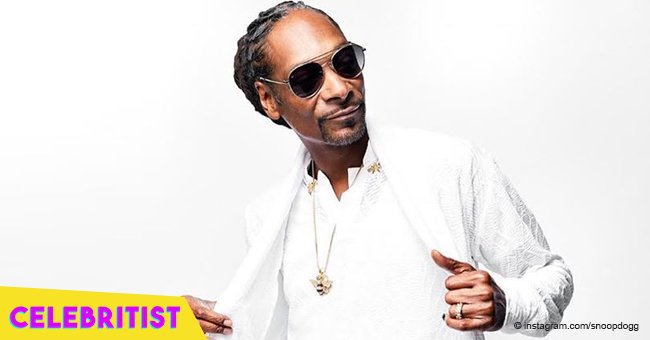 Snoop Dogg shares photo of his growing grandson posing like a pro in T-shirt & brown pants
Snoop Dogg's eldest grandson, Zion Kalvin, seems to be following his grandfather's steps when it comes to fashion style. The adorable boy already knows how to strike a pose for the camera, and now that he's a big brother perhaps he'll be willing to teach his little sister.
Snoop Dogg is a proud father of four children, and the happy grandfather of two. He recently took to Instagram to share a photo of his two-year-old grandson Zion, the firstborn of Cordé Broadus, Snoop's eldest son.
The boy was born from Cordé's relationship to former girlfriend Jessica Kyzer, and while he was kept away from the spotlight for the first year of his life, Zion is now ready to join his famous family in the entertainment business.
Wearing a grey t-shirt with a "Sesame Street" graphic, brown cargo pants and black shoes, the boy posed next to his brand-new neon green skateboard. He looked serious staring to the side, and his newly braided hair made him look like a mini version of his grandfather back in the day.
"Grandpas. Grandson," Snoop captioned the photo. Shante Broadus, Snoop's wife, posted the same picture and captioned it "My Doodle First SkateBoard @zionkalvin I Love Me Some Him #ZionKalvin."
The rapper's followers immediately flocked his comment section with praises for the adorable boy. One user wrote "Grandbabies make the world a better place, I swear they make life perfect," another added, "Oh he's adorable Snoop... Lord the skateboard bigger them him I know he's a force to be reckoned with," and a third one said, "damn he growing fast ..lol wow won't belong he'll be asking grandpa for da Bently..lol."
Speaking about becoming a grandfather for the first time, Snoop confessed in an interview with Today what type of grandfather he was going to be, saying:
"I'm going to be a gullible, get-away-with-everything kind of grandpa. It's just a spark of joy to just look into his eyes and to be able to hold him. I thank my oldest son for making me a grandfather."
Last month, Snoop became a grandfather for the second time, as Corde had his second child, a daughter named Eleven, with his current girlfriend and spiritual guru Soroya Love.
And just like he did when Zion was born, the Dogg took to Instagram to share the good news with his fans.
The 46-year-old hip hop star shared a video that shows a baby girl peacefully sleeping on her crib and draped with a fluffy pink blanket. Eleven has thick black hair and seems to be wearing only diapers while resting.
"My 1st granddaughter lovely day be blessed Y'all," he captioned the video.
If Snoop was a "gullible" grandpa with Zion, is clear Eleven's going to have him wrapped around her little finger. Hopefully, we'll get to see that.
Please fill in your e-mail so we can share with you our top stories!