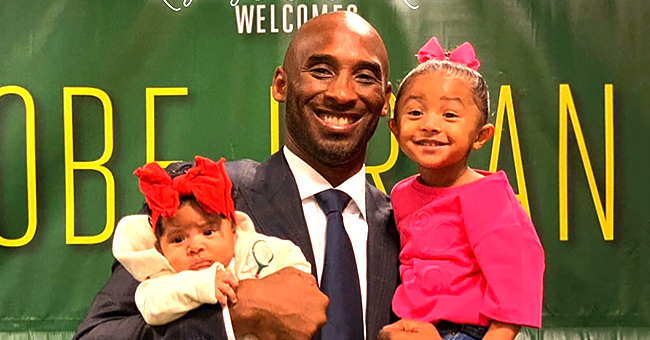 Instagram/vanessabryant
Kobe Bryant Reveals Youngest Baby Daughter Capri, with Wife Vanessa, 'Sleeps like Six Hours!' Calling Her Their 'Best Baby'

The Bryants are going gaga over their latest adorable baby, and who can blame them?
Kobe and Vanessa Bryant revealed that their youngest child, Capri, also known as "Koko", is the best baby ever.
Of course, as parents of three more little princesses, they aren't supposed to do that, but the Bryants are enchanted by the fact that Koko sleeps 6 hours at a stretch.
"She has been our best baby. She sleeps like six hours. She's an absolute sweetheart." Kobe Bryant
CAPRI IS "THE PERFECT BABY"
Any new parent knows the horror of sleepless nights, of an infant who sleeps for two hours at the time (if you're lucky) and refuses to be soothed no matter what.
But the blissful Bryants are boasting that their little Koko sleeps for 6 hours at a stretch, as peacefully as a little angel. Oh, envy!
The NBA star has been teased by his friends and teammates about being hen-pecked with 5 women in the house.
THE BRYANT CLAN WELCOMES CAPRI KOBE BRYANT
Little Capri was born on June 20, 2019, the fourth daughter of the NBA icon and his wife, Vanessa. She has three doting older sisters: Bianka Bella, 2, Gianna, 13, and Natalia, 16.
CAPRI MAKES HER FIRST PUBLIC APPEARANCE
As tiny as she is, Capri has already made her first public appearance alongside her sister Bianca at her dad's book signing at Barnes & Nobel for his latest children's book, " Legacy and the Queen."
KOBE BRYANT LOVES HIS PRINCESSES
The basketball legend revealed that although he always hopes for a girl, his wife Vanessa longs for a little boy and accuses him of jinxing her pregnancies.
But Kobe couldn't be happier surrounded by his little princesses and his adored Queen.
We wish the Bryant family and little Capri, in particular, all the happiness in the world.
WILL THE BRYANTS TRY FOR A BOY AGAIN?
Vanessa Bryant longs for a mini-Kobe, and the player has jokingly told her that boys are "walking tornadoes."
The NBA star has been teased by his friends and teammates about being hen-pecked with 5 women in the house.
"My friends say, 'It takes a real man to make a boy.' I'm like, 'Dude, it takes a king to make a princess … get in line!'" he said.
Are the Bryants planning to grow their family again? Maybe the princesses are eager for a little brother to tease...
Please fill in your e-mail so we can share with you our top stories!