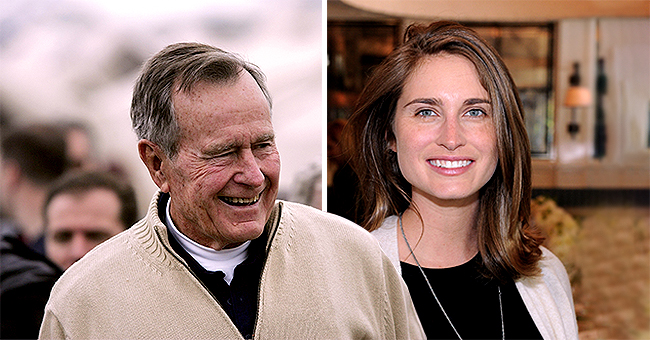 Getty Images
George H W Bush's Granddaughter Lauren & Her Husband David Cuddle Son Max in Pics

Lauren Bush, one of the granddaughters of former POTUS George H. W. Bush, took to Instagram to share beautiful photos of herself cuddling her son, Max
Born in June 1984, Lauren Bush is the daughter of Neil Bush, the fourth son of former US President George H. W. Bush. She and David Lauren, the son of fashion designer Ralph Lauren, started dating in 2004.
On September 4, 2011, the couple tied the knot in Colorado. Four years later, their first child, James Richard, was born. Max Walker, their second son, was born on April 19, 2018, only two days after Barbara Bush died.
Doesn't get any cuter!
In the first photo of the slideshow that Lauren uploaded to Instagram, she appeared wearing blue jeans and a striped shirt while kissing her youngest son. Max, who was sitting on his mother's lap, wore denim overalls.
The mother-and-son duo posed together in the middle of wildflowers in Colorado. For the second pic, Lauren and Max were walking through the vast land while holding each other hands.
One of the most impressive aspects of both photos was the beautiful contrast between the colorful wildflowers, the green grass, and the blue and white sky. For the caption, the proud mother-of-two wrote:
"Baby kisses and wanderings in the Colorado wildflowers."
Her Instagram followers quickly took to the comment section to share their thoughts.
"These are such stunning moments captured and you are glowing from the inside out!" confessed one user.
"Doesn't get any cuter!" admitted another person.
Lauren was not the only member of the family who uploaded a photo of their outing, though. David also took to social media to share his version of Lauren's first pic.
In it, David was wearing a red sweater, grey shorts, and a dark green hat with the US flag on it while holding Max on his lap. "Love among the wildflowers," wrote David in the caption.
The first pic in Lauren's slideshow is very similar to the one she uploaded on December 1, 2018, when she announced George H. W. Bush's death.
In it, former POTUS appeared behind a stand in what seemed to be a public speech while tightly hugging a much younger Lauren and kissing her on the cheek.
When Lauren shared those photos, though, the mood was completely different. In the caption, she admitted that her grandfather was a loving and kind person in public and private and also the center of the Bush family.
Unfortunately, he died at 94 years old on November 30, 2018.
Please fill in your e-mail so we can share with you our top stories!