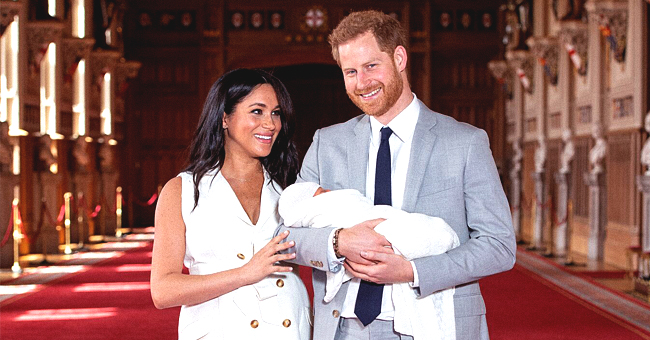 Getty Images
Archie Harrison Mountbatten-Windsor: Alleged Meaning behind Prince Harry & Meghan Markle's Son's Name

Prince Harry and Meghan Markle's choice of name for their first child, Archie, is unique and unexpected. There are, therefore, numerous speculations about the reason they chose the name.
Reports share that there has never been an Archie in the royal family history. They also share that the only name closest to it is that of the ninth Earl of Argyll, Archibald Campbell. Although he died defending his faith, that doesn't appear to be why the couple chose to call their son Archie.
Via social media, avid fans of the British royals have shared their thoughts on the possible reasons why the Duke and Duchess of Sussex chose the name Archie for their son. Here are a few!
THE COUPLE SIMPLY "LIKE" THE NAME ARCHIE
Not all baby names have to have a special hidden meaning of sorts. Emily Andrews, a royal correspondent for The Sun, shares that Harry and Meghan simply like the name because of its generally-known meaning.
"I'm told that #Harry & #meghan chose names for #babysussex that they liked. They said they liked the symbolic meaning of "brave" and "source of action" for Archie and "son of Harry" for Harrison. Archie is of German origin, from Archibald," Andrews shared via Twitter.
Nameberry, a famous site for sourcing baby names accrues to Andrews' tweet that Archie is truly of German origin and that it also means "truly brave."
THE ANAGRAM THEORY
While Andrews' tweet seems somewhat plausible, many chose to believe that the name Archie means much more for Harry and his former actress wife. In response to Andrews' May 8 tweet, a fan, @BrownGemsglynis shares the fast going popular theory that Archie is an acronym of Markle's name, Rachel.
"Archie is the acronym of Rachel. Harrison being the son of Harry (Henry). He was named after his parents. So very proud of Meghan," a part of the tweet reads.
HARRY AND MEGHAN'S NAME CHOICE ELICITS HUMOROUS REACTIONS FROM FANS
Prince Harry and Meghan are top-rated members of the royal family which makes the great extent of the speculations no surprise.
Soon after the announcement of their son's official name, netizens were quick to jokingly conclude that Prince Harry and Meghan must be avid followers of "Riverdale," a popular CW TV series.
A significant trend, however, started after real people named Archie took to social media to air their reactions to the news. The responses are quite hilarious with London-based freelance writer Archie Rhind-Tutt even literally calling for help!
LOL!
Please fill in your e-mail so we can share with you our top stories!