Ivanka Trump Assists Baker in Argentina During South American Tour
Arriving in Argentina for the second leg of her South American tour, Ivanka Trump stuns in a designer dress. 
White House Special Advisor and First Daughter, Ivanka Trump visit's Argentina, as part of a three nations tour of Latin America. The tour is promoting the Women's Global Development and Prosperity (WGDP). It is a government initiative aimed at empowering women in developing countries.
Established in February, 2019, by United States President Donald Trump, the WGDP is creating public-private partnerships to advance women's workforce, entrepreneurial and economic opportunities. 
The aim of WGDP is to facilitate the global economic empowerment for 50 million women in developing countries, by 2025.
Looking empowered herself, debuting a new hair style that media outlets speculate is a move to look more serious, Ivanka made her first stop of the tour in Columbia, on September 3.
On September 5, Ivanka visited Purmamarque, Argentina. Arriving in style, she opted for a mid-length dress by Proenza Schouler. It is estimated that the designer dress retails for $1 690.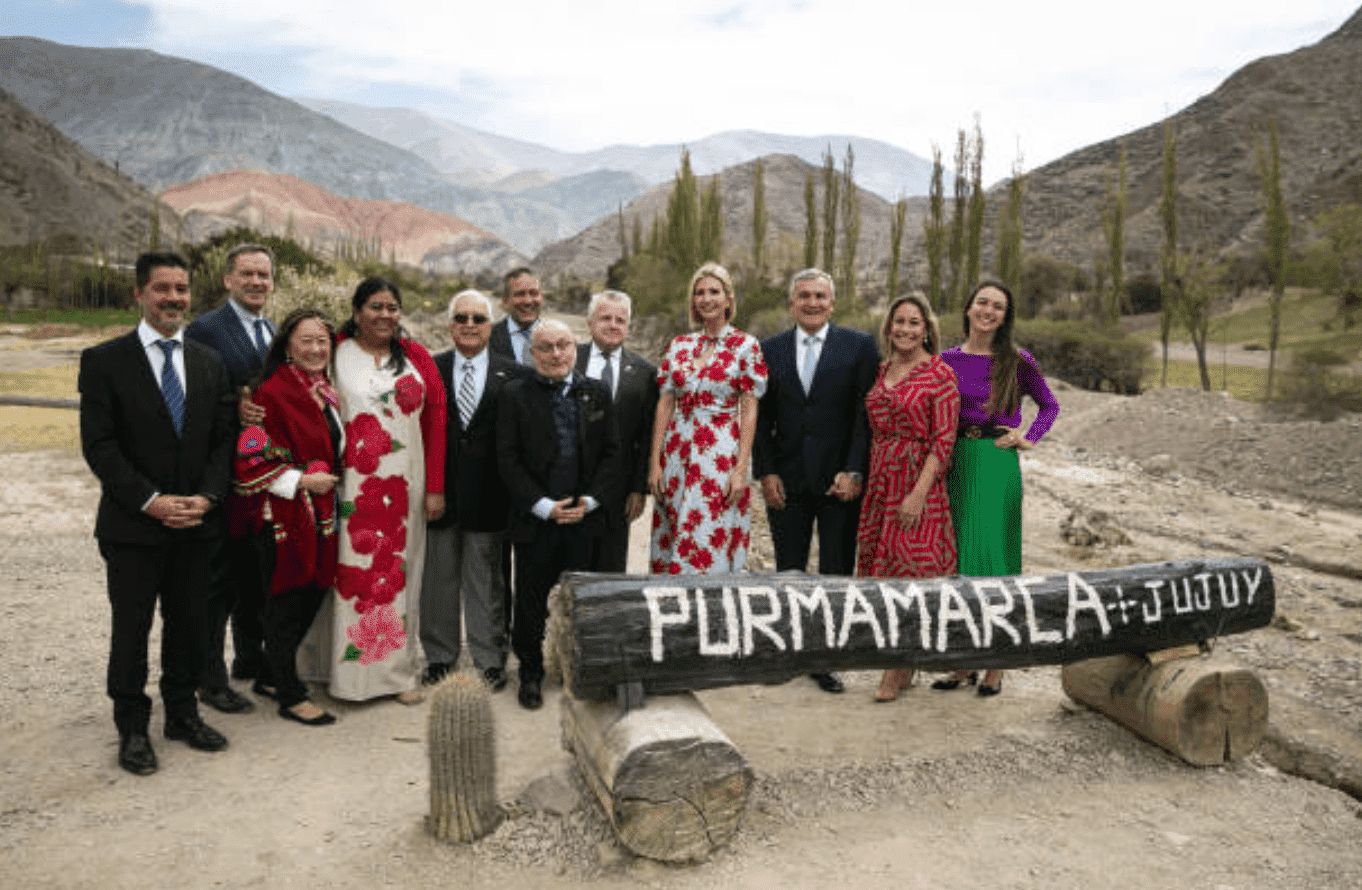 Wearing a red floral dress, she pairs it with baby blue suede heels to match the light background her printed dress.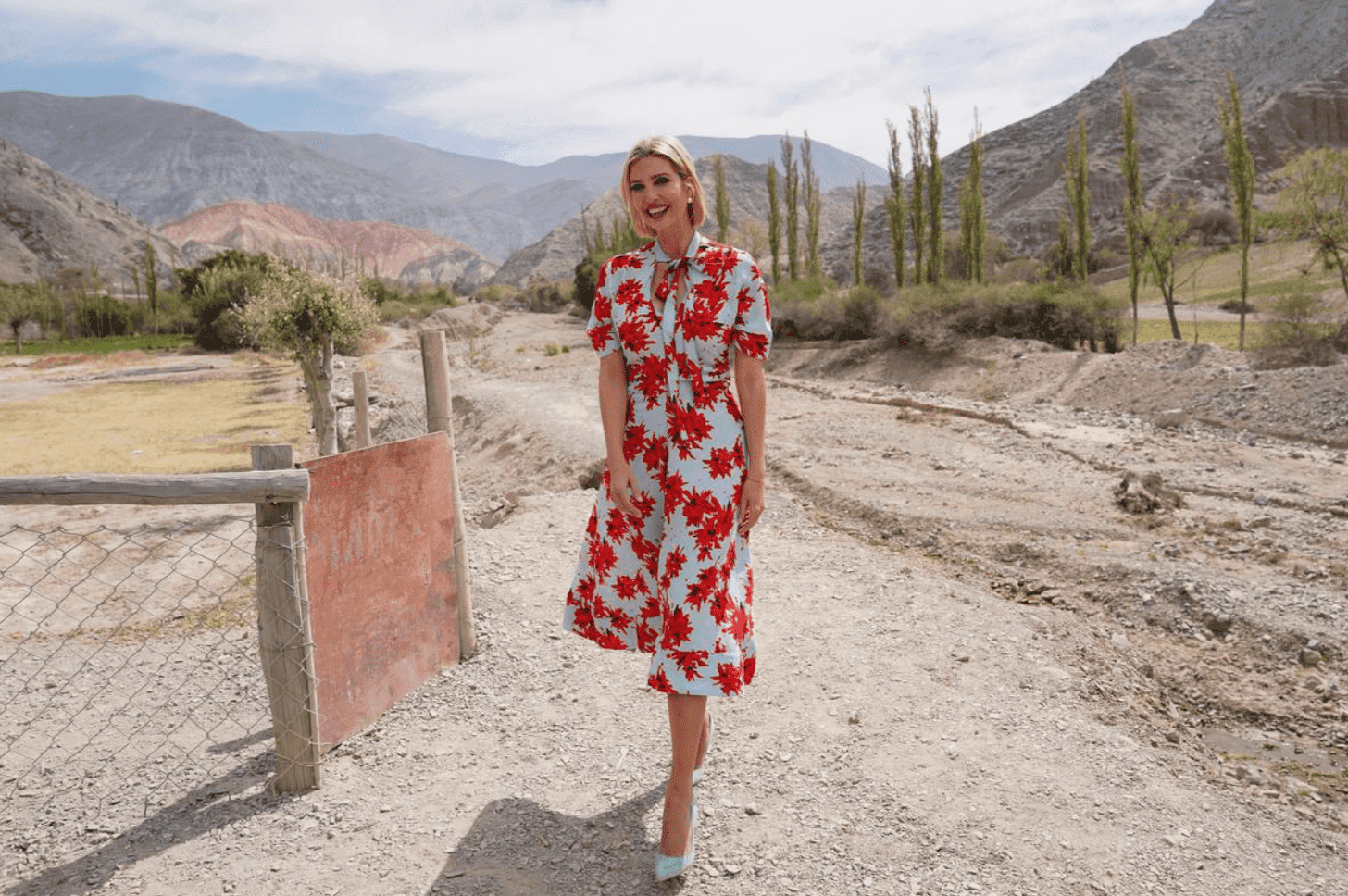 The dress is form fitting, to show off her slim figure and flares out at the bottom to give her a more demure look. The front has a V-neck cut-out, with a bow tie on the neck. She finishes her look by accessorizing it with large pearl earrings and a gold bracelet. 
Accompanied by the United States Deputy Secretary of State, John Sullivan, Ivanka met with Argentinian foreign ministers to discuss the WGDP and other areas requiring financial assistance.
Yesterday in #Argentina Deputy Secretary Sullivan, @opicgov CEO David Bohigian, and @Whitehouse Advisor @IvankaTrump heard from female entrepreneurs at @promujer about specific challenges they face and how OPIC support helps their businesses succeed. #WGDP at work! pic.twitter.com/8g3JvNDSzb

— Julie Chung (@WHAAsstSecty) September 6, 2019
The delegation was taken on a tour of the city, visiting female-run bakeries, sewing factories and other Argentinian owed businesses. Ivanka tried her hand in the kitchen, joining one of the women making a pastry.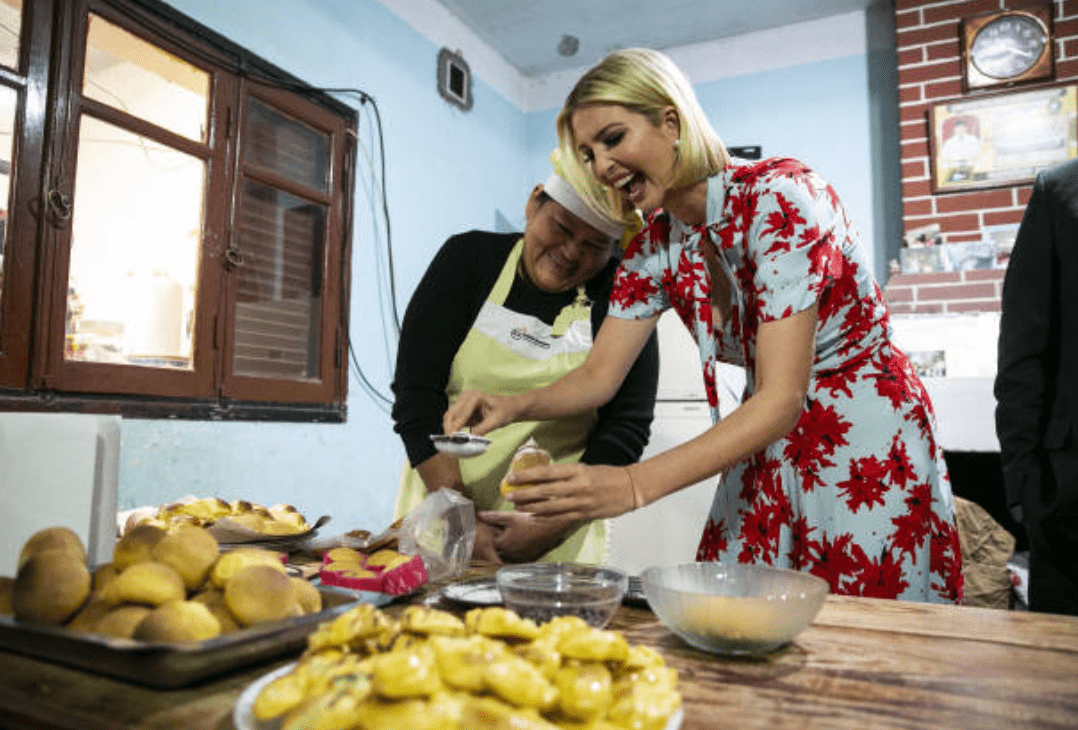 She met with several female entrepreneurs to discuss their need for micro-finance. It is reported:
"One student, Mayra Quinteros, told Ivanka Trump that she sells chicken and soup on the street but dreams of having her own restaurant."
Joining forces with government and private investors, Ivanka's final stop in promoting women empowerment with the WGDP, across Latin America will end in Paraguay.