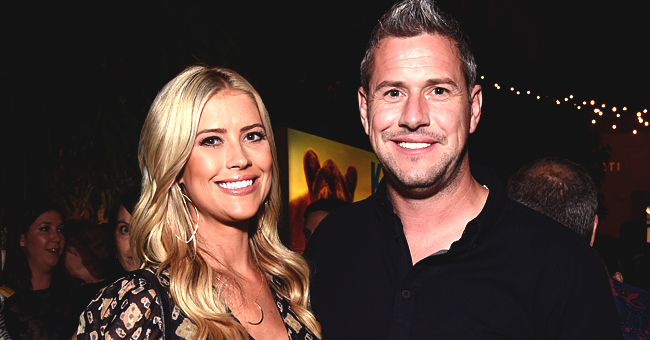 Getty Images
Christina Anstead Shares a Picture of Children Tay and Bray Meeting Their Newborn Brother Hudson
The "Flip or Flop" star, Christina Anstead, Shared a sweet picture of her kids getting excited after they met their newborn sibling for the first time.
Anstead took to Instagram on Saturday to post a picture of their recently extended family. The star gave birth to her first child with her current husband, Ant Anstead. The star was wearing her pregnancy beautifully during her appearance at Discovery's "Serengeti" premiere.
The candid snap of the family featured the family of four looking at the newborn with a loving and excited gaze. Taylor, 8, and Brayden, 4, are Anstead's children whom she shares with her co-host, Tarek El-Moussa.
THE ANSTEAD FAMILY REACTS TO THE NEWBORN BABY
While Anstead holds her newborn son, Hudson London Anstead in her arms, young Taylor and Brayden look at him all excited. Taylor, the eldest child, seems the most excited to have another baby brother.
She gently caresses her hand on Hudson's head warmer with her jaw dropped at the sight of the infant. Brayden, on the other hand, looks at Hudson with a loving gaze from behind his sister.
"Perfectly captured candid moment of Tay and Bray meeting baby Hudson yesterday- just a little excited," she captioned the post.
EX-HUSBAND REVEALS BABY'S GENDER ON TV
Anstead and Tarek El-Moussa, her ex-husband, shared a lot of things. Their show, a marriage, and two kids, Taylor, and Brayden. But after almost two years of separation, Moussa spills the beans on Ansteads pregnancy in an interview.
During an interview with TMZ, Moussa talked about what it was like working with his ex-wife. He said it was going good.
"She's remarried, she's pregnant, everybody knows that she's having a son, my kids are super excited, I'm excited for her new chapter in life."
After he said that, he mentioned her remarriage, pregnancy, and said, "She's having a son," the gender of the baby was yet to be announced by Anstead.
THE CHILDREN ARE FIRST PRIORITY
Even after their very public split in January 2018, Anstead and Moussa are still working together and have no hard feelings for each other.
During the shoot of the 8th season of 'Flip or Flop,' the stars appeared in an interview and said:
"We both travel a lot, so we're very flexible with our schedules," she explained. "We both put the kids first we just decided to really get on the same page and both make sure we're doing the best we can." The stars are working to do their best for their children after they separated.
Please fill in your e-mail so we can share with you our top stories!