Jessa Duggar from 'Counting On' Shares Cute Pics of Her Daughter Ivy Wearing a Bow
Jessa Duggar of "Counting On" melted the hearts of her fans with another delightful upload of her three-month-old daughter's photo.
In a series of snapshots Duggar posted about a week ago, Ivy looks adorable in a yellow-and-white striped onesie and a matching colored bow headband.
Ivy gives wonderful poses as she smiles for the camera. One of the photos also sees her cutely sucking on her thumb while gently closing her eyes.
A  BUNDLE OF CUTENESS
Gushing over her little one, mom Duggar proudly captioned the gorgeous photo, "Our little ray of sunshine."
Her fans definitely agree with her as they quickly took to the comments section to compliment Ivy's cuteness.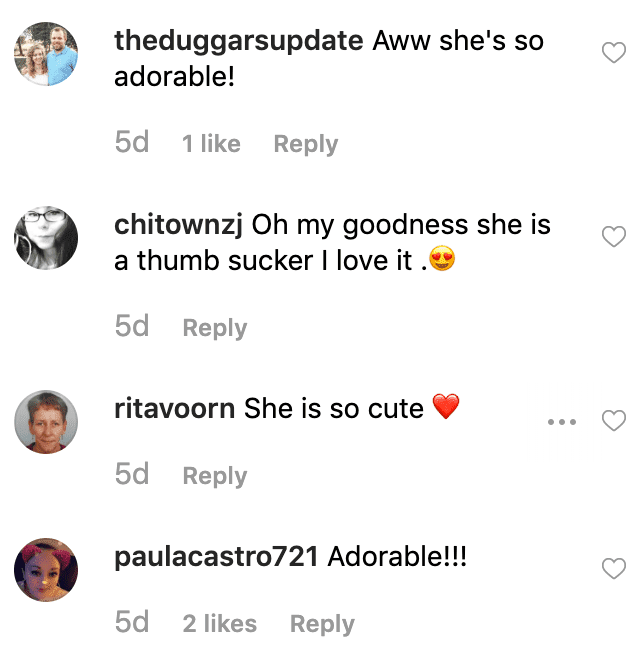 A BLESSING FROM GOD
Duggar gave birth to Ivy, her third child with husband Ben Seewald, on May 26. She weighed 7 pounds and 14 ounces at the time of her birth.
As the couple welcomed the newborn into their Arkansas home, they expressed their gratitude to God for the "precious gift."
"We're so grateful to God for this precious gift. She is already so loved. Her big brothers adore her!" they wrote.
Duggar and Seewald first announced about the pregnancy in January. The couple told at the time that they were predicting the baby to be a boy. However, they stated that they would love to have a baby girl.
THE YOUNGEST SEEWALD
Proud father Seewald also revealed at the time that his other children were eager to meet their youngest sibling. He added, "Seeing our boys meet their new sibling for the first time is something we are really looking forward to!"
This is not the first time that Duggar has delighted her fans by sharing beautiful moments of her newborn daughter.
Since Ivy's birth, the elated mom has been posting a lot of heartwarming snapshots of the youngest Seewald in the family.