Jessa Seewald Shows off Her Almost 3-Month-Old Baby Girl Ivy in a New Photo
After months of silence Jessa Seewald of "Counting On," returns to Instagram. As she shares pictures of her children, fans welcome the reality star back.
Jessa Seewald has been noticeably absent from Instagram. The mother of three is usually very active sharing pictures of her family and keeping fans updated on her life.
Since July her account has been inactive, until her most recent post on August 19. 
Jessa returned in the best way possible, the mother of three shared an adorable photo of her children she shares with husband Ben Seewald.
In simple caption with a picture of Spurgeon Elliot Seewald, Henry Wilberforce Seewald, and Ivy Jane Seewald, she writes:
"These Three."
Her first photo in months shows her growing brood sitting on the couch. Ivy Jane looks angelic in a floral dress sitting on Henry's lap. Spurgeon looks on while Henry places a tender kiss on his sister's forehead.
Her post had a sea of fans flooding her comment section to welcome her back. Many fans expressed how much they had missed seeing her updates on their Instagram feed.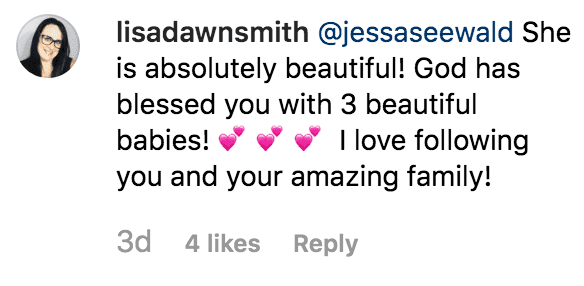 They say babies change in the blink of an eye and boy is that true. In a subsequent post, Jessa shares a picture of Ivy.
She gushes about her daughter nearing her three-month milestone. The proud mother pens an emotional caption:
"Nearly 16lbs, and positively the sweetest disposition I've ever known in a baby. She'll be 3 months old next week. Where on earth has the time gone? How has 1/4 a year already passed? ?Time slow down..."
Wearing a striped dress, the newborn is propped up on a leather couch.
Proving just how much fans missed the "Counting On" star, the post of Ivy has drawn in almost 160 000 likes, within its first day. 
It still remains unclear why Jessa took a hiatus from Instagram. Jessa has not spoken out about her break from social media. 
It is speculated that the demands of motherhood and the results of mom-shaming that she often has to deal with had a part to play in her silence.