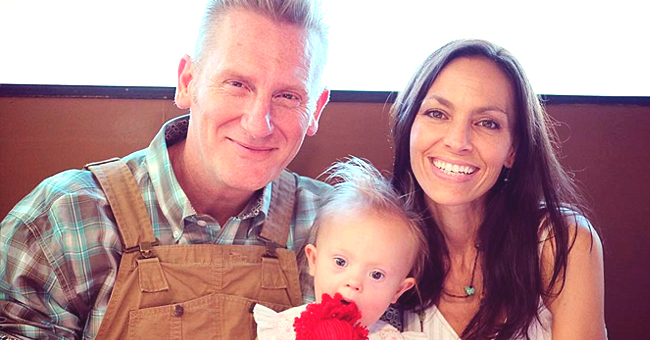 instagram.com/roryfeek
All the Times Late Joey Feek Inspired the World

Joey Martin Feek was a country music singer and songwriter known for being the other half of the Joy + Rory duo along with her husband Rory Lee Feek. Her life, although short, was an inspiration to many for the tireless joy and passion with which he did everything.
In everyday life everyone faces challenges to a greater or lesser degree, however, there are people who face up to these situations and fly even higher. Their lives become a source of inspiration for others and that is why they are always remembered.
Joey Feek is one of those people who still touches the lives of those who know her story, a story of love, struggle and not giving up. Strongly influenced by her religious beliefs and with the full support of her beloved husband, Joey lived and died to be an example for everyone.
INSPIRING RELATIONSHIP
Joey and Rory shared a wonderful love story that began on a night of music, although both of them were dating other couples at the time, they had a feeling that something big was waiting for them.
Joey told Rory clearly that she was dating a very special boy for more than a year and a half and that maybe they would get married, and although Rory felt discouraged, things took a totally different direction later on with a phone call.
They had kept in touch, and Joey called Valentine's Day to tell Rory that their relationship was over. Immediately Rory knew what he had to do, called the girl he was dating and ended their relationship.
Joey realized that she had to give Rory a chance at what she felt and did not allow her commitment to the person she was dating at that time to prevent it. By not giving up he could know true love and be together.
INSPIRATION AFTER BECOMING A MOM
When Rory and Joey began their relationship, she made it clear that she did not want to have children of her own. However, Rory had two daughters from a previous relationship, Heidi and Hopie, so Joey became the step-mother of two girls as soon as they got married.
Even so, Joey didn't feel like having a baby of her own, but in some point, that changed. Joey decided that she would put this matter in God's hands and that if He wished she had a baby, she would accept. A year after this decision, Joey became pregnant with her daughter Indiana.
During pregnancy, Joey experienced both physical and emotional changes, falling completely in love with the idea of having a baby and everything that was happening while the baby growing inside her.
When Indiana was born, she realized that she would face a challenge, perhaps the biggest until that moment, because her little daughter Indiana was born with Down Syndrome. After assimilating Indiana's diagnosis and knowing that they would face certain situations as she grows up, both she and her husband Rory saw in their daughter a wonderful blessing that God had sent her.
Joey maintained a strong and deep relationship with Heidi and Hopie, Rory's daughters, always confirmed how much she loved them and how important they were to her life. During her last time on the farm before leaving, she spent as much time with them as she could talk about the moment she would have to leave them and the hope they share of seeing each other again in Heaven.
COMMUNITY INSPIRATION
Twenty years ago, Joey and Rory bought the farm where they lived until her passing and where Rory, who is raising a child again as a single father, lives with her little Indiana. In the community, they are both known for being neighbors who had their homes open to receive and share with them.
This is how for years the Freek opened their house to receive their beloved neighbors and people from the village, which they brought people from all over, in a series of concerts called "Farmhouse Concert Series". They were events that the community loved to attend, where Freek husbands shared and celebrated food, family, fun, and faith.
These events brought a renewed source of commerce for the community, because when travelers attended it was a perfect opportunity for local producers to sell their products which improved the economy of the place. Joey left a mark on the community in which she loved to live.
INSPIRATION IN THE DISEASE
A few months after giving birth to her little Indiana, and during a routine checkup, Joey received one of the most devastating news a person can receive, she had cervical cancer.
However, despite being just greatly disappointed with the diagnosis, as she revealed in an interview, she found in her deep religious faith the strength to face the treatments she had to undergo. Her beloved husband Rory, her three daughters were always by her side also giving her all her love.
Unfortunately, the doctors told Joey that the treatments were not giving the expected result and would only prolong her life for a very short time. Then Joy made the most difficult decision of her life, she would stop receiving the cancer treatment.
In October 2015, Joey explains in her blog that she didn't leave the hospital to die, but to live, so she could sit on the swing in the backyard of her house, with her husband holding their hands while they both enjoy the sunset and see they daughter Indiana play in front of them.
Joey said: "I pray that one morning I just don't wake up, but I don't fear anything because I'm so close to God and we've talked about it so many times. I know he's close. And I know he loves me. I'm really at peace. I still believe there's healing in prayer."
INSPIRING LEGACY
Unfortunately, Joey left this world surrounded by her loving husband and daughters. And although the grief and pain of the loss of his musical partner, made Rory move away from the stage to be 100% with his daughter Indiana all this time, he will soon sing again.
Rory has shared in his blog that he will sing again although he is very nervous to do it without his beloved wife. It has been motivated by the charitable cause because the organization that provided them with financial support during Joy's treatment needs him. And life went on with concerts in farm again and a new job.
He feels that it has been a bit selfish to remain alone the beautiful music that together with Joy composed and surely soon his voice will be heard again as a tribute to a strong and extraordinary woman continuing her legacy of love and inspiration for others.
Joey and Rory had a successful career together, with concerts, videos, television show and finally as winners of the Grammy Award in 2016. With a total of eight albums together, Joey left a musical legacy that remains alive. Today was her 44 birthday, celebrate life.
Please fill in your e-mail so we can share with you our top stories!