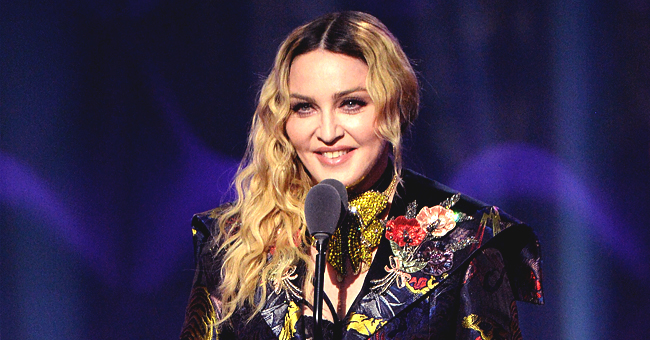 Getty Images.
Inside Madonna's Relationship with All of Her 6 Children

When it comes to Madonna's six children, her relationship with them is different from the way she relates to the world, and it's nothing like anyone expects.
When the name, Madonna, comes to mind, the picture of an eccentric, non-conforming, rule-breaking, and pop goddess pops up. But when the legendary singer is not channelling her inner "Madame X," she is a mom-of-six, and her life with her children is different from her public image.
MADONNA IS ONE STRICT MAMA
The singer is a single parent to her six children, and during her interview for British Vogue, June issue, she admitted that it is not an easy feat. But Madonna is as dedicated as a mother can be, and quite strict too.
The "Like A Prayer," crooner, admitted to the fashion magazine that she's protective of her children, and would not let the younger ones have a personal mobile phone until they are older.
"I'm going to stick this one out as long as possible because I made a mistake when I gave my older children phones when they were 13."
Madonna added that it ended her relationship with them to some extent, as her oldest two, Lola, and Rocco, focused more on social trends, than her, and it affected their perception of themselves.
HOW SHE ENDED UP WITH SIX CHILDREN
Madonna's six children came from two relationships and adoptions from Malawi. Her daughter, Lola, is from the singer's relationship with Carlos Leon, her former trainer, while son, Rocco, from the "Material Girl" singer's marriage with Guy Ritchie.
The adoptions from Malawi gave her son David, daughter, Mercy, and twins, Estere and Stella. They were adopted in 2006, 2009, and 2017, respectively.
Although the mom-of-six had some challenges with the Malawi government, she overcame them by going to court and her generous donations to education in the country.
The singer who once said she doesn't let her children watch TV or read magazines until they are older, have a close relationship with them and has no plans to make them follow her path in life. She once said,
"What I want my children to be, is loving, compassionate, and responsible human beings."
MADONNA TOWED HER MOTHER'S LINE
Interestingly, Madonna, who got named after her mother, Madonna Louise Ciccone, has the exact number of children her mother did. The difference is that while the Grammy winner grew up in poverty, her children are growing up in affluence, thanks to their mother's determination to make something of her life.
When the "Everyday" singer arrived in New York at the age of 18, she had only $35 with her, and after years of odd jobs, failed auditions, singing backup for bands in the '70s, she had her big break in the '80s.
Today, at age 60, the Pop Culture narrative is not complete without Madonna. However, despite the success and fame the "Holiday" singer has enjoyed, her greatest accomplishment remains her children. They are the light of her life, and she loves them unconditionally.
Please fill in your e-mail so we can share with you our top stories!