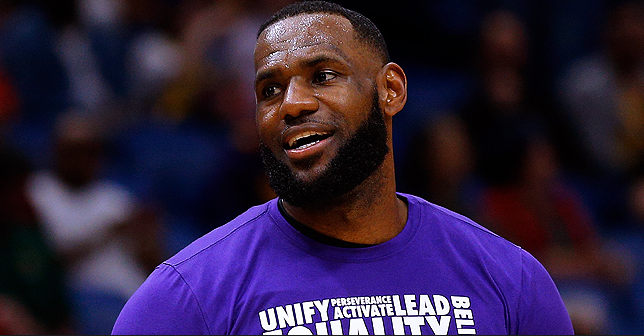 GettyImages/GlobalImagesUkraine
LA Lakers' LeBron James Posts Pics of His 3 Kids Bronny, Bryce & Zhuri at I Promise School in Ohio

LeBron James' love for his children is a truth that many cannot deny. It is also a fact that he reminds fans of as he shares a photo of them via Instagram.
NBA Champion, LeBron James certainly had the right idea when he decided to start a school in his hometown. LeBron began the "I Promise School" in Akron, Ohio, in July 2018 with an attendance of 240 third and fourth graders.
Since then, both the basketball star and his students have been in the news, especially since most people looked at the group of students as "terrible performers who have behavioral issues," as revealed by Fox News.
But that's all gone as Fox News
reported
that more than half the children are doing well in the school.
According to the New York Times, the academic results from the Measures of Academic Progress showed that 90% of the students either "met or exceeded" the set goals in reading and math.
LeBron is a proud dad, and he has no issues letting the world know. During an interview, the 34-year-old stated:
"These kids are doing an unbelievable job, better than we all expected. When we first started, people knew I was opening a school for kids. Now people are going to understand the lack of education they had before they came to our school. People are going to understand what goes on behind our doors finally."
He is also keen on showing off how proud he is of his kids. His three children – Bronny, Bryce & Zhuri – recently paid a visit to the "I Promise School" and LeBron shared a snap to commemorate the moment.
Taking to Instagram, LeBron
posted
a shot of his children as they posed in front of a mural at the school. The snap's caption reads:
"My LEGACY!! #JamesGang #Bronny #BryceMaximus #ZhuriNova."
The kids look comfortable as the youngest and only daughter, Zhuri took a spot on her 15-year-old brother Bronny's shoulders.
Celebrities and fans alike took to his comment section to applaud him as well as like the post almost a million times.
THE GREATEST OF ALL TIME…ON THE COURT AND AT HOME
Widely considered one of the greatest basketball players ever, things weren't always great for LeBron James and his family. Things were so rough for the star athlete that he and his wife, Savannah James, moved from one apartment to the next every few months.
But all that is behind him now as he is the highest-paid player in the league. His new status, however, doesn't stop him from putting his family first.
Business Insider reports that he even apologized to his partner of 17 years for the trouble that comes with his quest to become an NBA star.
Please fill in your e-mail so we can share with you our top stories!