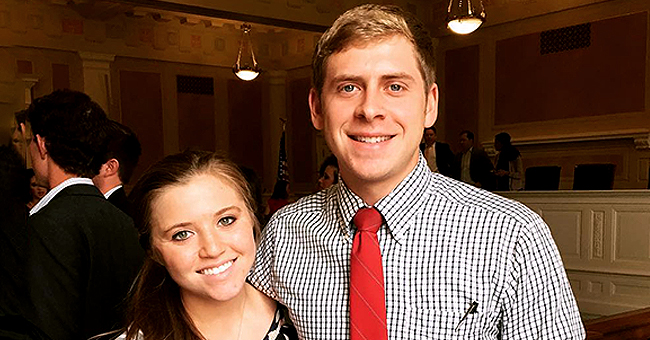 instagram.com/austinandjoyforsyth
Joy-Anna Duggar & Husband Austin Forsyth Kiss after His Return from Hurricane Dorian Relief Work
Joy-Anna Duggar celebrated the return of her husband from relief work in the Bahamas with photos of the two of them being affectionate. They had a spectator.
Joy-Anna Duggar's husband, Austin Forsyth, is back from his trip to the Bahamas for relief work assisting the victims of the fatal Hurricane Dorian. To celebrate his return, Joy-Anna took to their joint Instagram account to share affectionate photos of the two of them.
In the first photo, the young mother hugged her man as their son, looked on in the background, and the second, the two are captured kissing. In the accompanying caption, Joy-Anna wrote,
"He's home!" and asked her followers to "Keep praying for all @medicorps and some of my family as they are still working down in [the] Bahamas."
During Forsyth's time away, his wife coped by spending time with other women whose husbands' were away on the relief mission, as evidenced by one of her posts on Instagram.
The mom-of-one also kept her followers updated about her husband's movement. Upon his arrival in the Bahamas, she shared a photo of the dad-of-one with other volunteers who happened to be members of the Duggar family and their close friends.
Forsyth travelled in the company of Jana Duggar, John David Duggar, Lawson, and Nathan Bates from the TLC show, "Growing Up Bates."
The group travelled with the Christian organization, Medi Corps last Tuesday. According to a post by Jim Bob and Michelle Duggar, they went to see what they could so to help those whose lives got wrecked by the hurricane.
The group except for Nathan landed in Nassau from where they'll proceed to the Islands affected. Based on a United Nations report, about 66,000 people need food aid in the hurricane torn Caribbean country, and Red Cross puts about 13,000 homes destroyed, and their owners displaced.
While the intentions of the Duggars' are noble, many have questioned the sincerity of it. Some see it as a ploy by their patriarch and matriarch to get more publicity for their show and have questioned the readiness of the group that went to the Bahamas to offer help to those affected.
Reacting to these doubts, Joy-Anna wrote in an Instagram post,
"… so thankful that [Forsyth] can use his EMT skills to help others."
And when a follower asked if her husband is certified, the proud wife responded,
"Yes, he is a certified, EMT."
The rest of the Duggar-Bates group remain in the Bahamas, and while they are there, the thoughts and prayers of their fans are with them.
Please fill in your e-mail so we can share with you our top stories!