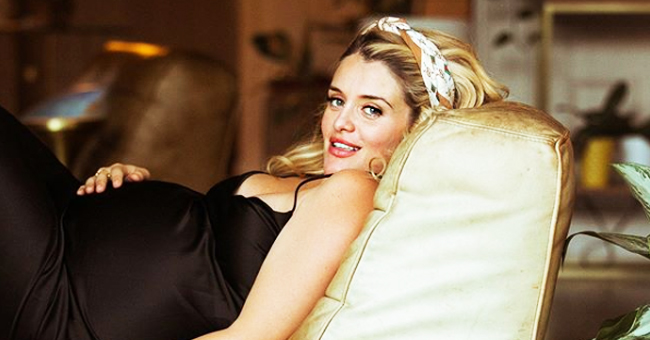 instagram.com/daphneoz
Dr. Oz's Daughter Daphne Melts Hearts as She Cuddles and Kisses Baby Gigi in Makeup-Free Video
Former host for 'The Chew,' Daphne Oz share's a make-up free picture enjoying some bonding time with her newborn daughter.
Daphne Oz is an author and television personality. She is married to John Jovanovich. The couple have three other children, Philomena Bijou Jovanovich, Domenica Celine Jovanovich and Jovan Jovanovic Jovanovich.
On August 14, Daphne and her family welcomed her fourth child, a girl, Giovanna Ines Jovanovic. Sharing a video of some down time with her new-born daughter "Gigi," a make-up free Daphne is enjoying bonding with her youngest child, she captions the video:
"Sunday snuggles."
Laying with "Gigi" on her chest, Daphne gives her tender kisses on the nose and stares into the camera. Glowing from the love she is feeling in that moment, she smiles at the camera. Holding her daughter close, Daphne appears to be enjoying some skin-to-skin contact.
According to UNICEF, skin-to-skin contact is when baby lays down on her mother bare chest. Just like Daphne, often the baby is covered with a blanket for warmth. This is type of bonding is important because it helps soothe the baby, regulates their heartbeat and helps with other developmental outcomes.
It's no surprise that Daphne has shared a video looking make-up free. She has always shared body positive messages with her fans, a lifestyle she has embraced herself. Talking about why she posts intimate pregnancy and post-pregnancy pictures, she says:
"I feel safe posting pics like this for all of you because I get how hard it is to feel good in our skin, whether we're trying to lose or gain weight, whether we've had babies or not. We are under constant scrutiny."
Despite the negative comments she has received on social media, the mother of four has been honest with her insecurities about pregnancy and the challenges that come with losing pregnancy weight, she explains:
"I am not perfect, I have not reached all my goals, I still see all my flaws first. But progress is everything, and one positive feeling begets another."
Admitting that having children back to back has been hard on her body. The sweet kisses Daphne gives "Gig" reinforce why some mother always say that despite the struggles, fears and lack of sleep, holding your child in your arms makes it all worth it.
Please fill in your e-mail so we can share with you our top stories!