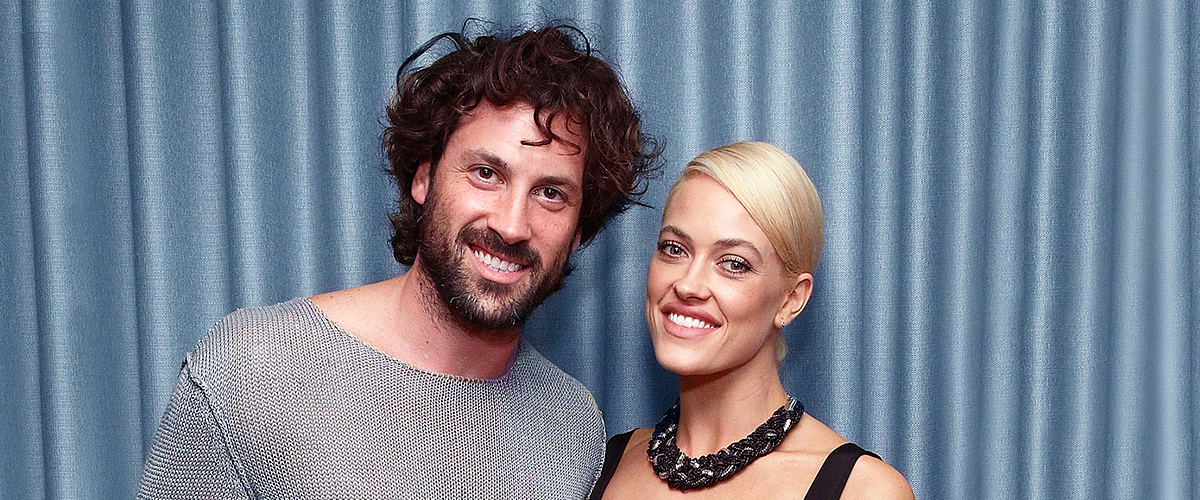 Getty Images
Inside Maksim Chmerkovskiy and Peta Murgatroyd's Love Story
"Dancing with the Stars" professional dancers Peta Murgatroyd and Maksim Chmerkovskiy have been married since 2017. Their love story is one of a kind.
Peta and Maksim have been on and off dating since 2012. During an interview with Health Magazine, Peta revealed that she didn't know their first date was actually a date. She even considers that it was not an "official first date."
"I'm in love with you, and I want to be in love with you for the rest of my life."
Peta Murgatroyd and Maksim Chmerkovskiy's first date
The professional dancer admitted that it happened on the second season of "Dancing with the Stars." Since she was worried about something, Maksim suggested talking about it with him while having dinner.
Peta accepted but didn't know something romantic would be involved until Maksim picked her up and took her to a very fancy Los Angeles restaurant that had plenty of "fairy lights" and "candles."
"I sat there, and I was like, 'Oh, that's what's happening,'" Peta said. Thankfully, the dinner was not awkward as they had chemistry and even flirted during the night.
Once they finished eating, he took her back to her apartment. Although she is not sure, Peta pointed out that she "thinks we kissed in the car" before she headed back home.
She added that Maksim was a gentleman the entire time as he walked her to her door and didn't try to "get me into bed or anything like that."
Maksim's proposal
On December 5, 2015, Maksim proposed during a performance of "Sway: A Dance Trilogy" in Miami, Florida. Soon after asking her to marry him, Maksim uploaded a beautiful photo on Instagram to announce the big news.
In it, the Ukrainian dancer appeared wearing black pants and a white shirt. He was kneeling and holding a ring in front of Peta, who had a silver outfit used for her dancing routine.
She was looking down at the ring and her now-husband while her hands were together in front of her mouth, proving how surprised she was.
While onstage, Maksim pulled out the ring and told Peta, "I'm in love with you, and I want to be in love with you for the rest of my life."
The aspect that made everything even better was that the rest of the dancers behind them were cheering on them. For the caption, Maksim wrote: "She said 'yes.'"
Their wedding
Peta and Maksim took their time to arrange everything and, on July 8, 2017, they tied the knot at Oheka Castle in Long Island, New York. Peta confessed that Maksim had been in love with Oheka Castle for years.
"I had never thought of being married in a castle, but my jaw dropped when I first saw it," Peta confessed.
As per her wedding gown, the professional dancer admitted she didn't want a "stark white dress." Peta pointed out to loving the "old-fashioned feel" of ivory, which was the perfect match for the castle.
Maksim, on the other hand, opted for black pants. A white shirt and a crème suit and bowtie.
Their first son, Shai
A few months before getting married, Peta and Maksim welcomed their only son, Shai Aleksander Chmerkovskiy. The proud father announced his birth on Twitter, adding nothing but his name, date, and time of birth.
The boy, who was six months old when the wedding took place, served as the "prince of honor."
Peta's thoughts on having more babies
During a conversation with People held in September 2018, Peta confessed that she and Maksim were planning on giving Shai a sibling.
At the time of the interview, she said that it probably would happen "in six months' time." However, it's been a year already, and they have not announced a second pregnancy yet.
She pointed out at that time, though, that their schedules were full, so that is probably the main reason they have not said anything about a second child.
At the moment, the couple is busy taking care of Shai. Apart from that, Peta was announced as one of the professional dancers on the upcoming season of "Dancing with the Stars."
Since she had been away from the show for the last two seasons, the news "overwhelmed" her with excitement. Maksim, on the other hand, won't be returning this season, but his wife admitted that the door is open!
Please fill in your e-mail so we can share with you our top stories!