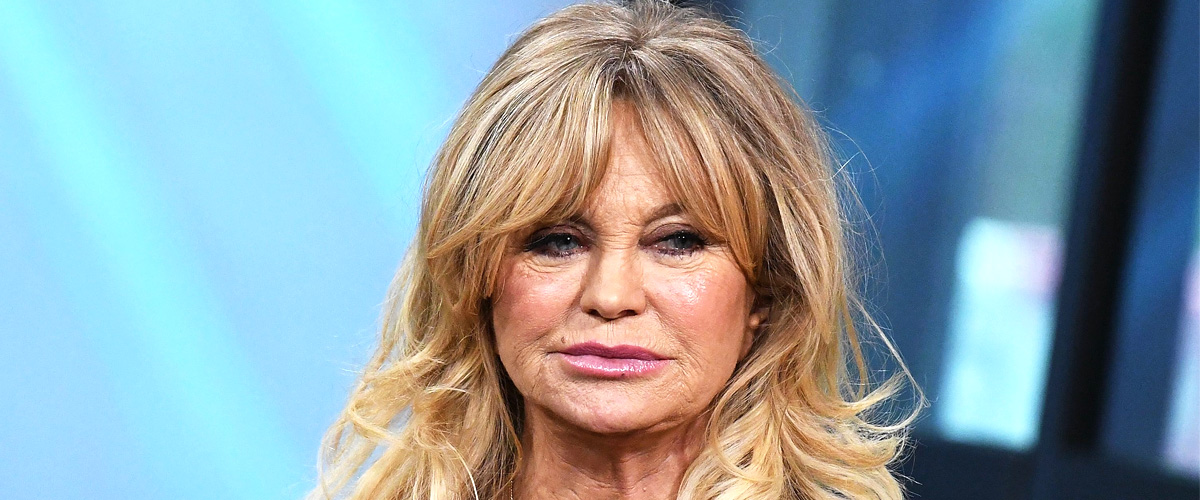 Getty Images
Goldie Hawn on the Time Her Son Nearly Died: 'Prayer Can Work'
Most people know Goldie Hawn for her outstanding career in the entertainment industry. However, not many know that her son, Oliver, almost died when he was born.
The "Cactus Flower" actress married musician Bill Hudson in 1976, only a month after she and Gus Trikonis' divorce was official. Together, they had two children: Oliver and Kate, who followed on their mother's footsteps and became actors.
"I asked God, I said, 'Use me. Use me."
Oliver Hudson's health problems after birth
While the birth of a baby is one of the most special milestones in the life of a woman, Oliver's was the opposite. Born on September 7, 1976, he had to be taken to the NICU due to birth complications.
In an interview with People, Goldie shared some details about the frightening situation, admitting that she suffered from toxemia, also known as preeclampsia.
According to WebMD, that condition causes "high blood pressure and excess protein in your urine. It can develop any time during the second half of your pregnancy – even during labor or up to six weeks after delivery."
Due to her toxemia, she had to be wheeled upstairs to the NICU to see Oliver, who was struggling at the time, a day and a half after his birth.
Goldie Hawn's prayers saved him
After pointing out that she was not a religious but a spiritual person, Goldie said that she emptied her mind, got very calmed, connected to the universe, and placed her hand on Oliver's chest, right where his heart was.
"I asked God, I said, 'Use me. Use me. Come through me. Use me to heal my son.' And I started watching his heart rate go up," the actress revealed, later admitting that prayer can work.
As soon as she saw that, Goldie called the nurses around asking what was happening, and the doctor then got into the room and told her that mothers have the power to heal their children.
"I wasn't in the church of the synagogue. I was in the ICU unit. It was a beautiful thing to be able to share with mothers who have some of these problems that we have a lot of power. Those babies just came out of us," the "First Wives Club" star added.
Oliver nowadays
Thankfully, Oliver got better and, nowadays, he is a 43-year-old actor who has worked on shows such as "Dawson's Creek," "Rules of Engagement," "Nashville," and "Scream Queens."
The most recent project he has worked in is "Splitting Up Together," an ABC sitcom wherein he plays Martin, one of the main characters.
Kate and Oliver Hudson's relationship with their father
Unfortunately, the relationship that both Oliver and Kate have with their father is not as good as they would like. Bill Hudson abandoned the family when they were just children, something that has left a mark for years.
During an interview Kate had with Howard Stern on his show, she said that Bill was not always absent as he was with them when they were young, but that eventually left.
"I really do recognize whatever those issues are, it's just something that he has to live with, and that must be painful for him. So, I forgive him," the actress said before adding that forgiveness was the "greatest tool" to move forward.
Kate pointed out that her mother never spoke poorly of him and that she and Oliver understood that Bill and Goldie's problems had nothing to do with both of them.
Finally, Kate admitted that all she went through with Bill made her who she is at the moment, adding that she has a "thick skin" and is "incredibly resilient" for the whole experience, something that Oliver probably feels, as well.
Oliver and Bill are in a better place now
During a 2018 interview Oliver had with Larry King, he pointed out that they were "trying" to have a friendly relationship and that they have "shot some texts back and forth."
The actor added that they started keeping in touch more frequently after a dark comedic post he did on Instagram.
At the moment, Oliver is married to actress Erinn Bartlett. The pair tied the know in June 2006 in Cabo San Lucas, Mexico. Together, they have three children: sons Wilder and Bodhi, and daughter Rio.
Please fill in your e-mail so we can share with you our top stories!