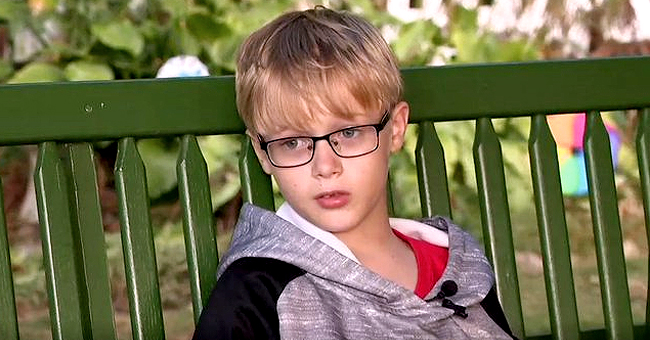 twitter.com/NYDailyNews
Ohio Boy Has School Lunch Taken Away on 9th Birthday over Unpaid Balance

Jefferson Sharpnack from Ohio was embarrassed in front of his schoolmates when lunchroom staff took away his lunch on his ninth birthday celebration as a result of a cafeteria balance of $9.
On September 3, Sharpnack was at his school when he took a stab at ordering cheesy breadsticks for lunch. However, the lunch lady took away the items and replaced it with bread on cheese from the fridge, ABC-affiliate News 5 Cleveland reported.
"I got my cheesy breadsticks and put in my number," Sharpnack said. "And when I was going to check out, the lunch lady didn't say anything, took away my cheesy breadsticks and sauce, put them over there, and took out bread on cheese from the fridge and put it on my tray."
On August 30, Sharpnack returned home from Green Local Schools with a note saying he owed $9 for his lunch account.
To fix things, his grandmother, Diane Bailey, called the school first thing the next week. After calling, Bailey thought her grandson's account was on favorable terms with the school.
Along with his two brothers, Sharpnack moved to Ohio on August to live with their grandma. The kids are supposed to be enrolled in the free and reduced lunch program.
According to Bailey, the administration told her that she could write a check for her grandson's lunch balance until the free and reduced lunch registration paperwork was prepared.
But on September 3, Sharpnack got back home from school and stated it was the most terrible birthday ever. The boy then told Bailey what occurred at lunch.
"In my mind, he didn't owe anything. I owed the money, the parents, the school district," said Bailey. "And my other question is, if they take the food off of your tray, they have to throw it away."
She added, "You would take the food off a tray and you can't reserve it? You're going to throw it away and not feed the child? That doesn't make sense to me."
In a statement, a spokesperson for Green Local Schools told NBC News that Sharpnack's lunch was replaced with a cheese sandwich, side dish and serving of milk.
On September 9, the school answered with a policy change. On the school's Facebook page, Superintendent Jeff Miller shared:
"All students enrolled in PreK through twelfth grades will receive the standard lunch for the day at their respective buildings regardless of their account balance.
"We are sensitive to the financial hardship families incur and challenges presented due to the cost of school breakfast and lunches."
Miller added that in coordination with Family Support Specialists, their staff will keep on working with families to guarantee they have access to all accessible resources to help with acquiring school meals.
Please fill in your e-mail so we can share with you our top stories!