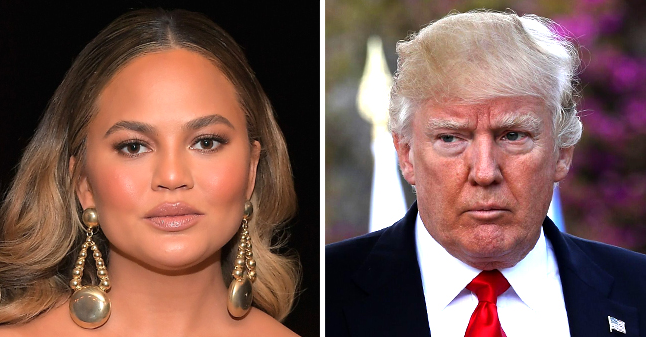 GettyImages/GlobalImagesUkraine
Chrissy Teigen Reveals Her Reaction to Trump's Late-Night Tweets about Her & John Legend on 'Ellen'
Chrissy Teigen speaks out after getting into a Twitter battle with U.S President Donald Trump during the week.
During the week, television personality Chrissy Teigen and her husband John Legend went into it with Donald Trump after he attacked them on Twitter. The U.S President had called John and his wife "a boring musician and filthy-mouthed," respectively.
Chrissy, whose first response was "lol," has now come out to state that she was angry at the President's posts as reported by PEOPLE.
She made the revelation during an appearance on "The Ellen DeGeneres Show" – her first interview since the President's rants. In footage uploaded on Ellen's YouTube channel, Chrissy said,
"Trump just goes on these rants. You wait for him to say something, but you don't think it's gonna be you."
When asked by Ellen what had transpired when she [Chrissy] saw the President's outburst, the mother-of-two
stated
:
"My heart stopped because at that moment you know you're just about to get the wildest group of people ever. He just went in. He called John a 'boring' musician and his 'filthy-mouthed wife,' which those two things are true. John is boring; I do have a filthy mouth. But when it's you, when the card lands on you that day, it's just really like, 'Oh, crap,' because your whole night's ruined."
She and John then spent their night finding the right words to pass their message across to Donald. She eventually ended up calling the President a "[expletive]" – a term which trended on Twitter as #PresidentPAB.
Of course, this battle isn't the first one that Chrissy is getting into with Donald. She claims that she has been saying a lot of things about him since 2012. But she has learned to slow down when tweeting so as not to offend anybody.
Deadline
reports
that Donald had lashed out at Chrissy and John after seeing the latter discussing criminal justice reform on MSNBC.
HOW IT ALL BEGAN
Lester Holt anchored the interview which aired on NBC Nightly News with John Legend appearing as a guest. The special focused on mass incarceration and the broken criminal justice system.
PEOPLE reports that the program mentioned that the 73-year-old Donald signed the First Step Act, a reform measure, into law last year.
The report adds that Donald is annoyed at not getting enough recognition and applause for signing the Act into law. His ire led him to lash out at John and Chrissy - who had nothing to do with the interview her husband appeared on. This was what brought about the clap-back by the TV personality.
Please fill in your e-mail so we can share with you our top stories!