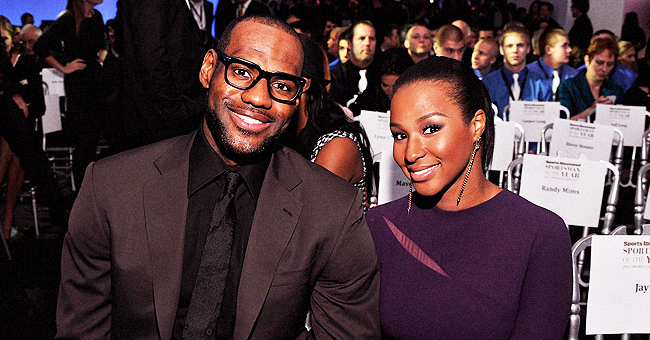 GettyImages
'Get It Grandma!' Lebron James' Wife Celebrates Her Grandmother's 100th B-Day with Sweet Photos

The all-time basketball champ's wife, Savannah James cannot curtail her joy seeing her grandmother turn 100.
The mother of three shares her excitement with the world on social media, she uploaded an image of her grandmother in a bid to pay her tribute for clocking another year.
The Instagram post featured Savannah's grandmother in a silver-colored crown. The centurion donned shimmery apparel with glittery jewelry.
Grandma didn't forget to bring on her A-game as she smiled for the camera. Her granddaughter's caption complimented her age-defying resilience. The post read:
"100 years of life!! Get it, Grandma!!#HappyBirthday #Centenarian #ComethroughGenes."
Her fans and followers joined in on the celebration. Some fans commended the admirable love between grandmother and granddaughter while others posted heartwarming emojis.
Lebron's wife unrelentingly posted a second image in honor of her grandmother's day and revealed to her followers that she is the favorite grandchild.
Apart from being able to steal the heart of her relatives, the philanthropist also loves to help the needy. In her hometown of Akron, both Savannah and her man have made immense contributions that are highly recognizable.
She continually moves around schools in her childhood neighborhood and concerns herself with enlightening and helping young women enhance their capacity.
The Buchtel Alum explained in an interview that her parents instilled the values of helping in her. Another force that fuels her passion for charity is her man. The athlete's wife credited her husband for his influence in her projects.
According to her, he is her support system, and when she began her journey into fundraising and helping the community, his Lebron James Family Foundation granted her the pathway.
Over the years, she has initiated strategies to helping impoverished young women. Her I PROMise Makeover project takes place annually, and this allows girls to get a pre-prom treat.
The mother of three is also a dedicated wife and mother. Her parental skills are excellent, and she stated that she intends to teach her children some core values, yet make them follow the rules.
The NBA champ concurred to his wife's parenting and agreed to her motto of encouraging young kids and even calls her the "rule setter" of the home. In his words:
"We have a system, and it works very well for our family….Me and my wife are different, but at the same time, we are the same. I'm gone a lot, so she's the boss of the household. She's the rule-setter…"
Unlike other celebrity moms, she prefers to live a simple and private life. Savannah also maintained that she keeps her circle small since she doesn't like getting involved with people who would end up snooping in her business.
A loving granddaughter, a perfect mother, a dedicated wife, and a philanthropist are terms that best qualifies Savannah James. Hopefully her legacy is celebrated the way she honors her grandmother!
Please fill in your e-mail so we can share with you our top stories!