Meghan Markle Rushes Back to Feed Baby Archie after Inspired Speech at the Smart Works Launch
Meghan Markle's presentation, at the launch for her 'Smart Work' capsule collection impresses audiences. At the end of the event, she admits that she has to rush home to her, son.
Since the birth of Prince Harry and Meghan Markle's son, Archie Harrison Mountbatten-Windsor, Markle has been busy working behind the scenes with her patronage, "Smart Works."
"Smart Works" is a charity for unemployed women. It provides women with training and clothes for job interviews. Announcing the launch of a capsule collection that will benefit the charity, Markle writes:
"When you buy any item in the Smart Set Capsule Collection for Smart Works, the same item will be given to a Smart Works client, and with it, the confidence and support she needs to enter the workforce and take an important step in building a career."
At her first royal engagement since the birth of her son Archie, in May, she opened the event with a short speech describing how the idea began to create a five-piece fashion capsule of work appropriate clothes for "Smart Works," saying:
"When we go into our closet as a woman and think 'I'm going to make a donation', you don't go through your closet and just toss in a box whatever you don't care about any more…That's charity as we know it."
Markel, explaining her vision for "Smart Works" donations hopes it will re-invent the traditional idea of charity and create a feeling of community, she explains:
"Community is going through your closet and saying, this is the blazer I wore when I nailed my first job interview and got my dream job, and I don't need that anymore because I'm where I want to be."
Meghan — wearing a @mishanonoo shirt, trousers from @InsideJigsaw and earring that belonged to Princess Diana — welcomes guests and tells the #SmartSetCollection story... pic.twitter.com/KatAzqXNhj

— Omid Scobie (@scobie) September 12, 2019
At the end of the event she tells audiences: 
"I've got to get back to the baby, it's feed time."
Many of her followers have commented on how inspired and impressed they were with speech, particularly because it was unscripted.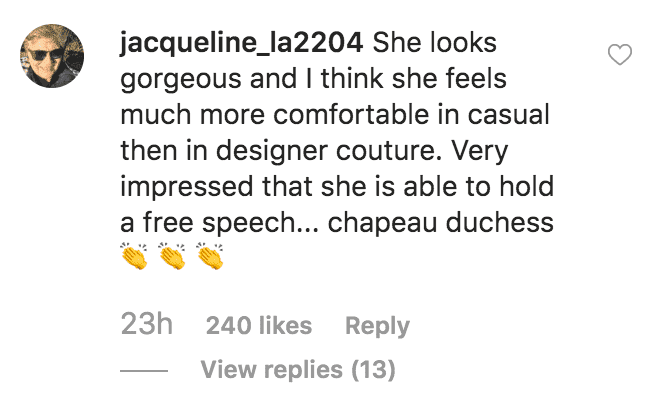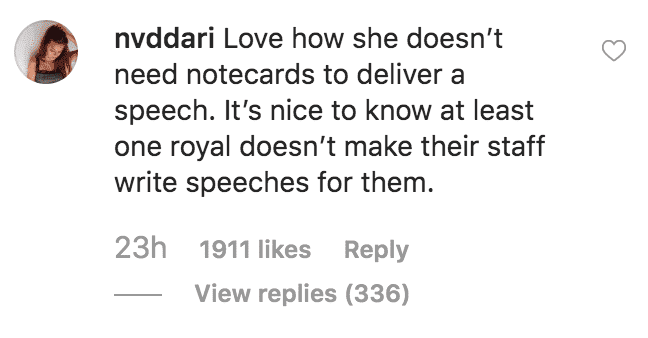 The collection, which was released on September 12, will be sold for the next two weeks. Markle has partnered with U.K brands Marks & Spencer, Jigsaw, John Lewis & Partners and designer Mischa Nonoo. The capsule collection includes five pieces, which for every item purchased, one will be donated to "Smart Works."