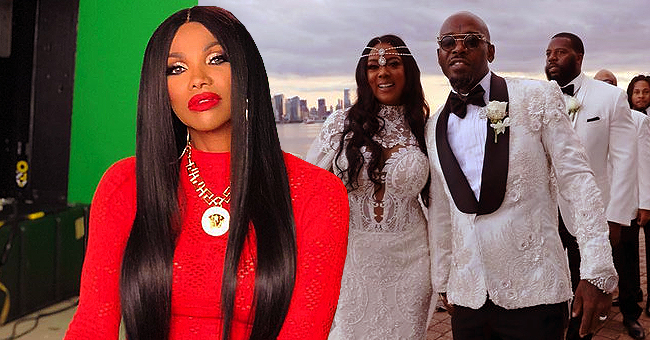 Instagram/darealpepa Twitter/HOT1071
Sandra Denton of Salt-N-Pepa Attends Wedding of Ex Naughty by Nature Rapper Treach and Cicely Evans

Former "Salt N Pepa" star, Sanda Pepa Denton witnessed her ex-husband, Treach pledge "til death do us part" to his new bride, Cicely Evans.
In a world where most people usually want nothing to do with their ex, Pepa showed her fans that she is an exception to this trend.
The actress recently shared some images with her fans on Instagram. The mother of two attended the wedding ceremony of her former husband, Treach and wanted the world to see how glamorous she looked and how cordial her and the groom are.
Treach and Evans have been through a lot, and so their union was a well-deserved one. In attendance were few celebrities such as Queen Latifah, Ice-T and his wife, Coco.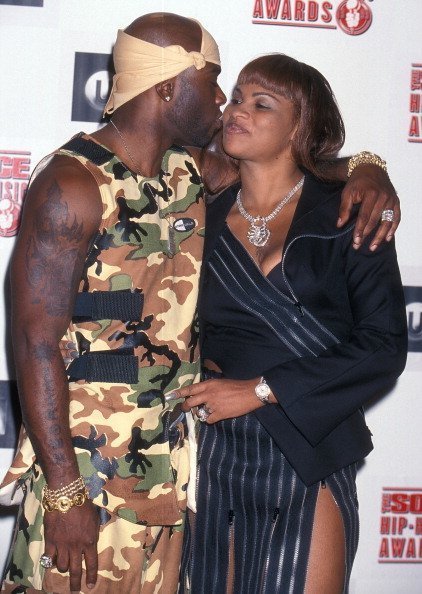 Rapper Treach and singer Sandra "Pepa" Denton of Salt-n-Pepa at the 1999 Source Hip-Hop Music Awards | Photo: Getty Images
The ex-lover captioned her Instagram picture with details of her experience at the event.
It read:
"Congratulations to Cicely and Treach on their nuptials. The wedding was beautiful. It's always great to catch up with friends."
Pepa also brought her daughter, Egypt whom she shares with Treach, to the wedding and they all looked genuinely happy with big smiles on their faces.
Fans were quick to recognize that the former lovers were very friendly. Some fans noticed the gorgeously dressed Pepa, while others were excited that the ex-couple was bonding again.
This gesture comes as a shock to fans who knew that both Treach and his ex-wife were at loggerheads for some time.
The duo got married in 1999, after dating for several years. However, their marriage did not last, and Egypt's mother and father separated on the grounds of domestic violence.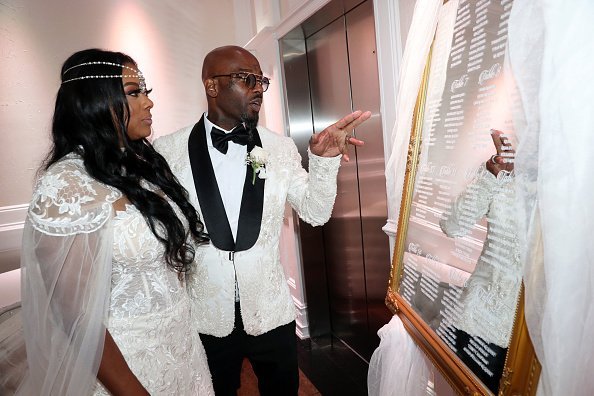 Cicely Evans and Treach celebrate their marriage at Waterside Reception Hall on September 08, 2019 | Photo: Getty Images
In 2008, the "Salt-N-Pepa" star authored a book titled "Let's talk about Pep." The writer detailed how gruesomely she suffered in the hands of her ex-husband.
A few years later, "Growing up Hip Hop" featured a scene where her daughter, discovered the book. Egypt's father was infuriated by this move on the show and lambasted his ex-wife.
The rapper claimed that all she wanted was attention and that the stories were false. In his words:
"Somebody tell my ex-wife this old school rat your book is full of kids you press whore. You sold your soul to a hell hole and put my kids in the middle for ratings."
Knowing that the pair were never cordial following their separation in the public's eyes, Pepa being invited by Treach to join in his celebration with his wife, Cicely is an eye-catching story for the media.
Egypt also wished her dad marital bliss; she took to Instagram to commend the couple for sealing the deal and stated that she admired their relationship.
The "Growing Up Hip Hop" star isn't the only child her mother has, Pepa has a son, but he doesn't share the same father with her daughter.
In her book, the mother of two detailed how she "was obsessed" with her son's dad, Tyrant Moore. She revealed that he didn't want the child, but she tried to convince him to put a ring on her finger.
Although she remains unmarried till date, it hasn't stopped her from being happy with her ex's decision to settle down with his long-time lover!
Please fill in your e-mail so we can share with you our top stories!