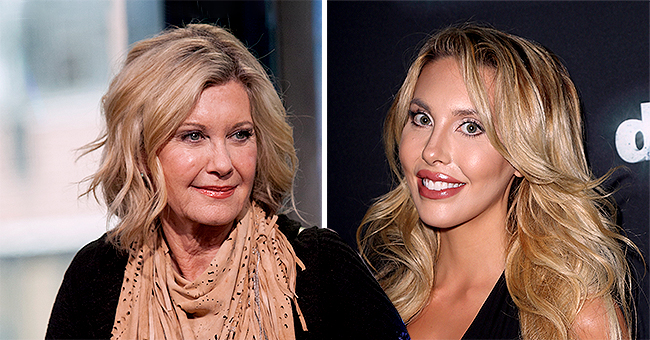 Getty Images
Meet Chloe Rose Lattanzi, 'Grease' Star Olivia Newton-John's Daughter Who Is an Actor like Her Mom
Chloe Rose Lattanzi, the only child of the iconic "Grease" star Olivia Newton-John, has followed in the footsteps of her mother to live a creative life.
The gorgeous Olivia Newton has had a glorious career. The "Grease" star is not only a talented actress and singer, but she is also a doting mother to her only child, Chloe Rose Lattanzi.
Olivia and her then-husband, Matt Lattanzi, welcomed Chloe into the world on January 17, 1986. Just like her mother, the beautiful 33-year-old has a keen interest in acting and music.
LIKE MOTHER, LIKE DAUGHTER
Following in her mother's footsteps, Chloe has been exploring the creative domain with a passion for music and acting.
In 2015, Chloe teamed up with her mother to release the song "You Have to Believe." A year later, she released her first album "No Pain" which is the only album she has released so far.
Besides singing, Chloe is also known for her roles in movies including "Sharknado 5: Global Swarming," Dirty Step Upstage," and "The Wilde Girls."
Besides that, the blonde beauty also appeared in the reality show "Two of a Kind" along with her stepdad, John Easterling.
SHE IS TAKEN
Chloe is currently engaged to her long-time partner, James Driskill, who is a martial arts expert.
The duo has been together for quite some time now. They started dating back in 2009 and got engaged in 2010.
SHE IS PRETTY CLOSE WITH HER MOM
To Chloe, the one person she can always count on is her mother Olivia. The mother-daughter is pretty tight with Chloe frequently sharing the pictures of her daughter on Instagram.
"My mum is my hero, always has been and always will be." Chloe wrote for Now to Love back in 2018. "From as far back as I can remember I knew Mum was special, not because of who she was, but because of the life and love she gave me."
Reminiscing her days as a kid, Chloe revealed that she wanted Olivia all to herself--the idea of sharing her mom with anyone else was unpleasant to her.
Please fill in your e-mail so we can share with you our top stories!