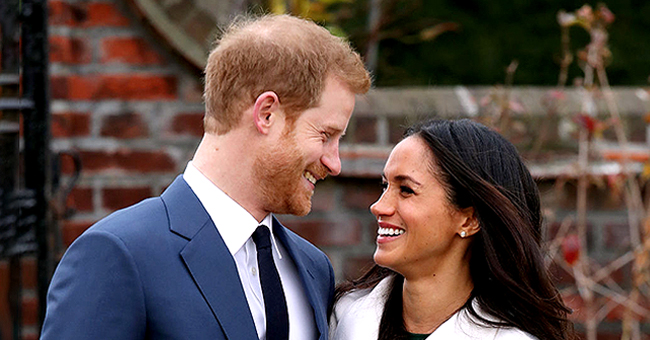 Getty Images
Duchess Meghan Markle Shares Photo Tribute to Prince Harry on His 35th Birthday
Prince Harry, the Duke of Sussex, celebrated his 35th birthday on Sunday. On the special occasion, his wife Meghan Markle shared a heartwarming family on social media with a sweet message.
The Duchess took to Instagram to post a heart-warming photo grid of Prince Harry on his birthday.
The post featured nine pictures of the Prince that spoke more than a thousand words.
MARKLE'S TRIBUTE TO HARRY
In the post, Prince Harry was being held by his mother, Princess Diana, as a schoolboy, with his brother, Prince William, and in service of the numerous causes, he supports.
The post concluded with a picture of Harry crouching and looking at Archie while Markle holds the bundle of joy on her lap.
"You are the best husband and most amazing dad to our son. We love you Happiest birthday!" Markle wrote on the post with a heart emoji.
The royal's birthday didn't have just one tribute, Prince William and Kate Middleton's joint account on twitter also posted a tribute.
PRINCE WILLIAM AND MIDDLETON'S TRIBUTE TO HARRY
"Kensington Palace" tweeted a message to Harry on his special day with the message, "Wishing a very happy birthday to The Duke of Sussex today!" and a cake emoji.
The post featured the two brothers dressed in military uniforms smiling at one another. Harry's father Prince Charles, and Camilla, Duchess of Cornwall also posted a tribute to the Prince through their Instagram.
"Wishing a very Happy Birthday to The Duke of Sussex, who turns 35 today!" their post read.
HARRY AND MARKLE BECAME PARENTS AT THE RIGHT TIME
The royal couple gave birth to their first child just in time to celebrate father's and mother's day. The couple took to Instagram to mark the special occasion.
They posted a picture of Harry, cradling the newborn in his arms while little Archie reached out to grab his father's finger. Previously, the Prince took to social media on the occasion of the 38th birthday of his "amazing wife."
Please fill in your e-mail so we can share with you our top stories!