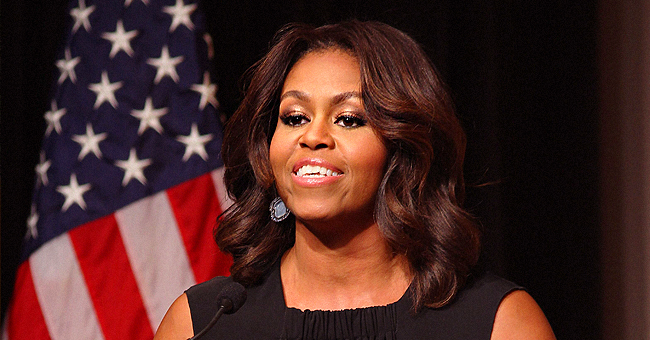 GettyImages/GlobalImagesUkraine
Former FLOTUS Michelle Obama Slammed for 'Moderated Conversation' Tour Tickets Costing up to $4,200

Michelle Obama recently sparked social media outrage after she announced the ticket prices for her upcoming speaking events.
When news
broke
that former FLOTUS Michelle Obama would be charging up to $4,200 for her speaking event, the internet went wild.
According
to Express, the speaking tour, which is called "Moderated Conversation" has ticket prices of over $1000. The report also states that the cheapest seat at the event is selling for $144.
Additionally, floor seats are priced as high as $1,300 with prime seats and a "meet and greet" with Michelle will cost the fans around $2,500. But fans aren't willing to cough that much out to meet the former First Lady.
Taking to Twitter to share their aggravations, one fan tweeted:
"How snooty can #MichelleObama be, assuming anyone would pay thousands to hear her speak? Old boy isn't getting much from book sales!"
Another fan
added
:
"Charge exorbitant prices to hear 'Her Highness' speak. No thanks, #MichelleObama."
A third aggrieved fan tweeted:
"#MichelleObama is charging up to $4,200 for tickets for her new tour. & that's not even including the concert-T."
A fourth fan had more than a little to say about the outrageous price tag, Michelle and her husband:
"The fact that she thinks charging up to $4200 for people to hear her speak tells the country her & husband were NEVER about serving the people but rather advancing themselves & hanging out with the elites because that ticket price is unattainable for 80% of the US #MichelleObama."
The most admired woman in the world is expected to make five other stops in Canada and one in Texas starting from September 23. The 55-year-old went on a similar tour to promote her best-selling memoir "Becoming" in 2018. By March 26, 2019, the book had sold 10 million copies.
The report of her memoir selling 10 million copies occurred after it was revealed that Michelle's visit to California was to kickstart her political career. But that claim was false as reported by PageSix. PageSix states that it was a ploy for her to "make some money."
The mother-of-two also spoke out concerning the rumors about her running for a political office:
"There are some bright young people out there doing some amazing things. This is why I'm not going to run for president because I think it's a better investment to invest in creating thousands of me's."
Please fill in your e-mail so we can share with you our top stories!