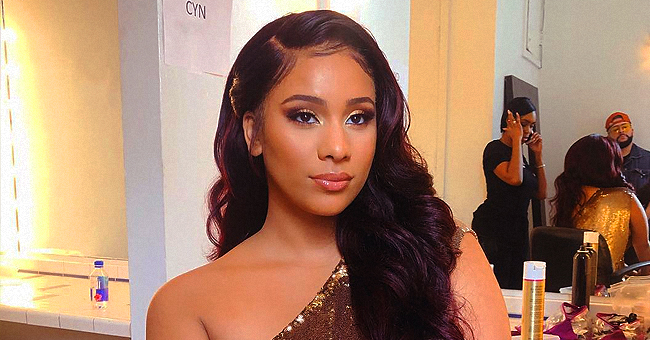 Instagram/cynsantana
LHHNY Star Cyn Santana Shares Heartbreak Advice Months after Split from Rapper Joe Budden

Cyn Santana and Joe Budden put an end to their relationship a few months ago, and it is no secret that she hasn't gotten over her heartbreak. Sometimes, she shares on social media how she is dealing with the loss of her relationship.
Over the weekend, Santana took to her Twitter account to ask her followers a question about how to deal with the pain of a failed relationship. She asked via twitter:
"Hey u guys how long does a heartbreak last??"
After a short while, the "Love and Hip Hop" star ended up giving an honest answer to her followers. She wrote:
"I think you gotta allow yourself to feel your feelings in its truest form and dive into them. It's the only way to properly heal. Facing every single thing. And also don't be too hard on yourself. Things are happening for you not to you. This is life. ?✨"
Santana's fans were quick to agree with her and also shared their own views. One wrote:
"Too true. Many like to bury their pain by "keeping busy" - which usually includes going out. But one has to confront the pain, allow themselves to feel the full effect of it, say "it'll be ok," and know it'll be greater later as long as they learn from all the mistakes."
Another wrote:
"This is so true. You have been taught great life skills. Like almost everything, we have to LEARN the skills needed to get through challenges. PEOPLE DON'T TALK about dealing with our emotions as we experience the good and bad in life. There WILL be disappointments. We have to cope."
Santana, 26, and music mogul Joe, 39, were engaged for four months before calling it quit after getting into a huge fight.
About two months ago, Santana took to her Instagram feed to post an alluring photo of herself from a music video shoot. The model wore a yellow fishnet, a pair of spandex high-waist shorts and matching thigh-high boots. She rocked a striking makeup look, including a dramatic lash and red lipstick.
She captioned the image:
"If I want it I have it, you know dassss automatic!!! REAL LIFE video coming soon, only if y'all ready tho ????."
Lots of her fans gushed over the beautiful look, and Joe Burden's name was all over the comment section. A fan wrote:
"Joe somewhere punching the air right now you look good af!"
Another wrote:
"Yasss Cyn that ponytail is everything!!! I love that you're single now, joe messed up a good thing ???."
The ex-lovers share one-year-old son Lexington Budden together.
Please fill in your e-mail so we can share with you our top stories!