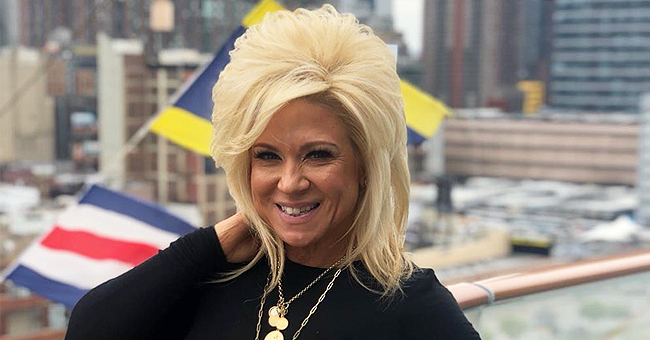 instagram.com/theresacaputo
Theresa Caputo Wishes Her Brother a Happy Birthday, and Fans Compliment Her T-Shirt
The "Long Island Medium" star wished her brother, Michael Caputo, a happy birthday with a new post on Instagram. Besides her radiant smile, fans noticed how cool her "Sex Pistols" T-shirt was.
Theresa Caputo loves her brother to the moon and back! The reality star made sure her brother Michael felt extra special on his birthday by posting a sweet picture of herself alongside him on Instagram.
The picture sees the "Long Island Medium" star beaming alongside her brother as she posed for the camera.
FANS LOVE THERESA'S TEE
Theresa's fans took to the comment section to join in on the celebration.
While many of them wished Michael for his birthday with their heart-warming messages, some of them mentioned how they loved the T-shirt that Theresa is wearing in the picture.
A user named "steads1962" called the white tee with black and pink prints "the best in the world."

Fan's comment on Theresa Caputo's post. | Source: Instagram/theresacaputo
Another fan named "mcdougall.ruth" was hit with a wave of nostalgia upon seeing the "Sex Pistols" T-shirt.

Fan's comment on Theresa Caputo's post. | Source: Instagram/theresacaputo
A third fan named "xotonixo" was pretty impressed with the tee as well.

Fan's comment on Theresa Caputo's post. | Source: Instagram/theresacaputo
THERESA'S TRIBUTE TO HER BROTHER ON "NATIONAL SIBLINGS DAY'
Theresa is undoubtedly fond of her brother. Previously, the reality star took a walk down memory lane and posted a throwback picture of herself and Michael on Instagram to mark the National Siblings Day.
"Best gift Mom And Dad gave me was you," Caputo captioned the post.
Michael is the only biological sibling of Theresa. Besides being a doting sister, she is a mother to her two beautiful children.
THERESA HAS MUCH LOVE TO GIVE
The reality star ended her 32 years long marriage with her businessman husband, Larry Caputo, back in 2018. They are proud parents to their two children, Victoria and Larry Jr.
On April 2018, Theresa revealed that Victoria works at a salon in Syosset. Meanwhile, her brother Larry Jr.'s LinkedIn profile reveals that he works as a manager of the Studio Operations at Madison Square Garden Networks.
While Larry Jr is in a relationship with his long-time girlfriend, Leah Munch, Victoria got engaged to her partner, Michael Mastrandrea, back in February.
Back in April, Theresa posted a picture of herself with Michael after having some "great food" with him at a restaurant in LA.
The post made it pretty evident that the reality star approves of her daughter's choice.
Please fill in your e-mail so we can share with you our top stories!