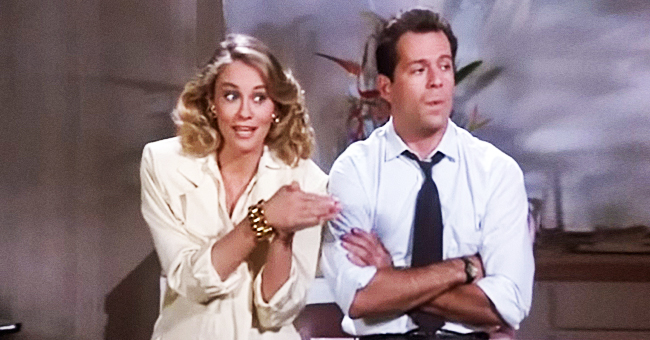 Youtube / Analog Child
Meet 'Moonlighting' Cast 30 Years after the Show Ended

The comedy-drama "Moonlighting" aired for five seasons from 1985 before its cancellation in 1989 made headlines. Nonetheless, the famous cast continued building successful careers in the wake of the series, which "could have run another five years."
With the likes of Bruce Willis, Cybill Shepherd, Allyce Beasley, and Curtis Armstrong, the series became very popular, and it's no surprise that they went on to have amazing careers.
CYBILL SHEPHERD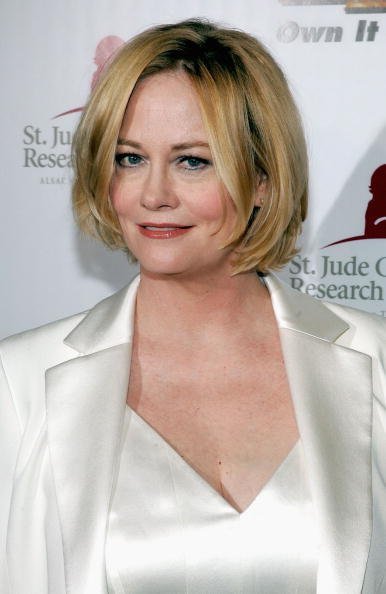 Cybill Shepherd attends the "3rd Annual Runway for Life Benefiting St. Jude Children's Research Hospital on May 1, 2005, in Los Angeles, California. | Source: Getty Images.
Cybill starred as Maddie Hayes in the private detective series "Moonlighting," but according to the actress, the former CBS chief, Les Moonves canceled the show after she turned down his sexual advances.
During an interview on Sirius XM in 2018, Cybill shared that she had attended a dinner with Les when he reportedly told her that his "mistress" and wife didn't "turn him on," and offered to take her home.
After rebuffing his offer, Cybill said she started getting pushback from the network regarding her creative ideas until the show got canceled.
"My show could have run another five years, but I didn't fall on the right side of Les," Cybill said. "I wasn't gonna fall at all for Les."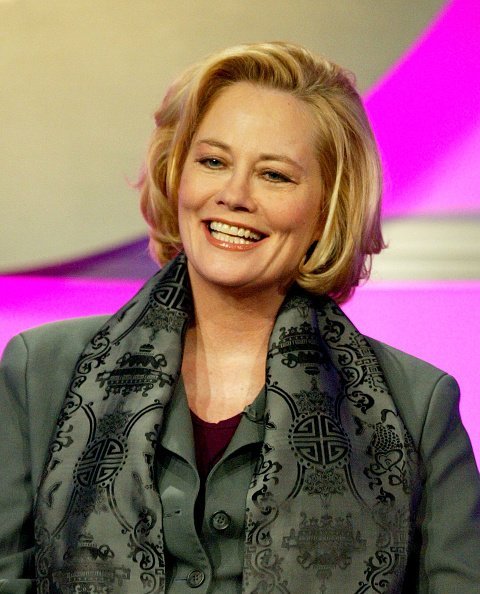 Cybill Shepherd attends the panel discussion for "Martha Behind Bars" during the CBS 2005 Television Critics Association Summer Press Tour at the Beverly Hilton Hotel on July 20, 2005, in Beverly Hills, California. | Source: Getty Images.
In the film "Do You Believe?" Cybill starred as a grieving mother, and her personal experience, having faced death during her battle with cancer, helped her connect to her role.
With a total of 71 acting credits to date, Cybill kept busy. After the show, Cybill appeared in a slew of films during the 1990s including "Alice," "Once Upon a Crime," "Telling Secrets," and "While Justice Sleeps."
A
self-titled television series
followed in 1995, and ran for three years while she notably appeared in the 2007 series "
The L Word
," "
Eastwick
" in 2009, "
Psych
," and "
The Client List
" in 2013. Most recently, Cybill starred as Nancy in the 2019 film "
The Lunch
."
Besides acting, Cybill also became an outspoken activist for abortion and gay rights and received two National Ally for Equality awards from the Human Rights Campaign in Atlanta in 2009.
BRUCE WILLIS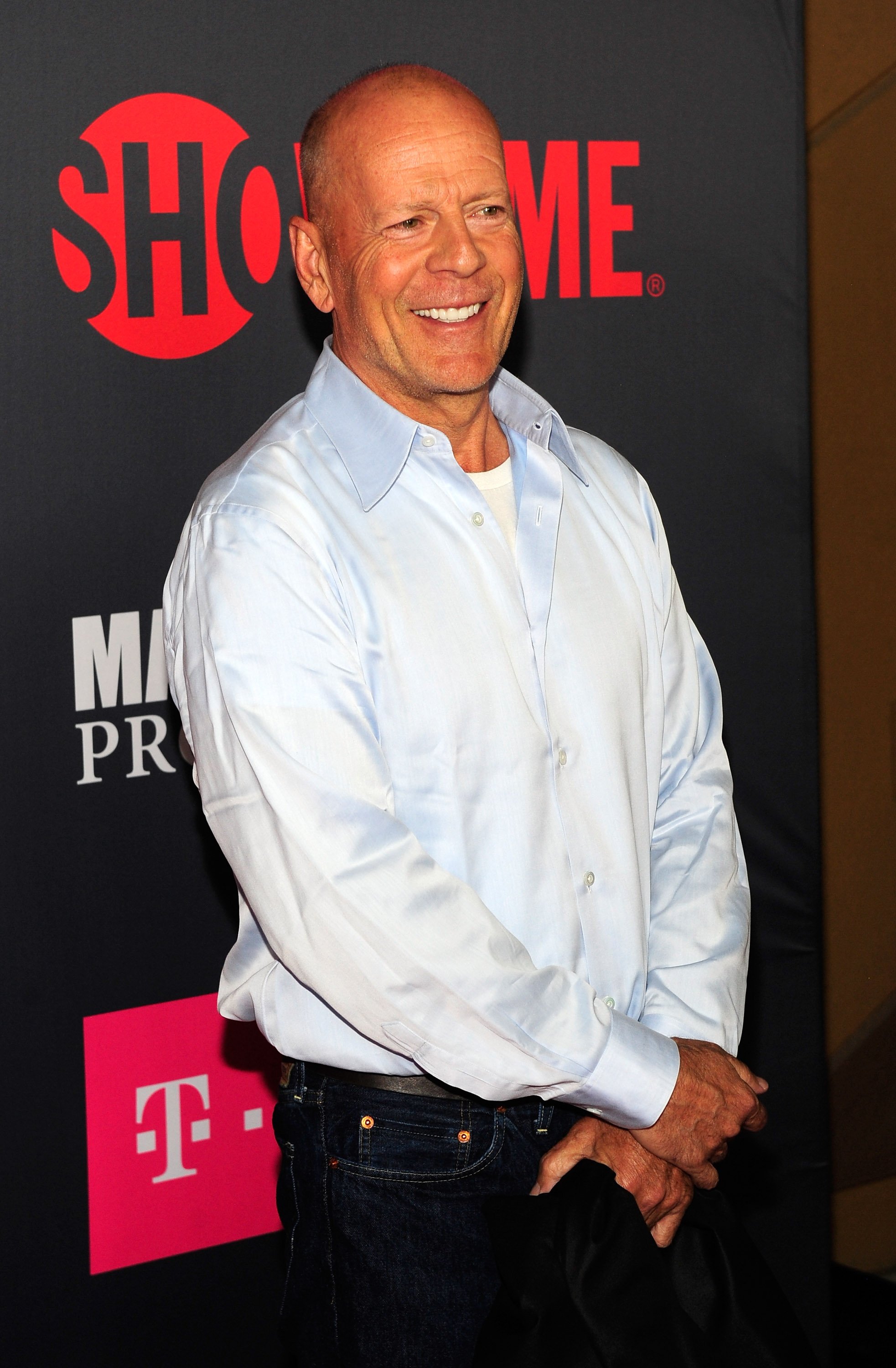 Bruce Willis attends the VIP party before the boxing match between boxer Floyd Mayweather Jr. and Conor McGregor at T-Mobile Arena on August 26, 2017, in Las Vegas, Nevada. Source: Getty Images.
As the smartmouth detective David Addison, Bruce Willis landed the role shortly after receiving his first acting credit in "Miami Vice" in 1984.
While Bruce starred in several films during the run of "Moonlighting," his career took off after he became John McClane in 1988's "Die Hard" and the film's sequels.
A hit among fans, the wise-cracking Bruce landed roles in some of the biggest films to date, including the darkly humored "Death Becomes Her" in 1992, "Pulp Fiction" two years later, "The Fifth Element," "The Sixth Sense," and the comedy "The Whole Nine Yards," to name but a few.
With 22 award wins and 38 nominations, Bruce appeared in more than 60 movies that have grossed about $3 billion worldwide.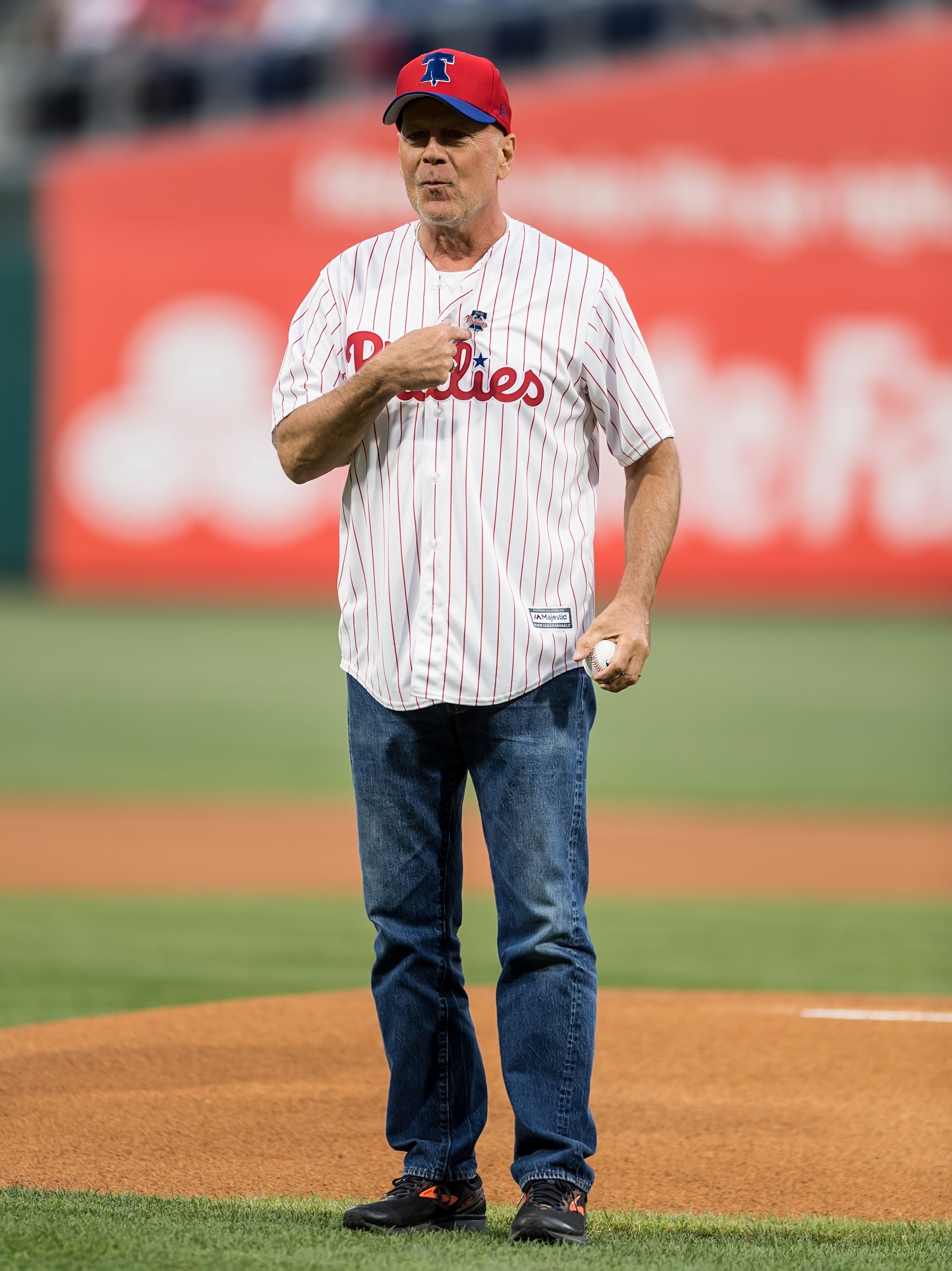 Bruce Willis throws ceremonial pitch at the Milwaukee Brewers v Philadelphia Phillies game at Citizens Bank Park on May 15, 2019, in Philadelphia, Pennsylvania. | Source: Getty Images.
Not only has Bruce built up an impressive acting career, but earns around $14-20 million per blockbuster film and has an estimated net worth of $200 million.
Bruce's acting career might be impressive, but the crowd that attended a baseball game between the Milwaukee Brewers and the Philadelphia Phillies early in 2019 didn't feel the same about his ball skills.
The actor's attempt at pitching turned out to be a poor one, and the crowd didn't hesitate in expressing their disappointment either.
Nonetheless, Bruce is not all quips, money, and acting, he used to own businesses in Idaho and co-founded Planet Hollywood with Sylvester Stallone and Arnold Schwarzenegger in 1991.
CURTIS ARMSTRONG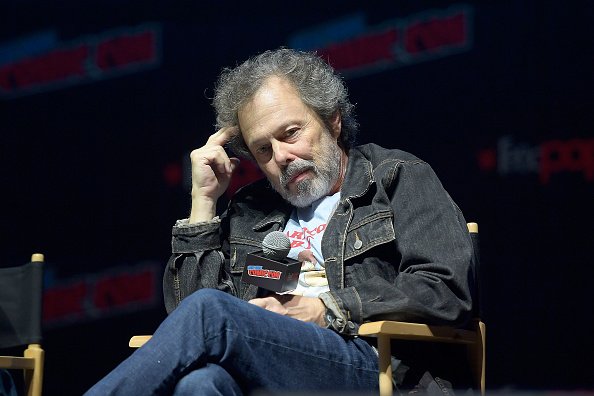 Curtis Armstrong speaks onstage at the American Dad! panel during 2018 New York Comic Con at on October 6, 2018, in New York City. | Source: Getty Images.
Curtis became known as Herbert Quentin Viola on "Moonlighting," and went on to have a very successful career on television.
With an impressive 159 acting credits to his name, Curtis mainly starred in television series that most recently include "American Dad!," Happy!," "New Girl," and "Supernatural."
In the film "Revenge of the Nerds" in 1984, for which he is probably best-known, Curtis played the role of Booger while his "American Dad!" character got named Snot.
Nothing snotty about Curtis, he visited Oakland University on February 7, 2019, where he graduated from the Academy of Dramatic Art in 1975 to hold a book signing of his autobiography, "Revenge of the Nerd: Or...the Singular Adventures of the Man Who Would Be Booger," and speak to the crowd.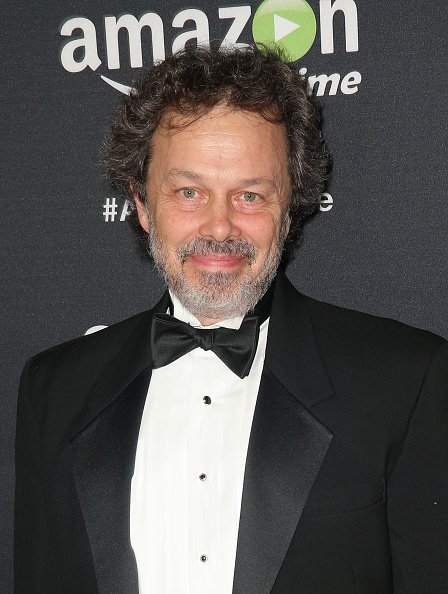 Curtis Armstrong attends Amazon Video's 67th Primetime Emmy Celebration at The Standard Hotel on September 20, 2015, in Los Angeles, California. | Source: Getty Images.
Before "An Evening With Curtis Armstrong" kicked off, Curtis spent time with the students on campus and held a Q&A with cinema and theater students.
More so, the University reacted with excitement when Curtis shared his plans of donating his entire personal collection of career memorabilia to the University's archives.
"He has had an outstanding career in front of and behind the camera and having his personal collection in our archives is a major addition that will benefit OU students, fans and entertainment industry scholars alike," dean of University Libraries, Stephen Weiter said.
ALLYCE BEASLEY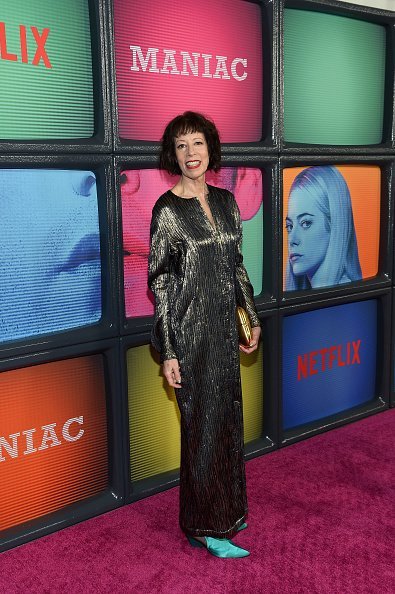 Allyce Beasley attends the Netflix Original Series "Maniac" New York Premiere Screening and After Party at Center 415 on September 20, 2018, in New York City. | Source: Getty Images.
Much like Curtis, Allyce mainly starred in television series during her career. While Allyce's role as Agnes DiPesto in "Moonlighting" became one of her best-known, she also notably appeared in the films "Legally Blond" and "Loaded Weapon 1."
Allyce's performance on "Moonlighting" earned her three award nominations for Outstanding Supporting Actress in a Drama Series, and even though other nominations have eluded her, Allyce has earned 67 acting credits to date.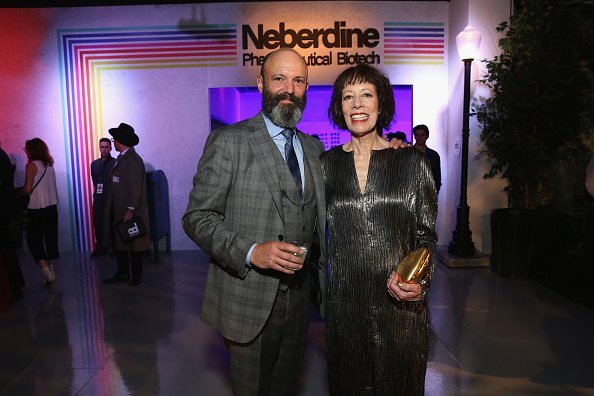 http://Geoffrey Cantor (L) and Allyce Beasley attend the Netflix Original Series "Maniac" New York Premiere Screening and After Party at Center 415 on September 20, 2018, in New York City. | Source: Getty Images.
Most recently, fans of "Champaign ILL" will recognize Allyce for her role as Gayle, while she also starred in another 2018 series, "Maniac."
A breast cancer survivor, Allyce, is also in her third marriage. Before her time on "Moonlighting," Allyce married Christopher Sansocie in 1970, but their marriage only lasted two years.
On August 4, 1985, she married Vincent Schiavelli followed by the birth of their son, Andrea Joseph two years later. However, their marriage didn't last either and they divorced in November 1988. Eleven years later, Allyce married her current husband, Jim Boshe.
Please fill in your e-mail so we can share with you our top stories!