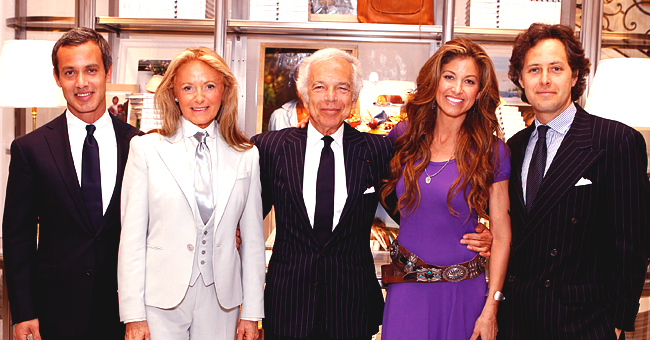 Getty Images.
Fashion Icon Ralph Lauren Is a Doting Husband and Father — Meet His Family

For over 4 decades, Ralph Lauren defined American style with his fashion designs. But for Ralph his vision is so much more than creating fashion, its about defining a lifestyle.
However, Ralph demonstrates the same dedication to his wife and three children, who have since grown up with successful careers of their own.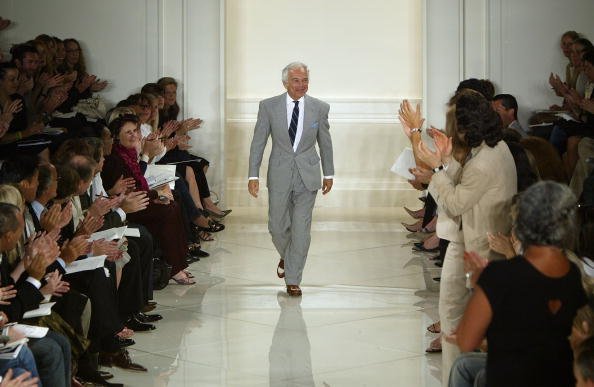 Ralph Lauren walks down the runway at the Ralph Lauren Couture Spring 2005 fashion show during the Olympus Fashion Week Spring 2005 September 15, 2004, in New York City. | Source: Getty Images.
The fashion designer, with no formal training, began his empire designing high-end ties. With skinny ties in style at the time, Ralph opted for a wide design that flew off the shelves, so later that year, he started his fashion company and named it Polo.
In 1971, Ralph rolled out a women's collection featuring tailored sportswear and shirts made with fabric normally used for men's clothing. Ahead of its time, the collection turned heads, and Ralph made use of the momentum and opened a free-standing store, the first American designer to do so. The following year, Ralph's signature Polo shirt made its debut.
By then, Ralph had already met and married the love of his life. In 1964, Ralph arrived at the eye doctor's office where he had made an appointment and fell in love with the receptionist, Ricky, as soon as he laid eyes on her.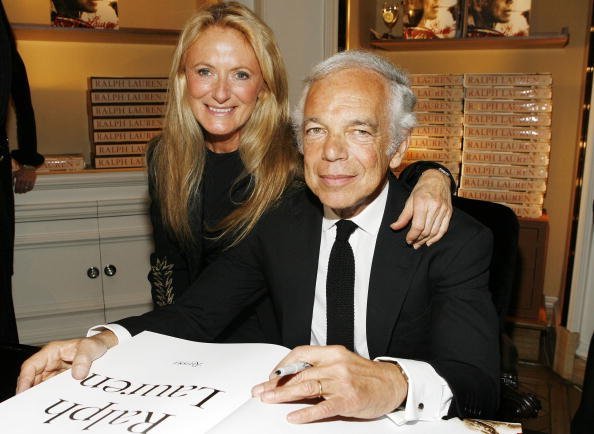 Ralph Lauren (R) signing his book with his wife Ricky Lauren (L) attend the celebration of Ralph Lauren's 40th Anniversary at Bergdorf Goodman on October 18, 2007, in New York City. | Source: Getty Images.
After six months of dating, Ricky and Ralph married on December 20, 1964, in New York. Ricky had no doubt about spending the rest of her life with a man she only knew for six months. Growing up as an only child, the experience of knowing someone so intimately, being so in sync, made her feel complete.
"Ralph is my best friend, and I'm just so comfortable with him, and he is with me as well—we could be ourselves," she said. "We see the world as a team."
Half a decade down the line Ricky and Ralph are a strong a team as ever. Happy in life and in love, they celebrated their 50th wedding anniversary on December 20, 2014.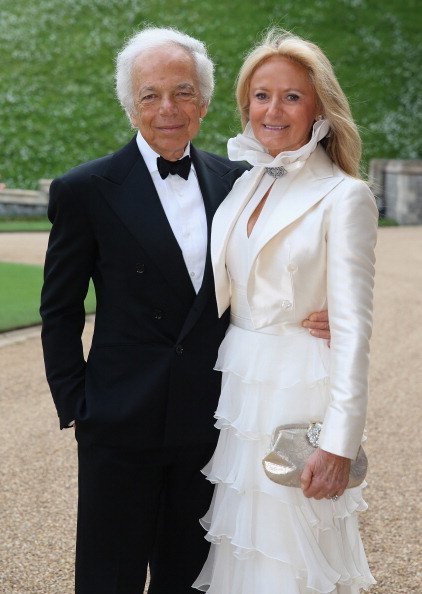 Ralph Lauren and Ricky Anne Loew-Beer arrives for a dinner to celebrate the work of The Royal Marsden hosted by the Duke of Cambridge at Windsor Castle on May 13, 2014, in Windsor, England. | Source: Getty Images.
According to Page Six, the couple rented an estate in Mexico where loved ones joined them for celebrations. Among those, were their three grown up children; daughter, Dylan, and sons, David and Andrew. Proud of the kind of people their children became, Ricky said:
"I think taking care of the children and raising children who have a sense of grace and are kind, and have their own sense of ambition, is the hardest job on earth."
DYLAN
Dylan found purpose in the sweet things in life and is the founder and CEO of Dylan's Candy Bar in 2001, with her Manhattan store one of the largest candy stores in the world.
"To me, candy is more than just candy you eat—it's fashion, it's colors, it's pop culture, it's art," Dylan said. "I just love it."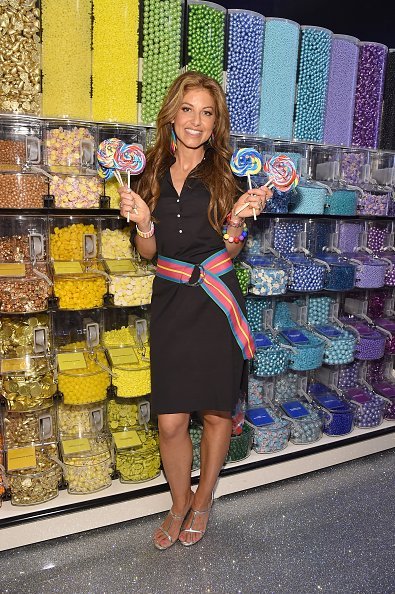 Dylan Lauren attends the Dylan's Candy Bar Union Square grand opening on September 1, 2015, in New York City. | Source: Getty Images.
While there are plans on expansion, Dylan has stores located in New York City, Miami, Los Angeles, Chicago, and East Hampton wherein she stocks her fructose-inspired line of home decor and apparel, and while she always samples her goods, Dylan sticks to a healthy lifestyle which includes regular excercise.
"I definitely sample everything. Every day, about 10 percent [of my diet] is going to be something very unhealthy, but as long as my meals are balanced with protein and vegetables, I feel good," she said.
In June 2011 Dylan walked down the isle in a wedding dress designed by her father, and married the managing partner and co-founder of Marblegate Asset Management, Paul Arrouet, on Ralph and Ricky's Bedford, New York estate.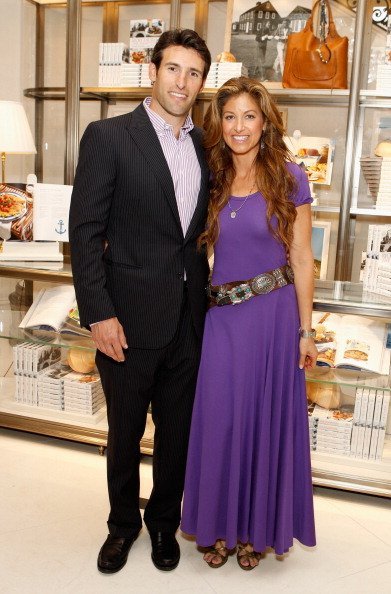 Paul Arrouet (L) and Dylan Lauren attend the Ralph Lauren celebration for the publication of "The Hamptons: Food, Family and History" by Ricky Lauren at the Ralph Lauren Women's Boutique on May 22, 2012, in New York City. | Source: Getty Images.
The couple became parents on April 13, 2015, when a surrogate gave birth to their twins, daughter Kingsley Rainbow and son Cooper Blue. "It was amazing. I was crying, my husband was crying. [And] we were very nervous. I had never held a baby before," Dylan told PEOPLE.
ANDREW
Andrew already dons the hats of actor and producer in Hollywood, and would like to add more. Known for his work in productions including "The Squid and the Whale," the epic 1987 film "The Lost Boys," and "The Spectacular Now" in 2013, Andrew revealed more about his future plans after the movie he produced, "This Is Not a Robbery" premiered at the Tribeca Film Festival on April 26, 2008.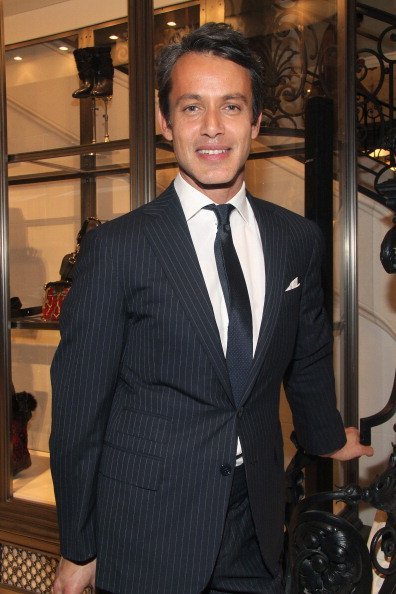 Andrew Lauren attends Ralph Lauren Presents Exclusive Screening Of Hitchcock's To Catch A Thief Celebrating The Princess Grace Foundation at Ralph Lauren Women's Store on October 28, 2013, in New York City. | Source: Getty Images.
"I look up to people who wore many hats: Robert Redford, Warren Beatty, Steve McQueen and Orson Welles," he said. Someday, he'd like to—yes—direct. And he's not averse to more commercial projects. "But I don't want to make the flavor-of-the-month movie to make a hundred million dollars," he said. "I want to prove myself; I'm hoping I'm doing that."
DAVID
David became the only one of Ralph's children to go into the family business. "I'm lucky to have a boss who is also my mentor and my father," David said.
Serving as the executive vice president of advertising, marketing and corporate communications at Polo, the company has 22,000 employees, who in feel like "extended family" to David in many ways.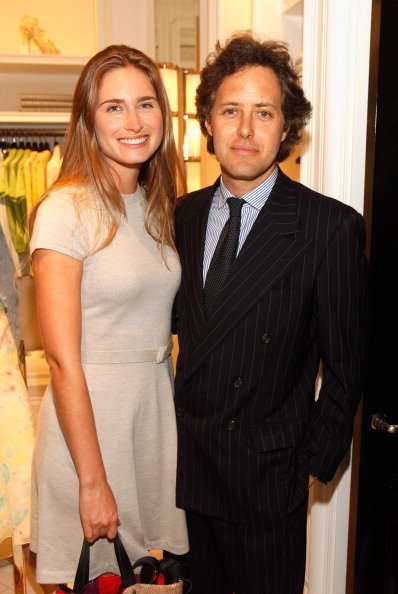 Lauren Bush and David Lauren attend the Ralph Lauren celebration for the publication of "The Hamptons: Food, Family and History" by Ricky Lauren at the Ralph Lauren Women's Boutique on May 22, 2012, in New York City. | Source: Getty Images.
"It chokes you up a little bit, at least for me," Ralph Lauren said in 2013. "You sort of forget during the year all the projects that we do; all the people who work in this company who do such an amazing job building the brand, building women's and building men's. Everything we've done is a labour of love."
David went on to marry Lauren Bush in 2011, the granddaughter of former President H.W. George Bush. A hunger activist and a lover of nature, Lauren and David have since welcomed sons, James and Max.
In September 2019, Lauren showed off her sons as James got ready for a big day. Complete with his own FEED bag, Lauren posted several pictures as they made their way to James' first day at school.
Please fill in your e-mail so we can share with you our top stories!