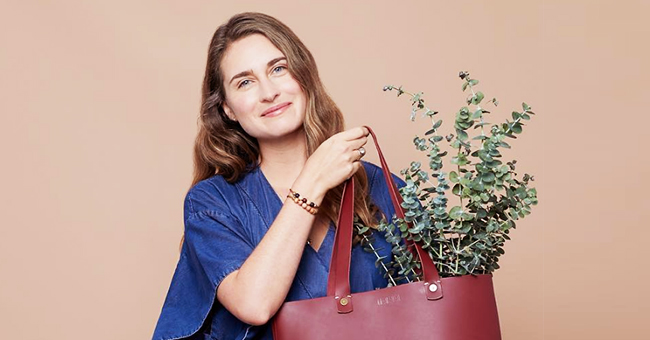 instagram.com/laurenblauren
Lauren Bush Lauren, George H. W. Bush's Granddaughter, Shows off Her Son Max Going Back to School

Lauren Bush, granddaughter of America's 41st president, the late George H. W. Bush shared pictures of her son going to school for the very first time, carrying her "FEED" bag.
With summer gone and fall upon us, it means goodbye to the holidays and "back to school" time for most kids, and their moms as well.
Lauren Bush shared one of those moments when she posted pictures of her 3-year-old son, James Lauren going to school for the first time.
The mother of two, who is also a FEED bag peddler took advantage of the post on her Instagram story to highlight the benefits of buying a FEED bag, as well as her food plans for the fall.
LAUREN'S INSTAGRAM STORY POST
The hunger activist is known for her love of nature, and some of the Instagram story posts depict this part of her. This time around, however, she shared a moment that surely means so much to her as her son, James made his way to school.
James was notably carrying a sky blue "FEED" bag, which is not surprising considering his mom, a bag peddler, co-founded the project.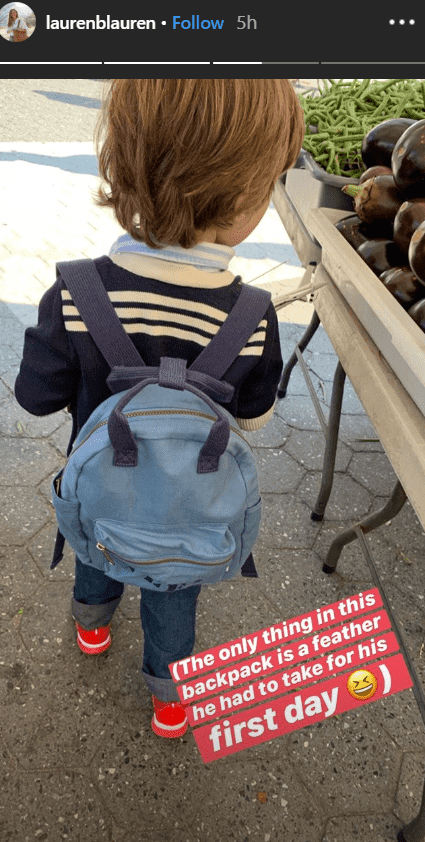 Lauren Bush's three-year-old son James carrying a backpack as he gets ready for school | Photo: instagram.com/laurenblauren
Lauren captioned one of the pictures as "Back-to-schooling," while another photo's caption gave details of what was in James's backpack.
The photo showed the new schoolboy walking, and his proud mother captioned that the only thing in his backpack was a feather which he had to take for his first day.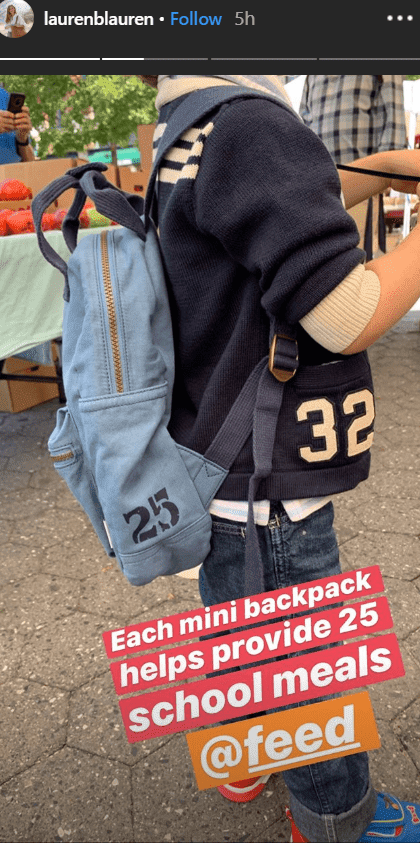 Lauren Bush's three-year-old son James carrying a backpack as he gets ready for school | Photo: instagram.com/laurenblauren
Another image and caption extolled the benefits of buying a FEED bag. The picture showed James standing, and the side view of his bag in full view. The number, 25 was at the lower part of the bag, and Lauren explained with her caption that any bag purchase would help in providing 25 school meals.
In another picture which showed an assortment of vegetables, the mother of two captioned it,
"Fall means back-to-school and also lots of yummy vegetables."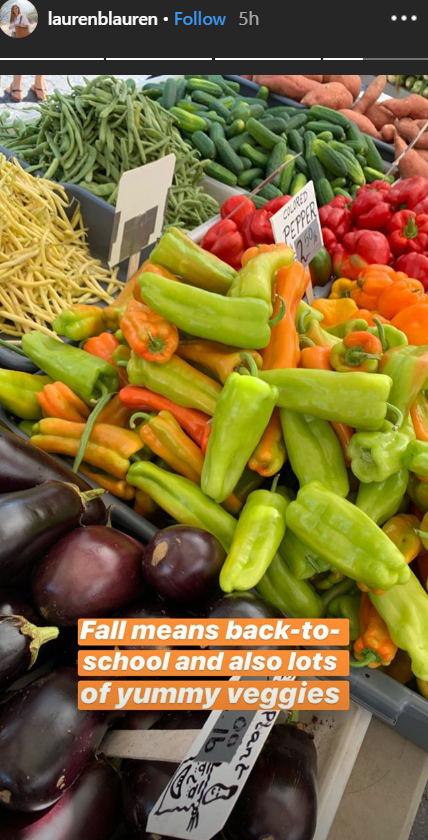 Lauren Bush shares images of vegetable on her Instagram story | Photo: instagram.com/laurenblauren
LAUREN BUSH
The entrepreneur comes from a famous family background (one that has produced two American Presidents) and is married to David Lauren, son of fashion designer, Ralph Lauren.
Lauren is an ardent activist, and the CEO of FEED Projects, which has donated over a hundred million meals through product sales and fundraisers. Her activism and entrepreneurial skills have earned her honor and recognition from various international organizations.
LAUREN MAKES TIME FOR HER KIDS
Despite having a busy schedule, Lauren Bush knows the importance of having time for her kids, and so makes sure she spends much quality time with James and his brother, Max. In an interview with POPSUGAR Play/Ground, she admitted that doing that ensures she has a healthy and happy household.
Please fill in your e-mail so we can share with you our top stories!