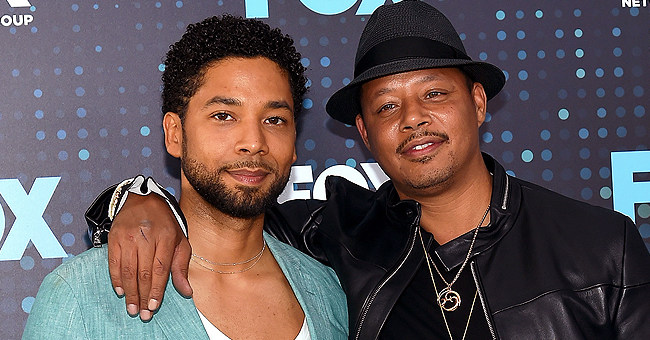 Getty images
Terrence Howard Tells James Corden How Much He Misses 'Son' Jussie Smollett on 'Empire'

Terrance Howard can't get over the loss of "son" Jessie Smollett.
Actor Terrence Howard was promoting the final season of the epic series "Empire" which premiered on September 24, 2019, but he couldn't help but shed a tear over his "lost" TV son, Jessie Smollett.
While most of the entertainment world and public at large have turned against Smollett, his TV dad is standing by him.
Terence Howard announced that he would be putting his acting career on hold
TERRANCE HOWARD: "JUSSIE HAS BEEN THE HEART OF THE SHOW"
For Howard, the show lost its vibrant core after Smollett was fired for allegedly staging a fake homophobic and racist attack.
Howard revealed that for him, and the rest of the cast the event was incomprehensible and utterly confusing.
"I don't know what it was like, because we are still trying to figure it out. We are all still trying to put the pieces together," he confessed
TERENCE HOWARD WEEPS FOR JUSSIE SMOLLETT
Howard started speaking about shooting the show after Smollett's departure, and he couldn't stop the tears flooding his eyes.
"Jussie has been the heart of the show. He's been my son for six years and I miss my son. We can't help it. This is real life that we're talking about," he said.
JUSSIE SMOLLETT HAS DROPPED OUT OF SIGHT
After the fake attack fiasco, and his subsequent firing, and facing charges for placing a false crime report, Smollett has been lying low, but Howard revealed that he has been in touch with the actor.
TERENCE HOWARD TALKS ABOUT LEAVING ACTING
Terence Howard announced that he would be putting his acting career on hold, and taking a different path in life.
Howard revealed that he has a fascination for science, and plans to explore that interest after he retires from acting.
"I want to put my life towards utilizing the total brain potential that we have, and maybe help change society and help us grow and recognize we need to be conscious beings," he said.
We wish Terence Howard well in his new endeavors.
THE JUSSIE SMOLLETT SCANDAL
Much ado about nothing seems to be the final conclusion of the Jussie Smollett scandal, that left so many people angered and cost the actor his career.
Smollett had claimed that he had been attacked and beaten in Chicago by two white men in MAGA hats who screamed racist and homophobic invective at him.
The whole community was outraged for Smollett, but the police investigation uncovered the unbelievable: Smollett has staged the "attack" with the help of two Nigerian brothers who worked with him on "Empire" to boost his career.
Smollett was indicted for filing a false police report and faced up to three years in prison, but the charges were dismissed.
Nevertheless, the co-creator of "Empire" refused to allow Smollett back into the show and had his character written out of the plot.
Please fill in your e-mail so we can share with you our top stories!