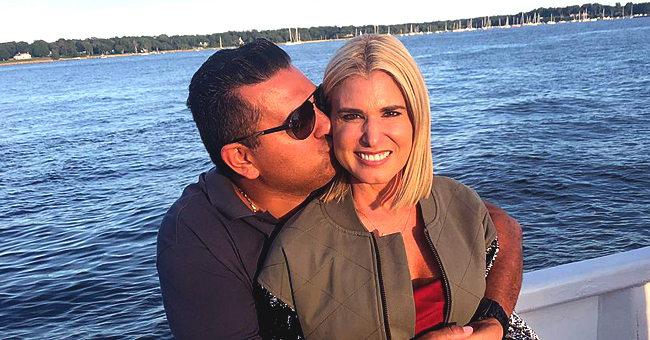 Twitter / CakeBossBuddy
What 'Cake Boss' Buddy Valastro Is up to Nowadays

"Cake Boss" opened up a world of sweetness and wonder with their creations since 2009. At its helm is Buddy Valastro, a family man who's passion in life led to great success and personal fulfillment.
Buddy's story, however, is one that should be told from his childhood days when his parents made him spend a lot of time in the family bakery, Carlo's Bake Shop.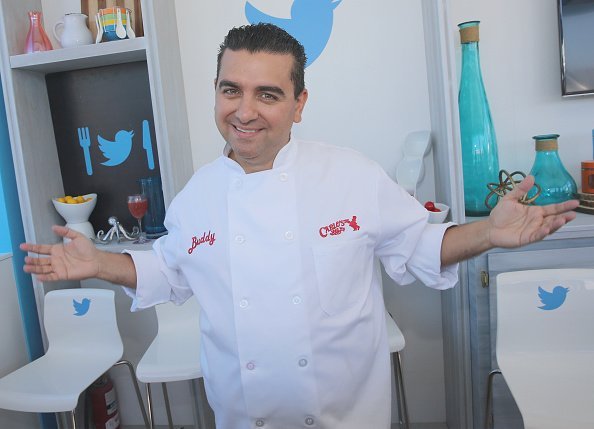 Chef Buddy Valastro attends a book signing on February 27, 2016, in Miami Beach, Florida. | Source: Getty Images.
He used to get into trouble when watchful eyes didn't keep watch, so having to spend time at the bakery while his father taught him some skills, turned into a win for everyone. Buddy idolized his father and wanted to be a baker, just like him.
I wanted to be like him, and I attribute my success to having my dream job. I believe if you have the right job that you love, I think that that's the only way to become successful," Buddy said.
His father made him develop a technique first by only allowing Buddy to do cream puffs. This also ensured that if something went wrong, it didn't jeopardize the whole project.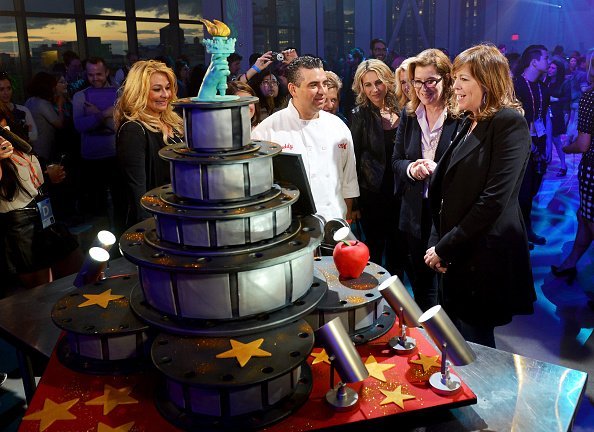 Buddy Valastro, Tribeca Film Festival Executive Vice President Paula Weinstein, and Tribeca Film Festival Co-founder Jane Rosenthal at the Filmmaker Welcome Party during the 2015 Tribeca Film Festival at Spring Studios on April 17, 2015, in New York City. | Source: Getty Images.
And so Buddy started learning the tricks of the trade, starting with cream puffs. He never attended culinary school and left high school before graduating to focus on his career, and his efforts paid off.
At the age of seventeen, Buddy took over the reins at Carlo's Bakery in 1994. Buddy's creations caught the eye of TLC, and soon after that, dazzled audiences with crazy and creative things one can do with simple ingredients.
The producers saw potential in the family-run business and their vision, and offered them their reality television show, "Cake Boss."
The television show made its debut in 2009 and became such a hit, that Buddy launched the spinoffs "Kitchen Boss" and the competition show, "Next Great Baker."
With showbiz having entered the picture, it takes time away from Buddy's love of spending time in the kitchen, but he makes up for it by getting stuck into the occasional project.
Robin Roberts used to support the bakery back in the day, and when she returned to "Good Morning America" 2013, Buddy presented her with an amazing cake.
"I've met celebrities I wouldn't give you a nickel for, but people like Robin — or Oprah Winfrey — don't act like celebrities at all. They make you feel like a friend," Buddy said.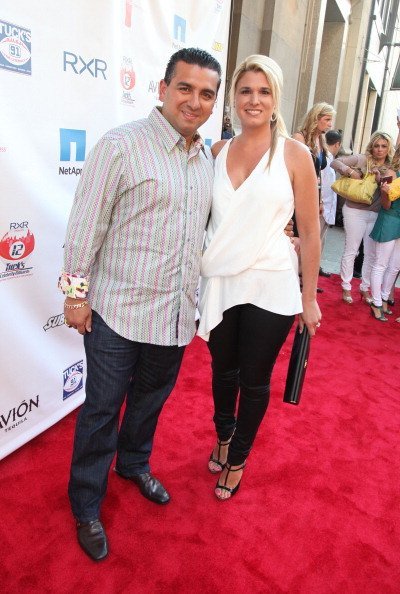 Buddy Valastro and Lisa Valastro attend the NY Giants Justin Tuck 4th Annual celebrity billiards tournament at Slate NYC on May 31, 2012, in New York City. | Source: Getty Images.
In every one of its two-hundred plus episodes, "Cake Boss" wowed with creative and crazy designs, the talented staff function as a well-oiled machine, and even when things go awry, they always pull through to amaze.
When Buddy opened Cake Boss Cafe at 42nd St. and Eighth Ave, his dream of expansion came into reality. While he always would have kept it in the horizon, having a successful television show with a lot of exposure made it happen sooner.
But things are not all television glamour and new fancy shops. Buddy remains dedicated to Carlo's Bakery and its responsibility towards is customers.
Thanksgiving, among other holidays, are their busiest times at the bakery. During the Thanksgiving season, they produce about 20,000 pies and often work 12 hour days during that time to keep up with demand.
The king of cakes is also dedicated to his wife and four children. Boddy married Lisa before his fame days in 2001 and remains by his side through sweet and sour.
When not filming, Buddy makes time for a vacation with his family and has only two requisites for its location. It has to be somewhere relaxing and warm and family-friendly.
"I love going to Disney with the kids. Nothing beats getting to see the looks on their faces the entire time. Other than that, we do like to unwind anywhere in the Caribbean," Buddy told Food Network.
Taking the time to recharge and spending quality time with his family allows Buddy to stay on top of his game. With retail demands continually changing, Carlo's Bakery decided not to renew its lease at its Garden City location in Long Island, and closed shop in August 2019.
"The brand continues to grow with locations sprinkled all over the country," Buddy's representative, Nicole Valdes said. With 16 locations throughout the US, there is also an online shop that makes doorstep deliveries to anywhere in the country.
Within the last two years, Buddy also closed four of his New Jersey bakeries, the ones in Red Bank, Morristown, Ridgewood, and Westfield.
The bulk of the baking and magic happens at Buddy's 70,000-square-foot Jersey City bakery. The outlet supplies other store locations with ready-made cupcakes and cakes to be decorated on-site. The cannoli shells are filled to order and cookie dough his frozen and baked before use as needed.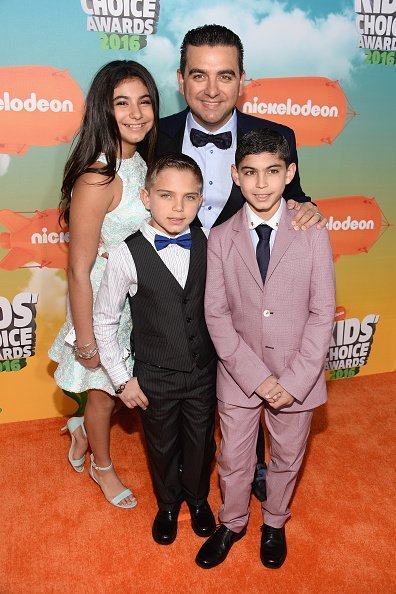 (L-R) Sofia Valastro, Marco Valastro, Buddy Valastro, and Buddy Valastro Jr. attend Nickelodeon's 2016 Kids' Choice Awards at The Forum on March 12, 2016, in Inglewood, California. | Source: Getty Images.
Buddy returned to the Food Network on Aug 8, 2019, with the premiere of his new show, "Bake You Rich." The show brings new faces into pastry fold in the form of a culinary competition.
The end prize for contestants is the opportunity to sell their creations as part of Buddy's range, and the popular patissier sees it as an opportunity to help others achieve their dreams.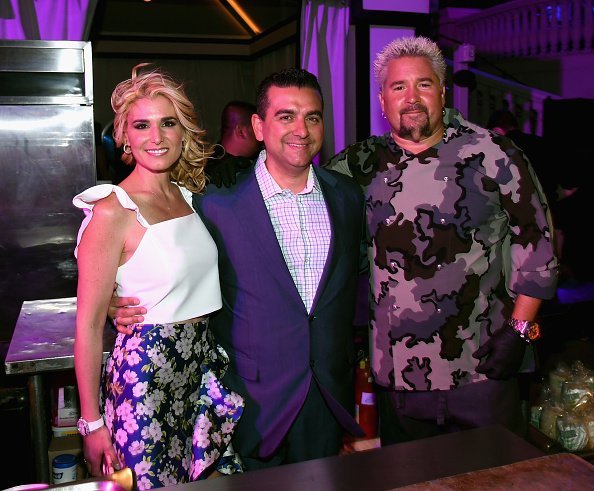 Lisa Valastro, chef Buddy Valastro, and Guy Fieri's El Burro Borracho owner Guy Fieri attend the 12th annual Vegas Uncork'd by Bon Appetit Grand Tasting on May 11, 2018, in Las Vegas, Nevada. | Source: Getty Images.
"I feel like I've started with one little bakery. I had a vision; I had a dream. I wanted to make my dad's bakery a household name," Buddy explained. "I feel like I did that. How do I help these people achieve that? How do I give them that opportunity? Because some people just need a little bit of help."
Buddy certainly knows what he is talking about. "Cake Boss" airs in 190 countries and he attracted a massive crowd when he judged a cake competition in 2014 at Emirates Palace. The show's success Buddy attributes to its essence being the Valastro's as a family and the resonance viewers find in the daily things families deal with and experience.
Since the king of cake is always busy with something, he decided to break his previous Guinness World Record for icing the most cupcakes in one minute.
In a fast and furious 60 seconds in September 2019, Buddy smashed his previous record of 20 and set the new bar to 36 cupcakes.
However, Buddy is not always the one spearheading surprises and delectable treats. When he celebrated his 42nd birthday in 2019, Buddy found himself on the receiving end when his wife, Lisa, made him an over-the-top birthday cake.
While it may have become somewhat of a family tradition, Lisa's cake three-tiered cake didn't disappoint. The top tier got layered with cookies, the middle one sported mini donuts, while the bottom level looked cheery covered in sprinkles.
Please fill in your e-mail so we can share with you our top stories!