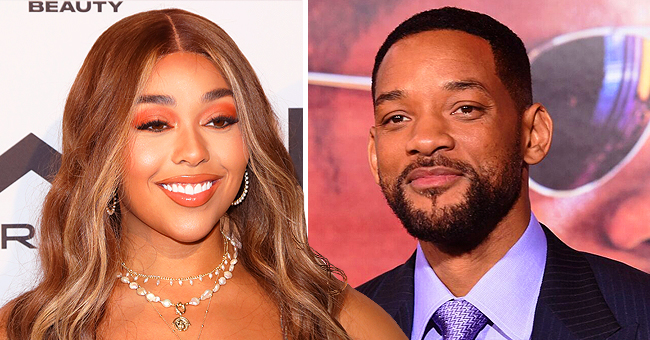 Getty Images
Former 'Life of Kylie' Star Jordyn Woods Celebrates Will Smith's 51st Birthday with Throwback Pics

Will Smith turned 51 on Wednesday, and Kylie Jenner's former BFF Jordyn Woods wished the actor a happy birthday with some of the most adorable throwback photos ever.
Jordyn, 22, is a close friend of the Smiths and showed just how far back they go with two pictures from her childhood.
In one picture posted to her Instagram page, a much-younger Will is lounging on a hammock. Surrounding him are little Jordyn in a bathing suit, her brother Joshua and Will's sons Trey and Jaden who appears to be in a diaper.
"What I want to say to you is that the world attacks. It just happens"
"Happy Birthday [Will Smith]" the model captioned the shot, adding a black heart emoji.
Another adorable throwback pic Jordyn shared to her Instagram stories showed Will twirling a young Jordyn in a pink dress. Also visible in the photo are birthday balloons, and again, little Jaden in a blue t-shirt and diapers.
Jordyn has known the Smith family for a long time, thanks to a friendship between her late father John Woods and Will.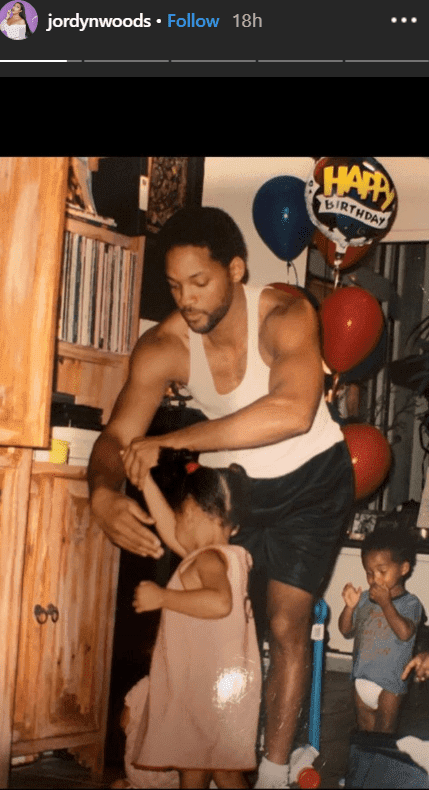 Screenshot of Jordyn Woods' throwback picture of Will Smith | Photo: Instagram Stories/jordynwoods
SUPPORT SYSTEM
Before his 2017 death from cancer, John reportedly worked in the TV business as a sound engineer and worked with Will on the 90s sitcom "Fresh Prince of Bel-Air."
Earlier this year, when Jordyn was in the eye of a media storm for allegedly hooking up with Tristan Thompson, then-boyfriend of Kylie's sister Khloe Kardashian, Will was there for the model.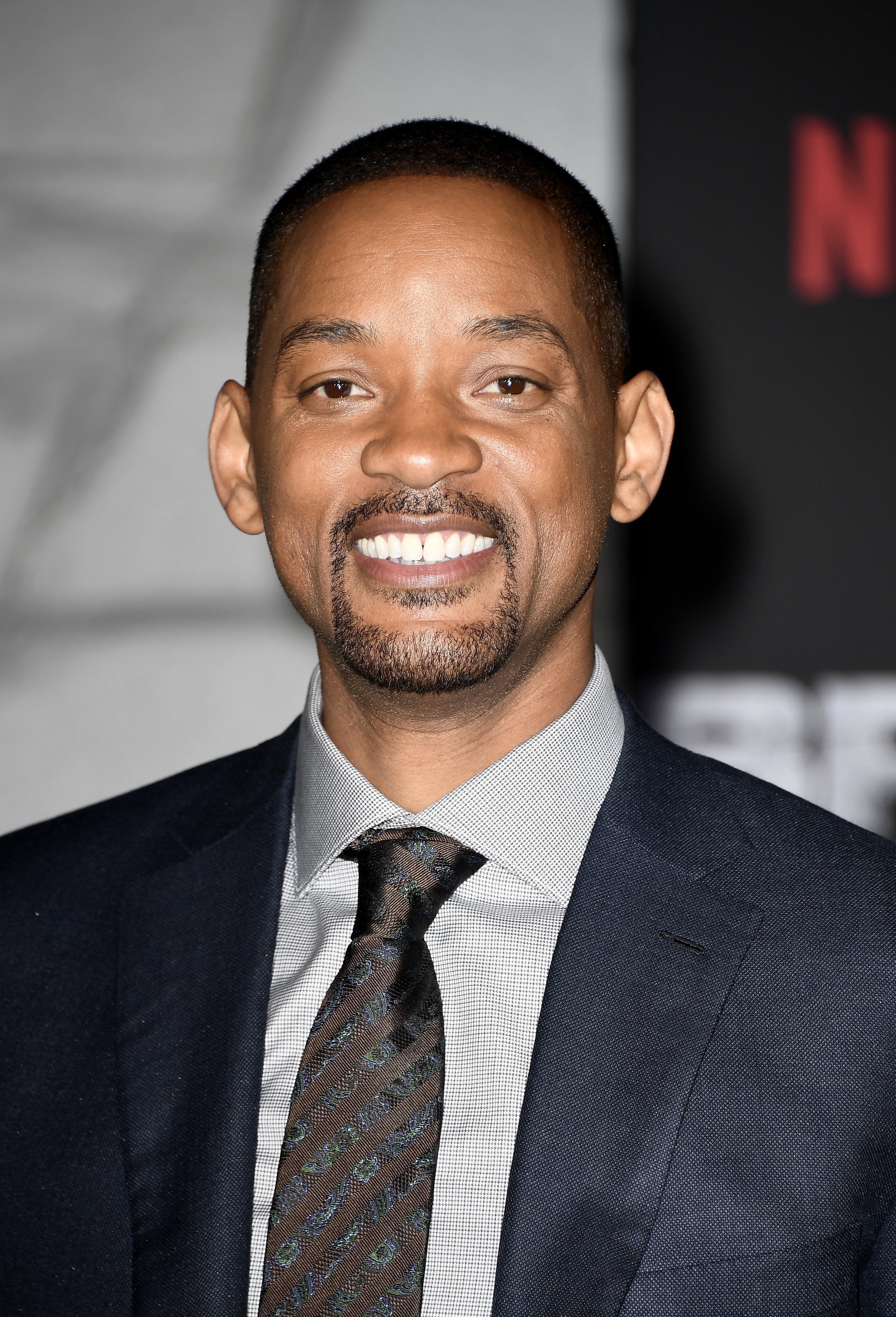 Will Smith at the Premiere Of "Bright" in Westwood, California on Dec. 13, 2017 | Photo: Getty Images
WILL CAME THROUGH
Jordyn appeared on "Red Table Talk," Will's wife Jada Pinkett-Smith's show, to tell her side of the story and in a video call before the interview, the "Aladdin" star told her:
"What I want to say to you is that the world attacks. It just happens. You'll never get around the world attacking but I want you to know that you are supported and I got you and we got you. …This world is not going to break you. We won't allow it. …Love you, baby."
BIRTHDAY TRIBUTES
Besides Jordyn, other members of Will's family paid tribute to the legendary entertainer who also had a successful run in the 90s with his rap career.
Alongside a video collage of several family moments, Jada wrote: "Happy Birthday, Willard! I never considered you funny. But after many years, I finally get your humor. Thank you for teaching me how to laugh with you and how to laugh at myself."
Jaden also shared an emotional clip from the 2006 drama "The Pursuit of Happyness" where he co-starred with Will and penned:
"Happy Birthday Dad I Love You More Than You Understand. I Took This To Heart That Day On Set, Because You Would Tell Me We Weren't Acting That We Were Displaying Real Human Emotions, And Those Words Really Impacted Me And Will Continue To For The Rest Of My Life, Just Like Everything You Say."
BIRTHDAY AT WORK
Meanwhile, birthday boy Will spent his birthday mixing business with pleasure in Budapest, Hungary at the European premiere of one of his latest films "Gemini Man."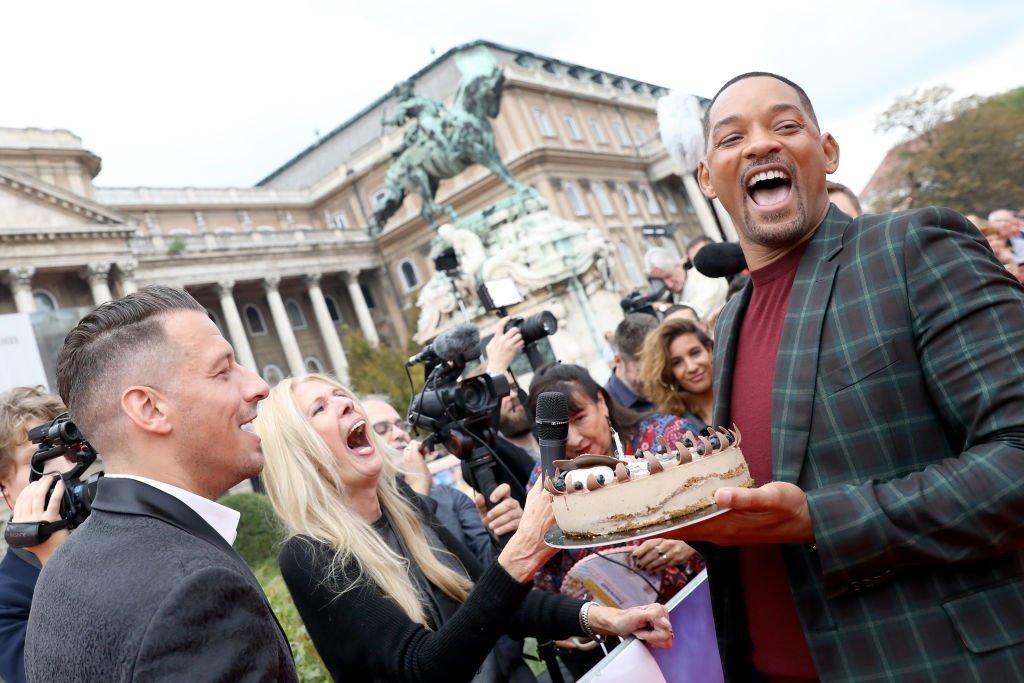 Will Smith poses with a birthday cake to celebrate his 51st birthday at the "Gemini Man" Budapest red carpet in Hungary on Sept. 25, 2019 | Photo: Getty Images
After getting a cake surprise on the red carpet, the Grammy winner showed off unbelievable dance moves at a concert in the city.
According to Daily Mail, Will lit up the stage with his vocal prowess and was joined by Jada as he showed that one more year hasn't slowed down his ability to bust a move.
Happy birthday, Will Smith!
Please fill in your e-mail so we can share with you our top stories!