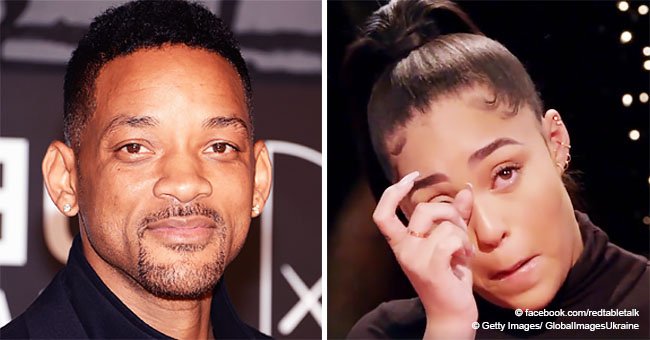 Will Smith Showed Support for 'Baby' Jordyn Woods before She Teared up Talking about Tristan's Kiss

Will Smith recently made it clear to Jordyn Woods that she is not alone in the aftermath of her alleged hook-up with Tristan Thompson and the young lady couldn't help getting emotional.
The 21-year-old model looked like she needed all the support she could get as she spoke out about the controversy for the first time on Jada Pinkett-Smith's Facebook Watch show, "Red Table Talk."
Before telling her side of the story, Woods hung out with Pinkett-Smith and her mother, Adrienne Banfield-Norris. It was then that a video call came in from Smith, 50, who was filming on set at the time.
"Well, I didn't think I'd be coming to the table like this, but it's the best place to be," Woods said to the actor
"I GOT YOU"
Smith, who once appeared on the show, immediately laughed and went about trying to make her feel better.
"Hey listen, that table has mythological cleansing and healing powers. I would have loved to be there. There's a lot of things about our relationship to her family. Jordyn's father worked on Fresh Prince before she was born and I know how hard it was for you and your family when he passed. And I was watching you grow and become a woman and I had a deep sense that we would be here one day. What I want to say to you is that the world attacks. It just happens. You'll never get around the world attacking but I want you to know that you are supported and I got you and we got you."
"That means the world to me. You've known me before I knew myself," Woods replied while struggling with tears.
SPEAKING AS A FATHER
Pinkett-Smith further asked her husband if he had any "fatherly advice" for the young lady.
"I would say take your medicine and tell your truth. This is a part of what growing up is. This is a part of what learning is," Smith offered.
He added firmly:
"This world is not going to break you. We won't allow it. …Love you, baby."
DEFENDING HER TRUTH
The "Red Table Talk" episode, which aired on Friday, was Woods' first response to the media firestorm that erupted following reports that she hooked up with Thompson, the boyfriend and baby daddy of Khloe Kardashian, whose sister Kylie Jenner, is Woods' best friend.
Earlier on in the show, Pinkett-Smith had explained that Woods' father was a sound engineer on "The Fresh Prince of Bel-Air" where he became friends with Smith. Both families were very close, and it was Jaden, the Smiths' 20-year-old son, who introduced Woods to Jenner.
During the interview, Woods admitted going to Thompson's house party and getting drunk but insisted it was the NBA player who kissed her when she was leaving in the morning.
LONG HISTORY OF CHEATING ALLEGATIONS
Thompson, 27, was first accused of cheating on Kardashian, 34, last April when photos and videos of him getting cozy with other women surfaced a few days before she gave birth to their ten-month-old daughter, True.
Before that, he was also alleged to have cheated on his ex-girlfriend and first baby mama Jordan Craig, with Kardashian.
Following Woods' revealing interview on "Red Table Talk," Kardashian took to Twitter with a fierce response.
"If you're going to try and save yourself by going public, INSTEAD OF CALLING ME PRIVATELY TO APOLOGIZE FIRST, at least be HONEST about your story," tweeted the reality star. "BTW, You ARE the reason my family broke up!"
Please fill in your e-mail so we can share with you our top stories!