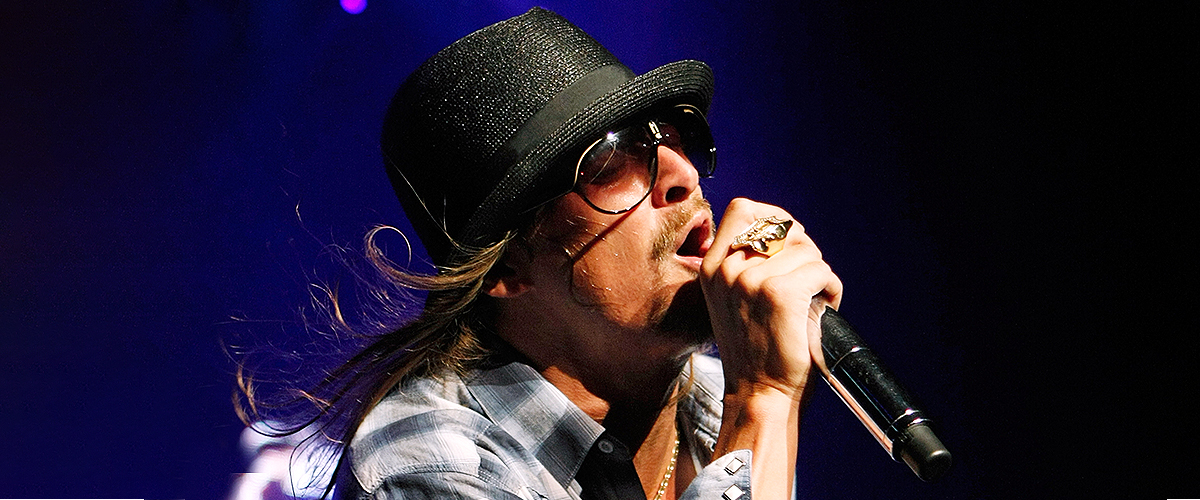 Getty Images
Kid Rock's Thoughts on Becoming a Grandfather at 43 Years Old

Kid Rock, the musician best known for his 2001 album "Cocky" and his 2007 one "Rock n Roll Jesus," became a grandfather at the age of 43, and he is proud about it!
Born in January 1971, Kid is a self-taught musician whose career began in the early 80s. He was interested in hip-hop and began to dance, rap, and DJ in talent shows in and out of Detroit.
"Does not get any better than Disney World with your granddaughter!"
Kid Rock's career
His career turned professional in the late 80s when he joined the hip-hop music group The Beast Crew. When he was only 17, he signed with Jive Records and released his debut studio album "Grits Sandwiches for Breakfast."
During the early 2000s, Kid started his transition from hip-hop to different genres, including country, blues, soul, funk, and various types of rock.
Kid's son and granddaughter
In 1993, when Kid was 22 years old, his long-time girlfriend Kelley South Russell gave birth to his only son, Robert James Ritchie Jr. Unfortunately, the couple split and the singer had to raise his son as a single father.
Robert Jr. and his girlfriend welcomed their first child to the world, Skye, in 2014. At the moment of her birth, Kid was 43 years old and his son was 21.
His thoughts on being a grandad
During a conversation that the musician had with Rolling Stone in 2016, he admitted that he was enjoying being a grandparent that young. Kid pointed out that his son had graduated from college and was working already, something he labeled as a "relief."
Apart from that, the singer acknowledged how lucky he is for being able to see Skye complete important milestones in her life, including being at her wedding.
He added that being a grandparent at a young age makes possible for him to be present for "so many things you might not see if you have kids later in life, which seems to be the trend now for most responsible adults."
As a way to spend as much time as possible with his granddaughter, he confessed to Billboard in 2017 that, even though Detroit was "always his home," he was staying in Tennessee to be with his son and granddaughter.
Kid's desire to spend time with Skye
"I'm kind of following the weather around these days," confessed Kid Rock. "Detroit is always my home, but Tennessee feels a lot like home, too, and always has."
The love that the 48-year-old grandad feels for Skye is evident in the many photos he shares on his Instagram account posing next to the girl.
In December 2018, Kid uploaded a slideshow that portrayed him wearing a white outfit, black sun-glasses, and a black hat sitting next to and Skye, who opted for a white sweater, a purple skirt, and black shoes.
As shown in the second image of the slideshow, the pair was sitting on a white vehicle that was part of the Christmas parade held in Leipers Fork, Tennessee.
In April 2019, the musician took to Instagram to share another photo showing him and Skye posing next to Mickey and Minnie Mouse at Walt Disney World.
"Does not get any better than Disney World with your granddaughter! Thank you to Ray and all who helped make it such a special day," wrote Kid on the caption followed by the hashtag "Blessed."
His mistakes as a dad
Even though Kid is enjoying his role as a grandfather, he once admitted that he made many mistakes while raising Robert Jr., who is also a musician with a few videos on his YouTube channel that surpassed the 30K-view mark.
According to the Boot, when Robert Jr. was about seven years old, Kid had a gig the night before Christmas. When he came back home, he passed out in the bathroom due to all the alcohol he had drunk after the concert.
Robert Jr. got into the bathroom and saw him there, so he asked for his grandmother's help. When Kid got better, his mother was trying to create an excuse so that Robert Jr. didn't know he passed out due to the alcohol.
However, Kid didn't lie. "I'm going to sit here and lie to this kid? He's like seven. I'm like, 'Big concert, party afterward, I drank too much and passed out. I'm not proud of it, but that's what happens when you do that,'" the musician revealed.
At the moment, the singer is focused on his family without leaving his career behind. His latest album, "Sweet Southern Sugar," was released in 2017 and reached the eighth spot on the US Billboard 200.
Robert Jr., on the other hand, is also focused on his career. His latest music video, "Exstacy," has more than 170K views.
Please fill in your e-mail so we can share with you our top stories!