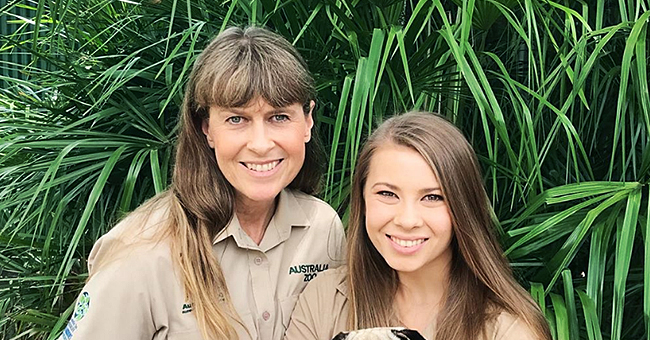 instagram.com/bindisueirwin
'Crocodile Hunter' Steve Irwin's Daughter Bindi Celebrates Mom Terri on National Daughters Day

Bindi Irwin recently pays sweet tribute to her mum, Terri. The Australian Television personality showers her mom with praises in a bid to wish her a "Happy National Daughter's Day."
Bindi Irwin posted an old photo of her mom and her on Instagram to celebrate National Daughter's Day.
The caption of the photo reads:
"For #NationalDaughtersDay I wanted to take a moment to talk about my beautiful mum. She is my guiding light, best friend, and I'm so blessed to be her daughter. She inspires me every day with her strength, courage and grace. I love you beyond description, Mama!"
Both mother and child are pictured sitting on a brown chair; the 21-year-old television personality is seen holding her mother firmly, as they both smiled for the picture.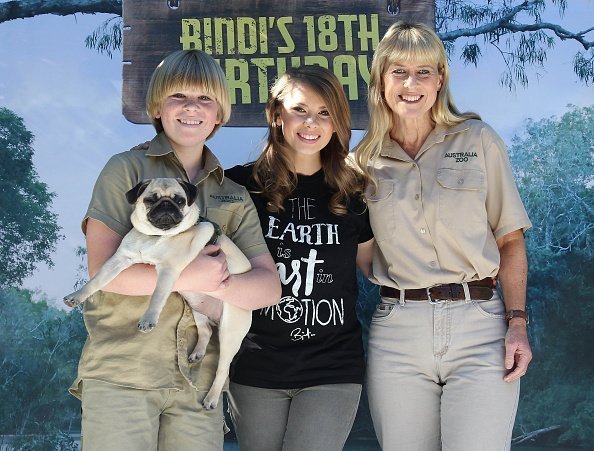 Bindi Irwin along with her mother Terri Irwin and brother Robert on her 18th birthday | Photo: Getty Images
Bindi is dressed in light blue Jean trousers and a black sweatshirt, while Terri pairs a cream-colored trousers with a deeper brown undershirt and a black jacket. A picture frame with the words "radiate love" can be seen in the background.
FANS' REACTIONS
The internet was set abuzz as fans and followers reacted to the post. A fan said:
"She doesn't age! She looks sooooo good."
Another fan commented:
"So young she could be your sister."
BOTH TERRI AND BINDI SHARE A STRONG BOND
Terri lost her husband, Steve Irwin in 2016; last year, she said she hasn't been on a date since he passed away. While speaking to "People", the mother of two said:
"I think it's wonderful when people who have lost someone find love again, but I'm not personally looking, and I haven't been on a date in 27 years."
Bindi earlier shared a picture of her 55-year-old mother sitting on the balcony, looking ageless. The photo of Terri was posted on Instagram after Irwin said "yes" to Chandler Powell on her 21st birthday. She took a moment to thank her mother for being her "best friend" and the "best" mother on the planet.
Both Bindi and Powell are starring on the season 2 of their hit Animal Planet series, a mission to carry on the conservation legacy and efforts of the former's late father.
A BALANCED ACTION
A few weeks ago, the zoo conservationist also paid tribute to her late father, Steve, in a throwback family picture.
She shared the photo with a lengthy caption, telling her father, who loved hunting crocodiles, how awesome Robert, her brother has been.
While celebrating Australia's Father's Day, Bindi shared a video of late Steve Irwin holding his daughter. At the start of the clip, he could be heard saying "look at my baby" as he holds baby Bindi.
The "Bindi the Jungle Girl" hostess lost her father when she was eight years old. He was working on a film shoot underwater titled "Ocean's Deadliest." and was attacked by a stingray. He died in early September 2006, at age 44.
Please fill in your e-mail so we can share with you our top stories!