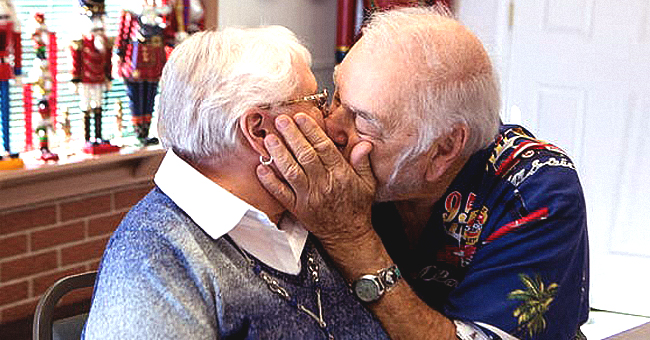 Twitter.com/BenLanka
Couple Who Were High School Sweethearts in the '50s Reunite Decades Later to Finally Wed

Both in their 80s, Annette Adkins and Bob Harvey found each other over six decades later and are now planning the wedding they didn't have.
Adkins and Harvey were lovers at Gar-Field High School in Woodbridge, Virginia in the mid-1950s, as reported by Newark Advocate.
"When she called, I couldn't talk. I was still madly in love with this woman..."
However, their relationship was broken when Adkins met somebody in Florida. In 1961, they got married.
Meanwhile, Harvey had moved on with someone else. They tied the knot in 1959. Adkins's husband passed away in 2015, and two years later Harvey's wife also died.
A few months ago, Harvey began thinking about Adkins. He then googled her and stumbled upon her husband's obituary.
Although Harvey had hope that there could be a spark, he was more of a realist as well. He thought that Adkins may have just discovered another love.
Harvey was worried that he might have lost his first love once more. What he didn't know, though, was that Adkins was thinking of him, too. She was suddenly reminded of Harvey when a roll of old film from their prom finally got developed.
One day, Harvey decided to send her a condolence card for the loss of her husband and included his telephone number. After eight days, he received a call from Adkins.
"I danced around the room. When she called, I couldn't talk. I was still madly in love with this woman," Harvey told Newark Advocate.
Adkins told him that she'd been searching for him, too. Harvey and Adkins agreed to meet at her home in Ohio and Harvey drove the whole way there.
"The door opened instantly. My heart was soaring. I had brought flowers," said Harvey.
The two then went to a '50s-themed restaurant where they danced for their first date. They are currently arranging their wedding, and they also have the support of every one of their families. The groom-to-be said, "I love her dearly. I love her more every day."
According to USA Today, Harvey said that he thinks sometimes he can't love Adkins more, but then there's tomorrow.
In another heartwarming reunion story, Morris Sana and Simon Mairowitz were ripped apart by the Nazi invasion of Romania in 1940, as reported by PEOPLE.
They were cousins and closest companions growing up in Romania. Because of the invasion, their families fled the country separately.
From then on, they thought each other had perished in the Holocaust.
Several decades later, Sana's niece and daughter connected with Mairowitz's family on Facebook and, after finding out that the two were both living, set up a meeting in Tel Aviv.
Please fill in your e-mail so we can share with you our top stories!