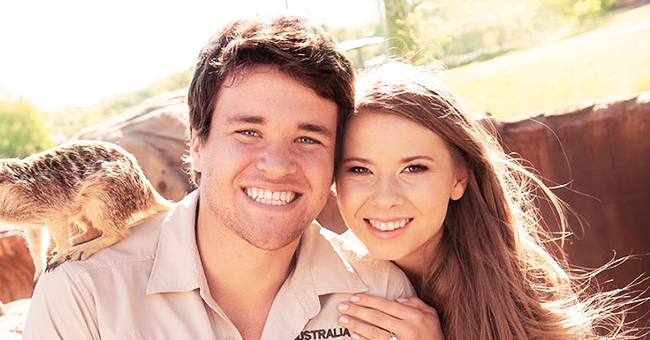 instagram.com/chandlerpowell
DWTS Alum Bindi Irwin and Fiancé Chandler Powell Pose with a Meerkat in New Adorable Photo

Chandler Powell, in an adorable post on Instagram, wrote that he couldn't wait to marry his fiancée, Bindi Irwin.
Bindi Irwin and her fiancé, Chandler Powell, are in love, happy, and counting the days, and the months leading up to their 2020 wedding at the Australian Zoo.
POWELL CANNOT WAIT TO MARRY IRWIN
In a new photo shared by Powell on Instagram, the couple looked adorable together in a natural setting, smiling happily with a meerkat resting on the young man's shoulder. He captioned it:
"I cannot wait to meer-y this girl @Australianzoo next year."
Irwin responded to the post, writing:
"You know you've met your soulmate when he makes you laugh out loud with meerkat puns. I love you, @Chandlerpowell."
One follower commented:
"It's plain to see you're simply meant to be."
While another wrote:
"Just delightful, such good role models."
THEY GOT ENGAGED IN JULY
The "Crikey! It's the Irwins'" star and her 25-year-old fiancé, got engaged in July, after being together for nearly six years. The proposal took place at the Australian Zoo, with the two surrounded by nature, and the bride-to-be's brother, Robert, hiding in the bush to capture the beautiful moment.
Interestingly, Powell practiced with the teenager to ensure he got the moment right, and recently, Irwin, whose father, is the late Steve Irwin, revealed that her brother would walk her down the aisle.
She said about her decision to let Robert fill in for their father:
"I think for me, it's really important that Robert walks me down the aisle. That's something that I really want to do."
IRWIN IS IN WEDDING PLANNING MODE
The bride-to-be is equally combining wedding planning with her work at the zoo, but thankfully, she has her brother, and her mother, Terri to support her.
She said:
"Saving the world and planning a wedding. It's tough, but it's a healthy balance."
Irwin sees Powell as the love of her life, and after they got engaged, she told "People":
"I've met my soulmate, and can't wait to spend the rest of my life with Chandler… he's my happily ever after."
The couple shares a close bond, and the groom-to-be gets along with the Irwins' and share their love for nature, and passion for animal conversation. So much so that he joined them in season two of their Animal Planet show, "Crikey! It's the Irwins'."
The show will premiere on October 5, at 8 pm ET.
Please fill in your e-mail so we can share with you our top stories!