Meghan McCain Honors Her Late Father John McCain with a Throwback Photo
Meghan McCain honored her late father over the weekend with a photo and a touching caption that showed just how much she appreciated him.
On Saturday, Meghan, 34, posted a throwback photo on Instagram of her and the late Senator John McCain as they stood in a river and smiled into the camera. 
Meghan constantly expresses how much she misses her father, who died last year from glioblastoma, a form of brain cancer, at age 81. The photo is found below.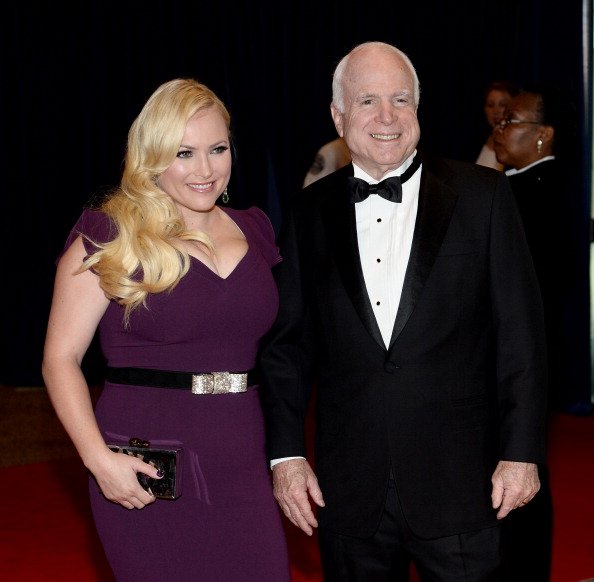 Meghan called her late father "the last of the greats"
"The View" co-host's younger self looked adorable in a white shirt and large blue pants as she stood elevated in the river. Her dad sat behind her wearing a white t-shirt as well as a dark baseball cap. 
In the caption, Meghan called her father "the real deal. The last of the greats." She described him as having had "character, grit and authentic, raw patriotism." 
The last part of her caption read: 
"There are no more like you - at least anywhere I can see." 
She went silent for his anniversary and birthday
Meghan has the utmost respect for her father and anyone who follows her or watches "The View" — even once — would know about it. When the anniversary of his death was approaching, however, she went dark. 
In late August, Meghan announced that she would be staying off social media from August 25 — the day her father died. On the 24th, she posted a photo taken of her and her dad sitting on a bench. 
She wrote: 
"Last year tomorrow, August 25th was the worst day of my life. I lost my hero. I miss my father every single day, I will for the rest of my life. Grief is omnipresent and relentless."
She continues his legacy every day
On August 29, what would have been John's birthday, Meghan promptly shared a photo of her father's grave and her kneeling in front of it. "Happy birthday Dad," she wrote in the caption. 
In many ways, Meghan continues her father's legacy with her opinionated comments on "The View" alongside her colleagues. As the only conservative, she stands apart from the other ladies.
Like all the women on "The View," Meghan often controversial views are strongly expressed on the talk show. Meghan has said, "I go in assuming I'm going to be fired every day." 
Though fully prepared to be fired, she's faced no threat so far
Her expectations, she says, are a result of the cultural "tone" that prevails in the world today where "people get canceled so easily." It's been three years since she's been on, and so far her job hasn't been in danger.
Meghan regularly gets criticized for not only her views and her looks, but for grieving her own father too often. The backlash hasn't deterred her yet from mourning in the way she feels fit.