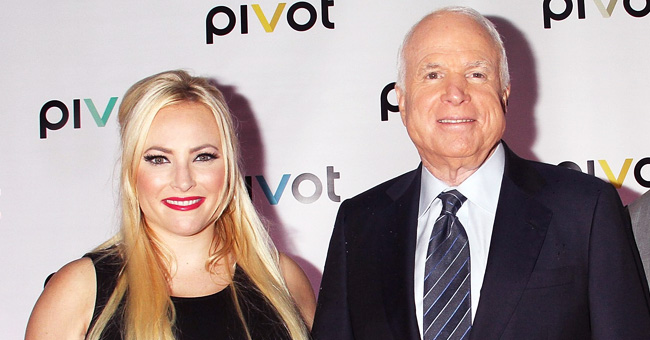 Getty Images
'The View' Co-Host Meghan McCain Pays Tribute to Late Dad John on His Birthday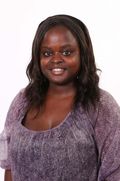 Meghan McCain returns to social media to pay tribute to her father, Senator John McCain, on what would been his 83rd birthday.
Meghan McCain, co-host on "The View," has returned to social media following a year long silence.
Last year, on the one year anniversary of her father, Senator John McCain's death, she announced that she would be taking a break from social media. In a heartfelt message she explains:
"On this anniversary until his birthday after the 29th I am going to take a break from social media. The memory of my father's life continues to guide me today, as it always will. Remember to cherish your loved ones. I still can't believe my heart didn't stop when yours did, Dad.."
Meghan shares a personal moment of her enjoying some bonding time, enjoying the mountain views with her late father.
Just days before his birthday, Senator McCain passed away on August 25, from brain cancer. On the announcement of his death, Meghan released a statement saying:
"I was with my father at his end, as he was with me at my beginning. ... All that I am is thanks to him. Now that he is gone, the task of my lifetime is to live up to his example, his expectations, and his love."
A year to the date of his birthday, Meghan returned to social media sharing an emotional picture of herself visiting her father's grave.
Sitting in front of the tombstone adorned with flags, flowers nd sea shells at the top, Meghan writes:
"Happy birthday Dad. I love you. ??"
Fans joined in to pay their respects to Senator McCain on his birthday.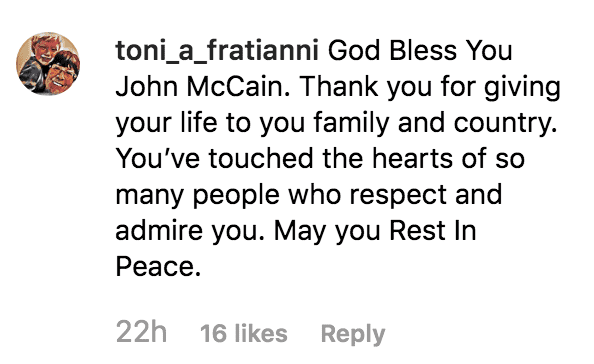 Fans show their support for a grieving Meghan McCain | Source: instagram.com/meghanmccain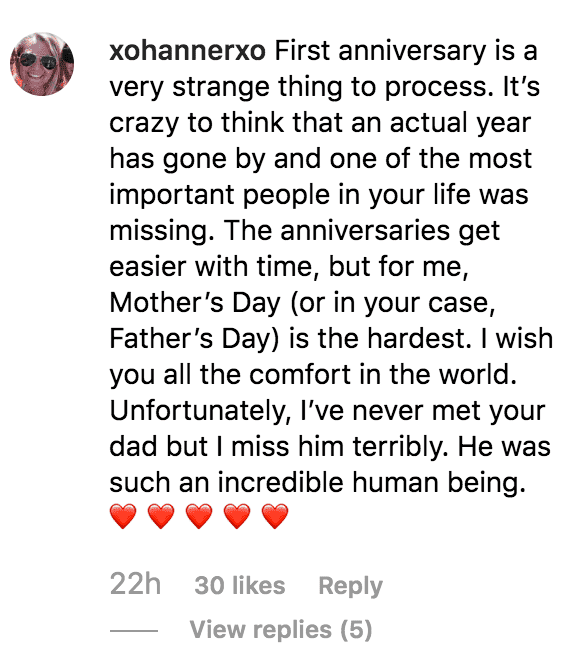 Fans show their support for a grieving Meghan McCain | Source: instagram.com/meghanmccain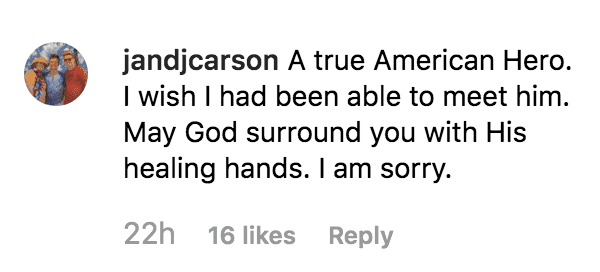 Fans show their support for a grieving Meghan McCain | Source: instagram.com/meghanmccain
Showing just how grief can bring people together, one commenter sends an encouraging message to her, despite not being a fan of her political views. She writes:
"I just want to tell you this Megan, I don't agree with your politics, but I love ❤️ the way you carry yourself. I can listen to your views because you are reasonable even when you're passionate. When everyone is talking over each other I get annoyed if they don't give you the opportunity to share your thoughts. Remember that is coming from a Democratic."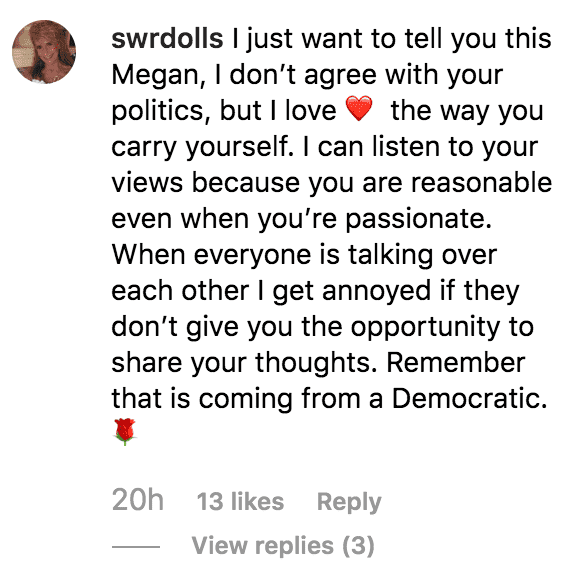 A commenter says they admire Meghan McCain despite not liking her political views | Source: instagram.com/meghanmccain
According to PEOPLE, Meghan hopes to continue to uphold the McCain legacy with her latest book collaboration with Audible. Sharing details of her book she says:
"Everyone has either completely abandoned every conservative ideal they've had and gone full never-Trump, or gone full psycho-Trump-MAGA, there's got to be something for the rest of us and I hope this book is it."
The outspoken conservative hopes to give readers a better perspective on true conservatives and more specifically, looking at the empowered female conservative.
The release date for the book has not been announced yet, but it is expected to be out by 2020.
Please fill in your e-mail so we can share with you our top stories!