'Fresh Prince of Bel-Air' Star Alfonso Ribeiro Opens up about 4-Month-Old Daughter Ava Sue
Alfonso Ribeiro spoke about his 4-month-old daughter, Ava Sue in a recent interview. He described her as a "really happy baby."
Alfonso Ribeiro is one proud and happy papa who adores his little girl and in a recent interview with People, the actor gushed about how adorable she is. 
WHAT RIBEIRO HAD TO SAY ABOUT AVA SUE 
Ribeiro told the news outlet, "She's a really happy baby," adding, "She just smiles and connects all the time." 
Ava Sue Ribeiro finally decided to send [Angela] to the hospital on Mother's Day.
The actor equally described his little girl as a "little sweetheart" who has two crazy older brothers that love her, and, "there's a lot of love in our house."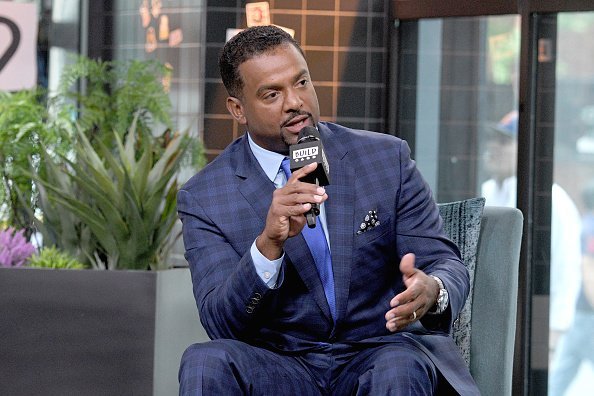 Ribeiro and his wife, Angela Unkrich, in addition to Ava Sue share two sons, Anders, and Alfonso 'AJ' Lincoln; the actor also has a teenage daughter, Sienna from his marriage to Robin Stapler. 
THE ACTOR AND HIS WIFE ANNOUNCED THEY WERE HAVING A BABY GIRL
The "America's Funniest Home Videos" host and Unkrich welcomed their little girl in May, on Mother's Day. In an Instagram post at the time, the actor wrote,
 "Ava Sue Ribeiro finally decided to send [Angela] to the hospital on Mother's Day."
The couple announced they were expecting Ava Sue in November 2018. Ribeiro made the announcement on Instagram with a photo that showed his two sons on a straight line with their mother clutching fake baby bumps, while the mom-of-three held the real one. 
The "Fresh Prince of Bel-Air" star added the funny caption,
"Guess which one is already kicking."
RIBEIRO'S LOVE FOR HIS FAMILY
Ribeiro has always expressed his desire to have kids and once jokingly said in a 2014 interview that he would love for his children to be done with college by the time he turns 25. 
The actor is very family-oriented and every year, he takes his family on a road trip to visit his in-laws in Iowa and educate them on the importance of learning from personal experiences.
The actor who is also a DWTS alum married Unkrich in 2012 after dating her for a year.
The Iowa native is a self-proclaimed springboard diver and gymnast, golf enthusiast, a cubs fan, and an Iowa farm girl. Like her husband, Unkrich who is a professional writer is big on family and includes her stepdaughter in family-themed events, including the road trips.
With all the love going around, it's no wonder Ava Sue is growing up as a happy little girl.