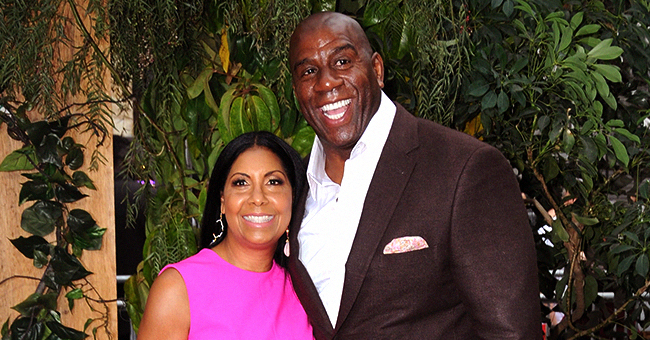 GettyImages
Retired LA Lakers Legend Magic Johnson's Wife Cookie and Daughter Elisa Stun in Elegant Dresses

The wife of the famous American Basketballer Magic Johnson, Cookie Johnson posted a picture of herself and their 24-year-old daughter on Instagram, both rocking elegant dresses.
Retired American basketball player, Magic Johnson has a lot of lifetime achievements to be proud of and topping the list is his amazing family of four, including a beautiful wife and daughter.
THE ADORABLE MOTHER AND DAUGHTER
Cookie Johnson, 60, shared an Instagram picture featuring her and her beautiful daughter standing side by side as they posed for a Johnson-Girls-pic.
The duo stunned in their perfectly fitted dresses with the sixty-year-old wearing a long black gown with tiny straps while her daughter, Elisa spotted a short brown variant.
Both women looked adorable as they rocked identical heeled sandals that came in different shades. Their gorgeous smiles completed the elegant ensemble.
FAMILY IS EVERYTHING
Fans and admirers took to the comment section to commend the Johnson women's beauty. Elisa Johnson also commented on the pix with the words:
"LOVE YOU MAMA."
The post which was a throwback photo to commemorate the National daughter's day was also Cookie's way of revealing to the world that family is everything, which was reflected in the hashtags that accompanied the picture.
ELISA'S BRAVERY IN THE FACE OF DANGER
It is no news that the family has been through some difficult situations, and the daughter of the former Lakers player, Magic Johnson and his wife have experienced their fair share.
Late last year, the 24-year-old narrowly escaped a robbery attack by two armed men.
In a TMZ report, the Beverly Hills resident was hanging out with friends in a rented Airbnb apartment when the men invaded the house and collected their belongings at gunpoint.
The athlete's daughter was in luck as she was in one of the bedrooms during the attack and was able to escape unseen via a glass door, but not without a tell-tale injury.
The brown-skinned beauty later posted about God's goodness on Instagram to confirm her lucky escape.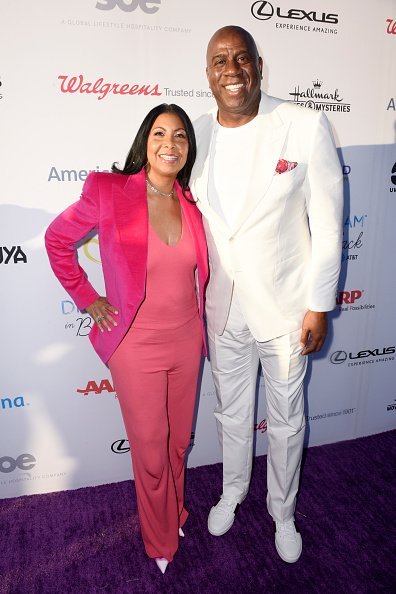 Cookie Johnson and Magic Johnson at the HollyRod Foundation's 21st Annual DesignCare Gala on July 27, 2019 | Photo: Getty Images
The incident admittedly shook the Johnsons, but they have learned to move past it.
The 60-year-old retired athlete revealed to reporters at the 10th Annual Boxing Night of the "Big Father, Big Cause" charity event that Elisa was doing great.
He also gave his wife credit for his little girl's recovery from the trauma.
MORE THAN A SURVIVOR
As it turned out, the 24-year-old was battling more than just post-invasion trauma.
She revealed in April via an Instagram post that during her miraculous escape, she sustained some intense stomach scars which left her feeling insecure about her body.
After battling those insecurities for months, she finally learned to embrace the scars as part of her journey.
"I love my body, and I am Proud to be in the place I am today. #selfhealing," she wrote.
Cookie's support has made a positive impact on the survivor who has proven herself to be a true Johnson in the face of life's travails.
Please fill in your e-mail so we can share with you our top stories!