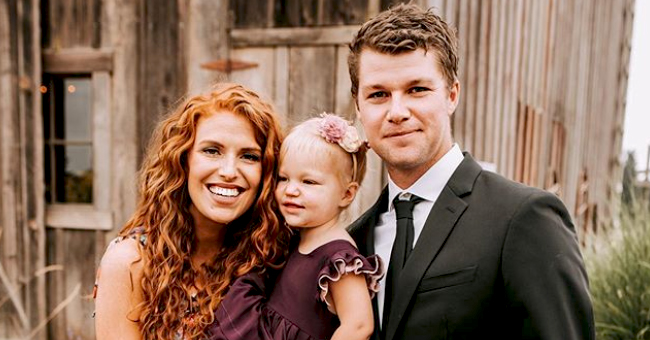 instagram.com/audreyroloff
LPBW Star Audrey Roloff Shares about Daughter Ember's 'Big Weekend' & Posts New Photos of Her
Audrey Roloff shared a post on her Instagram page in which she revealed details of her daughter, Ember's "big weekend" alongside new pictures.
The expectant mother passed on a lesson she learned from her mother to her daughter, Ember and was glad it bore great rewards. She thus went on to post about Ember's big weekend.
AUDREY ROLOFF'S POST
The 28-year-old posted three pictures of her two-year-old daughter, Ember.
In the first picture, the adorable Ember posed standing at the entrance of her house with her doll also positioned on the foot mat at the door.
The second picture was similar to the first, with the excited Ember seemingly muttering some words as her mouth was wide open. The third photo showed Ember carrying her doll, wrapped in her arms while she planted a kiss on its lips.
In the caption that followed, proud mom, Audrey Roloff narrated the story behind the pictures.
She stated that the weekend was a big one for Ember, before going on to talk about how her mother made her give her binkies to baby Jesus during Christmas since she was grown up.
The lesson worked for Audrey, so she decided to do the same for her daughter, Ember.
Since it isn't Christmas yet, they got Ember who just celebrated her second birthday a baby doll called "Baby Margaret," which got the little tot excited.
After that, Audrey told her daughter that being a big girl, she had to give her binkies to her doll, to which she happily obliged.
The result is a caring, loving, and active Ember who enjoys her activities and also loves her baby doll and ponies so much.
Audrey's post generated reactions from some of her followers and fans who were surprised by how fast Ember has grown and also enjoyed the beautiful moments described by her mother.
AUDREY SHOWS BABY BUMP
Ember would have a sibling to show love and care for by next year with her mother expecting a baby boy in January. The expectant mother recently showed her growing baby bump with a post on Instagram.
Audrey wore a pair of yoga pants and a black tank top in the photo which was taken after she had done an extensive workout.
In the caption to the post, the author wrote;
"Still cannot believe how fast this pregnancy is going compared to Ember. 25 weeks already seems unreal … Also, I've literally taken zero bump pictures. I think this might be a first."
It is great to see Audrey and her daughter in good spirits. Ember's binkie lessons would surely be coming in handy when her baby brother is born in January.
Please fill in your e-mail so we can share with you our top stories!