Duchess Kate Dazzles in Emerald Cocktail Dress as She Meets the Aga Khan with Prince William
Kate Middleton took center stage in a mindblowing emerald green dress as she met Aga Khan in London. All eyes were on the duchess!
Kate Middleton is no doubt a fashion icon, and she reinforced that truth at her recent outing. 
The Duke and Duchess of Cambridge were in London on October 2 to meet with the Aga Khan, as reported by the Daily Mail.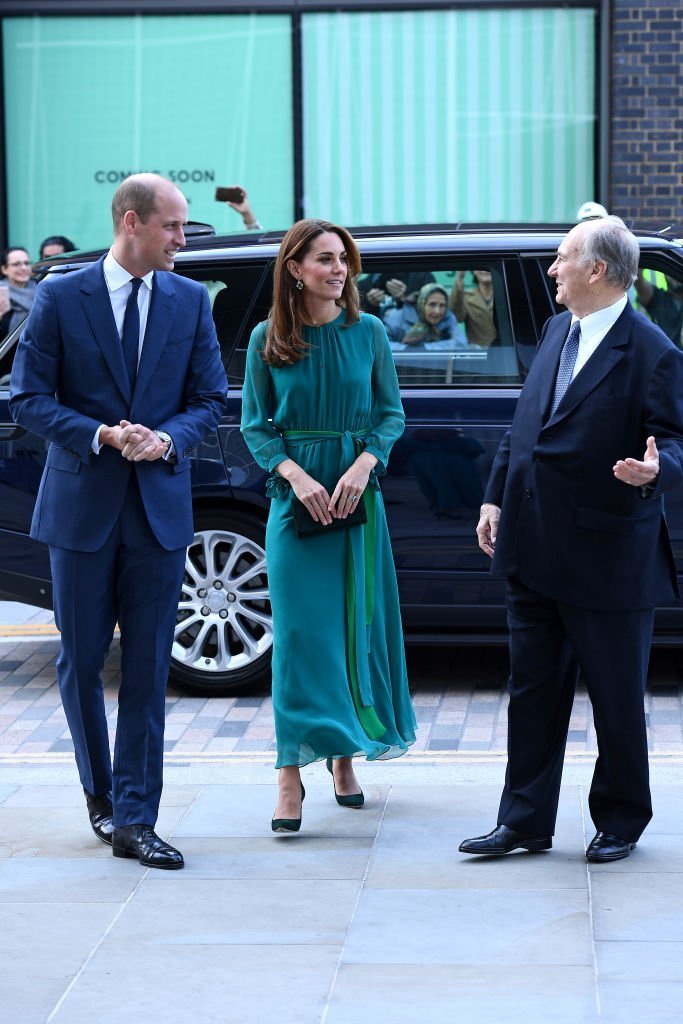 For the meeting, Kate Middleton looked elegant in a beautiful floor-length emerald green dress by Aross Girl. The flowy silk ensemble featured a green waist belt and was paired dark green stilettos from Emmy London. 
The duchess accessorized with matching green earrings from a Pakistani designer Zeen as she joined the husband, William for a special event hosted by the spiritual leader, the Aga Khan.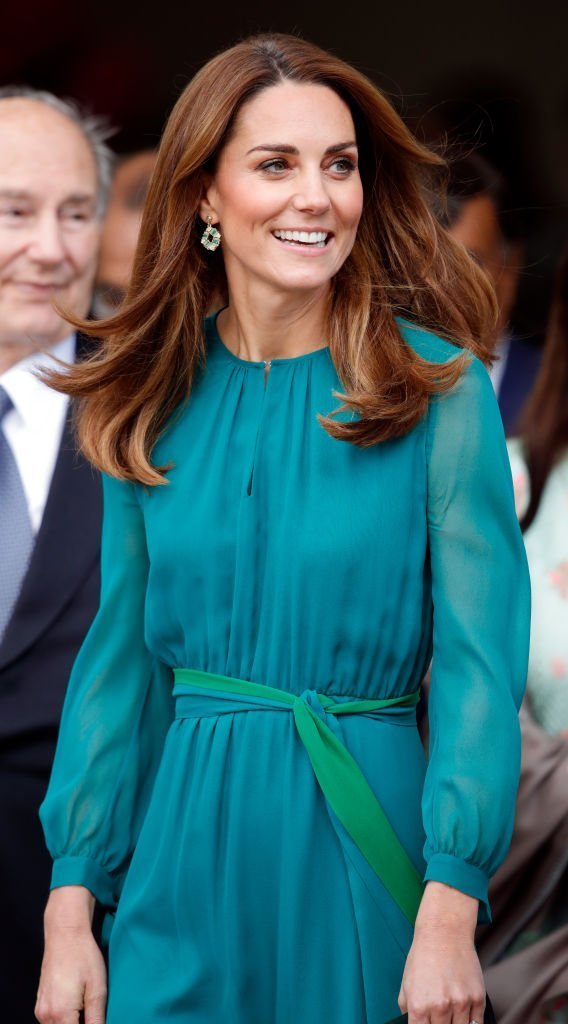 As usual, the mother-of-four kept her makeup light and let her golden honey locks flow graciously with the wind. The maxi dress is reported to cost £825
The Aga Khan, an 82-year-old billionaire, hosted the Duke and Duchess of Cambridge to a special event to showcase the modern Pakistan culture at the Aga Khan Centre, Kings' cross.
The Duke and Duchess of Cambridge meet the Aga Khan in London ahead of their visit to Pakistan later this month. Kate is wearing an ARossGirl dress and earrings by Pakistani designer Zeen. pic.twitter.com/f4vyVVb432

— Richard Palmer (@RoyalReporter) October 2, 2019
The event was organized alongside the Federal High Commission of Pakistani, and the royal couple will be meeting business owners, community leaders, artists, chefs and musicians from Pakistani in the diaspora. 
This event came ahead of their couple's royal tour, which begins on October 14 and lasts until October 18. 
His Highness, the Aga Khan, is the 49th hereditary Imam of approximately 20 million Shia Ismalia Muslims. He is a direct descendant of Islam's Prophet Muhammad.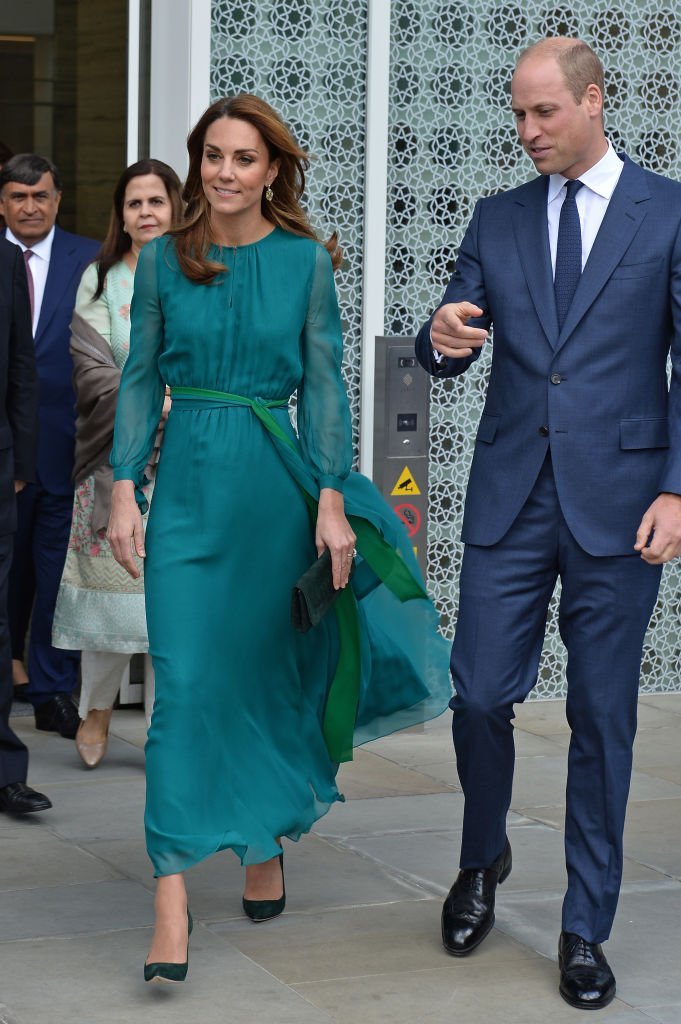 Aga Khan's responsibilities as an Imam include interpreting the faith and looking after the spiritual and material well-being of his followers. He succeeded his grandfather in 1957 at the age of 20. 
It seems the duchess has a linking for teal-colored outfits. Last week Thursday, the Duke and Duchess joined Sir David Attenborough for the naming ceremony of the polar research ship named Boaty McBoatface.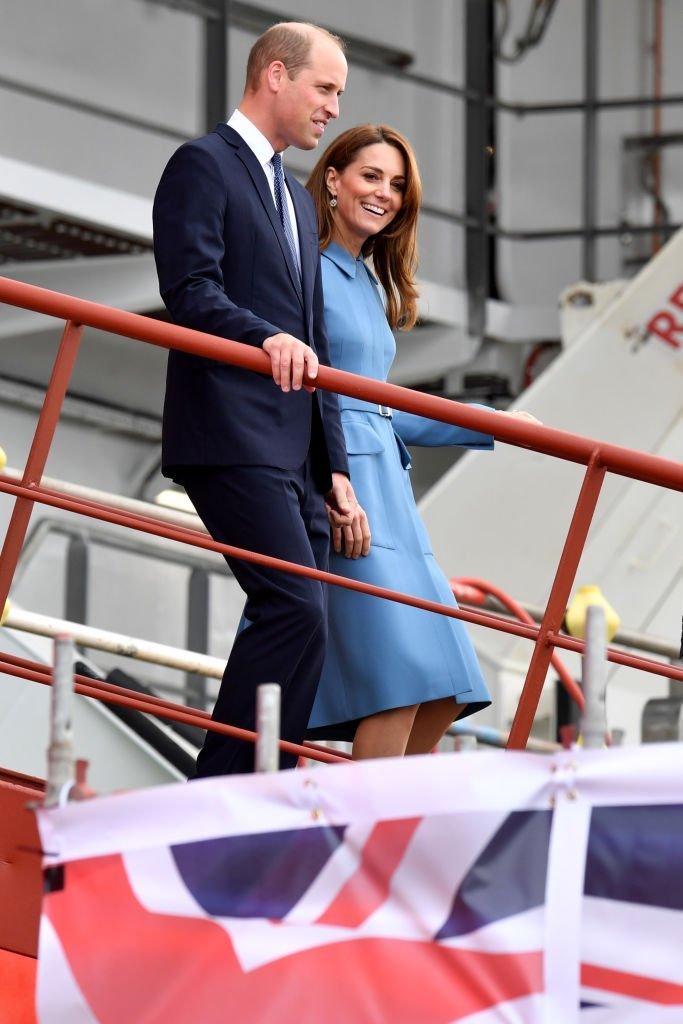 For the event, Kate looked absolutely stunning in her sky blue cape coat dress by Alexander McQueen, which she has recycled on several occasions.
As revealed by HELLO! Magazine, she paired the outfit with a clutch by Asprey priced at £1,850. 
Kate and Prince William met with the Engineers and apprentice that worked on the ship and were given a tour around Boaty. The vessel is said to have ice-breaking capabilities.