Teyana Taylor Shares Daughter Junie's Extra Efforts to Take Gorgeous Photos of Her Mom
Teyana Taylor shows off her daughter Junie's skills as she squats on the ground to take gorgeous photos of her mom and her stunning outfit. 
Teyana Taylor and Iman Shumpert's daughter Junie is turning 4-years-old in December, and she's growing up to be such an intelligent girl. 
Time after time, Junie stuns her mom's fans time and time again as she seems to be such an old soul. From liking Drake songs to dressing up fashionably, little Junie's latest knack is for photography, and she's quite good at it.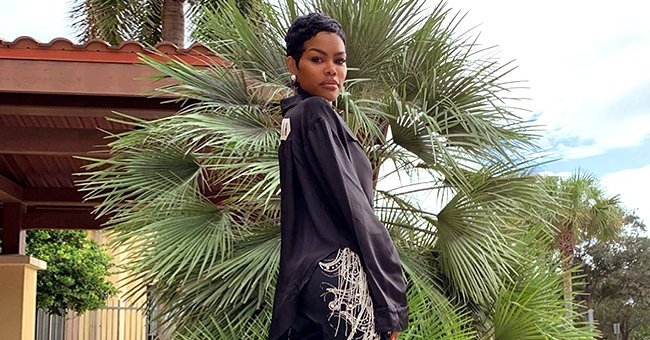 Junie's Photography Talent
Of course, none other than Teyana Taylor herself is the perfect model for Junie, as she became her daughter's muse as she snapped photographs while on the sidewalk. 
Crouched down, the little girl held up an iPhone as she took well-angeled pictures of her mom dressed in a black coat and flared pants. Impressed by her daughter's keen eye, Taylor shared the finished products on Instagram. 
Ranting About Bad Photographers
According to the singer, she always complains about how Iman and her friends can't take nice pictures of her, and they all end up blurry. It turns out, all she needed was Junie to get A+ photos of herself. 
"She heard me complaining to Iman about how my friends even including [Iman] at times can't take pics for [expletive] and how every pic was blurry... she grabbed my phone like 'say less mommy'. She caught them angles too and even had the nerve to get low with it."
An Amusing Little Girl
Amused by how hilarious and amusing her girl is, she asked her followers: "Yo what [am I going to] do with this Lil girl??!!"
This is not the first time Teyana asked her followers what she's supposed to do with Junie, who acts like a grown-up. Countless times, the little girl poses for photos on her own, earning her own signature "hip thrust," to which she puts her hip to the side every time her mom or dad asks her to smile. 
Junie's Other Talents
In fact, Teyana even asked her little girl to teach her, as she seems to have mastered the hip-to-the-side post. 
Aside from having a photographic eye and a knack for modeling, Junie is also a big fan of music, and with no surprise, as she probably heard her mom singing every single day since she was in her belly. 
Junie's Favorite Song
While many 3-year-olds would rather listen to songs from "Barney" or "Sesame Street," Junie's favorite artist is none other than Drake himself. 
In a clip recorded by Taylor, her little toddler starts talking about "making your phone disappear." When asked which movie she got that from, she explained that it's from Drake's chart-topping song, "In My Feelings."
Awaiting Her Next Antics
She goes on to sing the famous "Kiki, do you love me?" line, as she cuddles up next to her mom. 
It's surprising to see little Junie growing up so fast, and with her 4th birthday nearing, fans can't wait to see what other hilarious antics she'll pick up as she turns a year older.