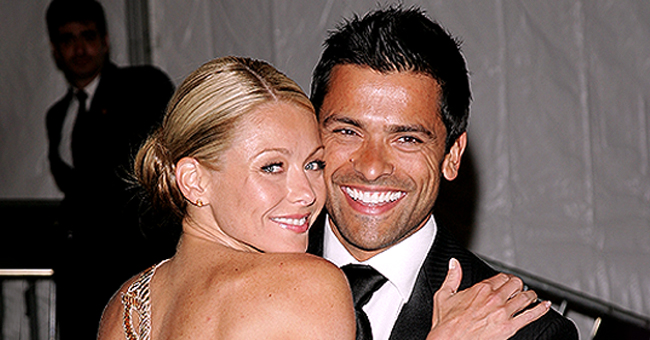 Getty Images
'Riverdale' Actor Mark Consuelos Says He 'Would've Been Married 3 or 4 Times' without Kelly Ripa in Birthday Tribute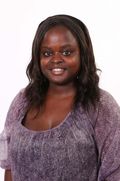 Mark Consuelos shares a joke about his marriage in a heartfelt message for Kelly Ripa's birthday. He teams up with Ryan Seacrest for a special birthday surprise on the set of their show, 'Live with Kelly and Ryan.'
Kelly Ripa is officially 49. The host of "Live with Kelly and Ryan" was showered with plenty of birthday gifts and birthday messages on social media. In a light hearted message, her husband, Mark Consuelos jokes:
"Happy Birthday to my Fave..I'm really glad you were born.. Because let's face it, if you weren't, I would've been married 3 or 4 times by now. Which would've been really expensive, not to mention the super tense parent teacher conferences and all the awkward blended family holiday/vacations. Anyway, happy birthday sweetie."
The montage of pictures shows Kelly when she was young girl and it also features recent pictures of the couple together.
Mark and Kelly have been married 23 years, they have three children together, Joaquin, Lola and Michael. The couple met when Mark was cast as Kelly's love interest on "All My Children," and she was shown pictures of him, she recalls:
"When I saw him, the photograph of him, I saw my entire future with him flash before…like I saw it. And I don't believe in any of that and now I do because of that moment."
One fan commenting on Mark's post couldn't help pointing out how that Kelly hasn't changed since she was a baby, the fan says:
"@kellyripa you look identical to your baby pics!! I mean, everyone would pick you immediately from those 'guess who' baby games. Happy birthday, lovely!!!"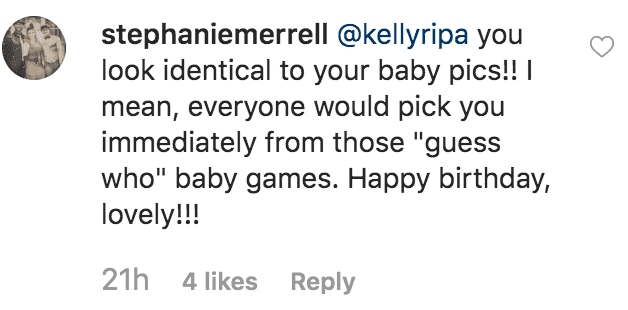 Fan comments on Mark Consuelos' birthday message to Kelly Ripa saying she looks just like she did as a baby | Source: instagram.com/instasuelos
Mark gifted her with several arrangements of white roses, which were sent to her dressing room on the set of her show, "Live with Kelly and Ryan."
Making her day at work even more special, her co-host, Ryan Seacrest filled her dressing room with giant balloons. Kelly jokes:
"What's going on in here? Nobody told me it was my final birthday death."
A birthday is never complete without cake. Finishing off her celebrations, Ryan surprises Kelly with a birthday cake made by "Cake Boss" Buddy Valastro.
The cake was made in the shape of a bread loaf. After the cake is wheeled out by Mark, she admits that she was excited by her surprise that she didn't even notice it was her husband presenting it to her.
Kelly, who is a fitness fanatic has always admitted that she loves carbs, especially bread. So it is no surprise Mark and Ryan came up with the idea to create a cake in honor of her favorite meal.
Please fill in your e-mail so we can share with you our top stories!