Theresa Caputo of 'Long Island Medium' Appears to Be in Good Spirits in New Photo after Her Son Is Home Following Surgery
Theresa Caputo's son is back home, and in a new photo post on social media, she appeared to be in good spirits.
Every mother wants their child well, so it's not surprising that Theresa Caputo is in good spirits after son, Larry Jr. returned home following a brief stay in the hospital. In a new post shared to her Instagram, the "Long Island Medium" star glowed.
The reality star, dressed in a black outfit, boots, and a baseball cap, posed beside a giant guitar with a collage of faces. Caputo leaned on the guitar with one hand, placed another on her waist, and captioned the post:
"I'll just casually lean here. #Westcoast #LongIslandmedium #Lovemynewhat #Posing."
Caputo's followers commented with a lot of appreciation for her look. One person wrote:
"Great picture, young chicky."

Another wrote:
"You look great."
While a third commented:
"Hi, you look fabulous."
The reality star had earlier shared a photo of Larry Jr. relaxing on a white sofa, with her holding his crutches. The picture got taken after the former TLC star returned from the hospital, and she captioned it:
"Back home with momma, while he heals from surgery."
In September, the mom-of-two informed her followers that her son was set to undergo ACL surgery after his bad knee, which he inherited from her, gave way.
Caputo kept her fans informed of Larry Jr's progress and got a lot of support from her followers on social media.
The TLC star shares her son, and a daughter, Victoria, with her ex-husband, Larry. The young man and his sister used to star on "Long Island Medium," and left in 2018, to forge their paths outside the show.
Larry Jr. works as the manager of studio operations at Madison Square Garden Networks, and his sister, as a stylist and makeup artist at Syosset salon in New York.
The siblings might have left their mother's show, but Caputo is forging ahead and is ready for the new season of the TLC show.
The new season will delve into the reality star's life as a single woman; show fans Victoria's wedding to Michael Mastrandrea, and feature readings for celebs like Wayne Brady, and Taylor Dayne.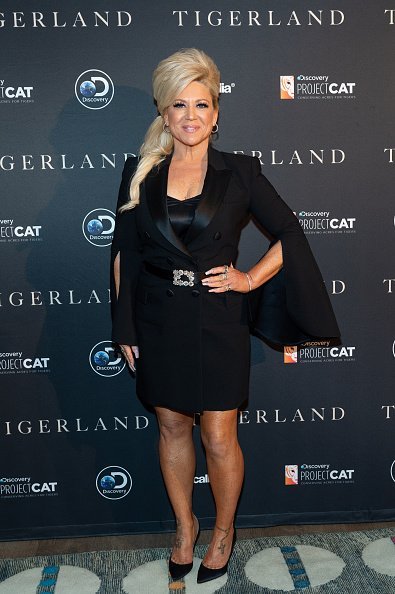 Fans will also get to see Caputo exorcise a bedroom spirit, and do some emotional readings. "Long Island Medium" premiers on TLC on October 18th at 9 pm.