Ashton Kutcher & Mila Kunis Are 'Very Much in Love' after Demi Moore's Revelations in Her Memoir: Report
Ashton Kutcher and Mila Kunis appear unbothered by the revelations made public in Demi Moore's new memoir, 'Inside Out.'
While avoiding all the questions about Demi Moore's memoir, "Inside Out," which accuses Ashton Kutcher of cheating, having threesomes and fathering a child she lost to a miscarriage, her ex-husband took a family trip to Disney Land.
Escaping to the happiest place in world, it is reported, Ashton and Mila Kunis enjoyed the family outing with their two children, daughter Wyatt and son Dimitri. In a caption he writes:
"Magical weekend @disneyland An imagination tinderbox. That Walt guy had a vision."
In light of the claims in her book, Ashton and Mila have not responded to the details surrounding Demi and Ashton's rocking relationship. A source close to the couple explains:
"Mila and Ashton are very much in love and have a strong and committed relationship. Neither is in favor of adverse publicity, but the book and Demi's TV promotions didn't do anything to shake their strong bond and love for each other and their children."
Ashton's ex-wife is on a promo tour for the release of her memoir, "Inside Out." The book, which was released on September 24, 2019, chronicles Demi's troubled childhood, relationships and addiction to drugs and alcohol.
Demi, who was married to Ashton for 8 years speaks candidly in her book about the insecurities she felt dating a much younger man. She reveals, she felt like she lost herself trying to be the ideal women for him by allowing threesomes and drinking again. 
In sharing about her relationship's with Ashton, Demi explains that the memoir is meant to give her perspective on those events in her life. 
Speaking to PEOPLE about how the information is affecting Ashton's marriage, the source adds:
"Ashton is not going to let someone else's personal issues or remarks about him get in the way of his life. Ashton has enough on his plate. He has a great life now. That is what counts."
Demi admits that they are friendly, and he is not bothered by the revelations in the books, a source confirms this with US Magazine saying:
"He's not mad or disappointed. This is Demi's truth, and he always felt sympathetic toward her. He knows her story and that her upbringing was difficult."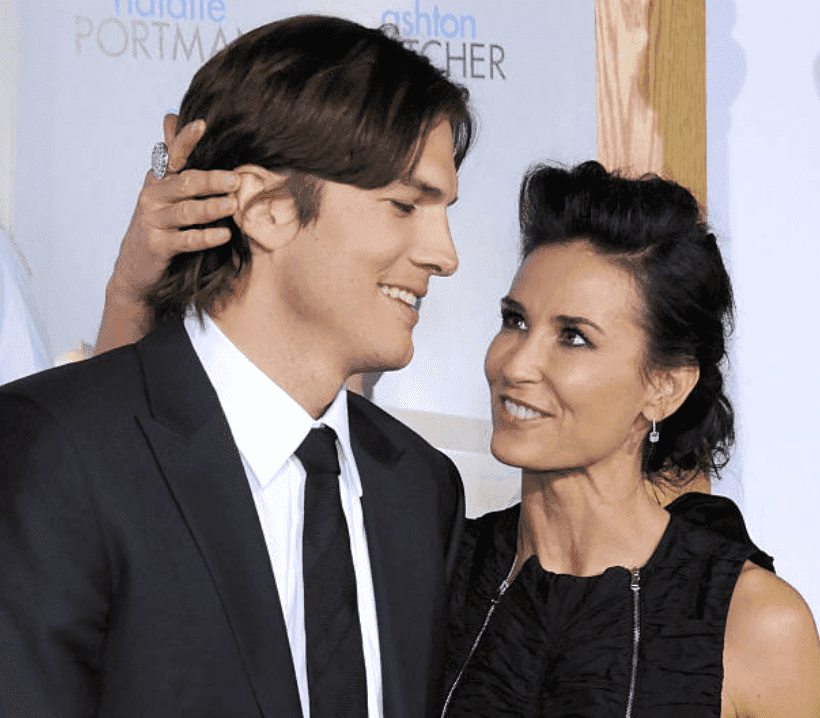 Initially Kutcher attempted to respond to earlier reports surrounding the book. In a since deleted tweet he says he was about to press send, but then caught a glimpse of his wife, Mila and their children, and decide not to tweet anything. 
He followed up his tweet with a quote from his father, Larry Kutcher, saying "Life is good."