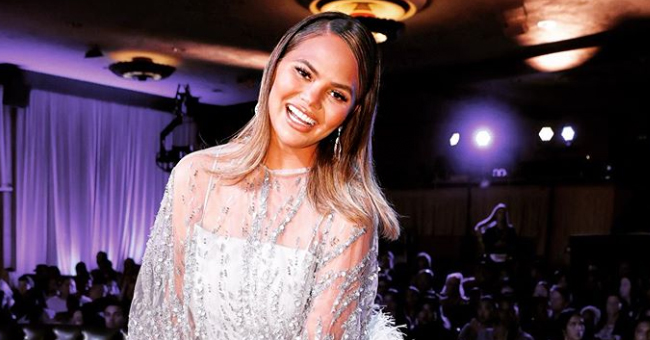 instagram.com/chrissyteigen
Chrissy Teigen of 'Bring the Funny' Reveals New Tattoo with Dates of Her Family's Birthdays
Chrissy Teigen shows she has an irreplaceable spot in her heart for her family as she now rocks the same tattoos with John Legend!
The model and TV personality shared some pictures on her Instagram account as she gets another set of tattoos.
The first photo shows her dressed in a yellow shirt and light blue jean trousers; Teigen looks away while the artist was doing his job on her arm.
The second photo shows the artist putting some touches on the new ink as he finishes up. The last photo is a monochrome picture; it shows the new tattoo on her arm, which is a collection of numbers, including her husband's special day and the birthdays of her kids.
The photo was captioned:
"cool mom back at it again with @winterstone."
Joking in the comments section, her husband, John Legend, commented, "the ultimate mnemonic device."
Getting her skin inked isn't a new thing for Teigen; with John Legend in April, she got uniform tattoos of their children, Miles, and Luna, on their arms.
In an Instagram post by Chrissy, to show their matching ink, she called her family "a cool tattoo" one. She also added a heart-shaped image inked on her index finger.
The 33-year-old acknowledged the tattoo artist, Daniel Winter, also known as Winter Stone, by describing him as not only delightful and kind but also incredibly talented.
Stone is based in Los Angeles and known for his clientele of influential people like Miley Cyrus, Sophie Turner, Lady Gaga, and many other celebrities.
Chrissy and John have taken after the trend of other celebrities by having the same tattoos as a couple. Rapper Jay-Z and his wife inked the same Roman Numeral IV tats on their wedding finger; the tattoo represents their wedding day and birth dates.
The "butterfly effect" crooner, Travis Scott, and his girlfriend, Kylie Jenner also share the same butterfly tattoos.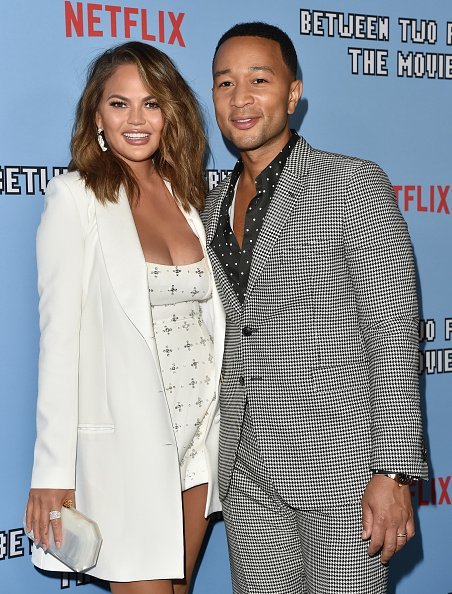 Chrissy Teigen and John Legend at the LA Premiere of Netflix's "Between Two Ferns: The Movie" | Photo: Getty Images
Teigen, who is a mother of two, talked about her weight; she disclosed that she is 20lbs bigger than before she gave birth to Miles, but it doesn't bother her.
She further explained that she is really enjoying being a mother. Chrissy is fond of sharing updates and pictures of her children on social media.
Please fill in your e-mail so we can share with you our top stories!