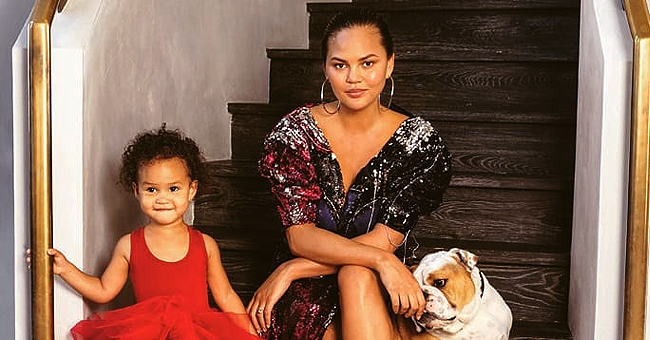 Instagram/johnlegend
Chrissy Teigen Looks like Daughter Luna in Throwback Photo of the Model and Her Mom

Celebrity Chrissy Teigen and daughter Luna are twins in a throwback photo.
Chrissy Teigen shared a throwback photo on Instagram that proves that she is the spitting image of daughter Luna at the same age.
The adorable snap, taken decades ago, shows just how much little Luna looks like her beautiful mom.
MOM'S MIRROR IMAGE
The snap, taken sometime in the 90s, shows a young Chrissy standing next to her mother on a tropical beach.
Her mom, Vilailuck Teigen, looks casual and chic in a silk shirt and denim shorts, while little Chrissy wears a pink polka dot dress and Luna's face.
If Luna is her mother Chrissy Teigen's double, then Miles Theodore is his dad's John Legend's mini-me.
COPY THOSE CURLS
From her expression, her delicate features and her sweet smile, the snap of Chrissy could be mistaken for a slightly older Luna, even down to her tousled mop of unruly curls. Like mother, exactly like daughter.
FANS COMMENT ON THE ADORABLE SNAP
Chrissy's 25 million Instagram followers loved the photo, which scored over 365,000 likes, and dozens of comments from admirers.
"Omg, Yes Luna is Chrissy twin?but Chissy- at first glance i thought whos that lil girl standing with Chrissy! You look just like your momma as well. Beauties?"
"Is that Luna with your mom??❤️ #twins"
"Wow -you are Luna and Luna is you."
CHRISSY TEIGEN'S MOM TO STAR IN TV SHOW
Chrissy's mother, Vilailuck, who is a native of Thailand, became a US citizen in 2018 and lives with her daughter and her famous husband in Los Angeles.
"It's so helpful to have her live with us. She's the most incredible grandma. Luna is so close with her," Chrissy said.
And grandmother Vilailuck is about to venture into showbiz alongside her celebrity daughter in a comedy called "Chrissy Court" in which the model will star as a courtroom judge, and her mother as the bailiff.
This should be fun!
JOHN LEGEND'S MINI-ME MILES
If Luna is her mother Chrissy Teigen's double, then Miles Theodore is his dad's John Legend's mini-me.
The one-year-old bears an eery resemblance to his father - could this be a special effect from "Honey I Shrunk The Kids"?
And according to Chrissy, the resemblance is more than skin deep.
"Miles is so reserved—he's just John. He's just a cuddly, lovable little ball," she said.
We can't wait to see Miles grow up. Has he also inherited dad's incredible musical talent? Only time will tell.
Please fill in your e-mail so we can share with you our top stories!