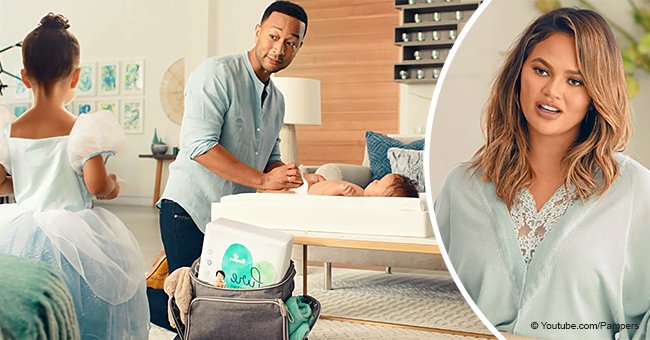 'Somebody's got a stinky booty!' John Legend, his wife & kids star in cute Pampers commercial

Singer John Legend, his wife Chrissy Teigen, and Adam Levine became the principal stars of a new Pampers ad called "Stinky Booty Duty 2.0."
The clip started with John trying to change the diaper of his baby boy Miles. When he realized that his son got a "stinky booty," he told his daughter Luna that he needed backup.
Two-year-old Luna, who was wearing a princess-like dress, was holding a box of baby wipes and throwing them at her father. John then turned around as if he was asking for the help of the many other fathers behind him.
THE SONG
Soon later, they all started singing in choir, "Somebody/got a stinky (so stinky)/booty! (booty booty booty)/It's a stinky booty/booty booty booty booty booty/it's so stinky."
When the song was apparently reaching its end, the group of men move away to show another man finishing his diaper duties. It was Adam Levine, who ended the song with, "and daddy's gonna clean it up," taking care of his baby Gio.
CHRISSY'S REACTION
Then, Adam held up his son and the group of men sang looking at John. At that point, Chrissy Teigen, John's wife, got in the house and was obviously confused about the crowd, though Adam made it seem like if it was quite common.
Chrissy then asked, "must we do this every time?" John didn't reply but just smiled at her. Even though the one-minute clip hit YouTube on February 3, it has almost three million views already.
In Chrissy's Instagram account, though, the video has reached more than four million views. Her followers took to the comment section to share their thoughts on such an adorable ad.
"This is amazing. I see world is changing and dads are more committed to their children. I hope this ad will be played in all over the world, especially in Asian countries where taking care of children is still women's job," pointed out a user.
"This is the best thing I've ever seen," admitted another follower.
"Love it...one of my favorite parts of having a baby...best time to talk to your baby or sing," said another person.
JOHN AND LUNA MELTING HEARTS
It is not the first time that John and his children make headlines. A couple of days ago, the singer took to Instagram to share a set of pics showing his daddy-daughter time with Luna.
In the first shot, Luna rocked a pink dress as she proudly showed off her stylish red wig. For the second image, it was John's turn to put on the wig. The crooner was delighted by the look, apparently making his daughter had a good belly laugh.
"She loves this wig," John wrote on the post. Chrissy, on the other hand, shared the same pics to her account, and captioned the post, "my babies are having too much fun without me."
Please fill in your e-mail so we can share with you our top stories!