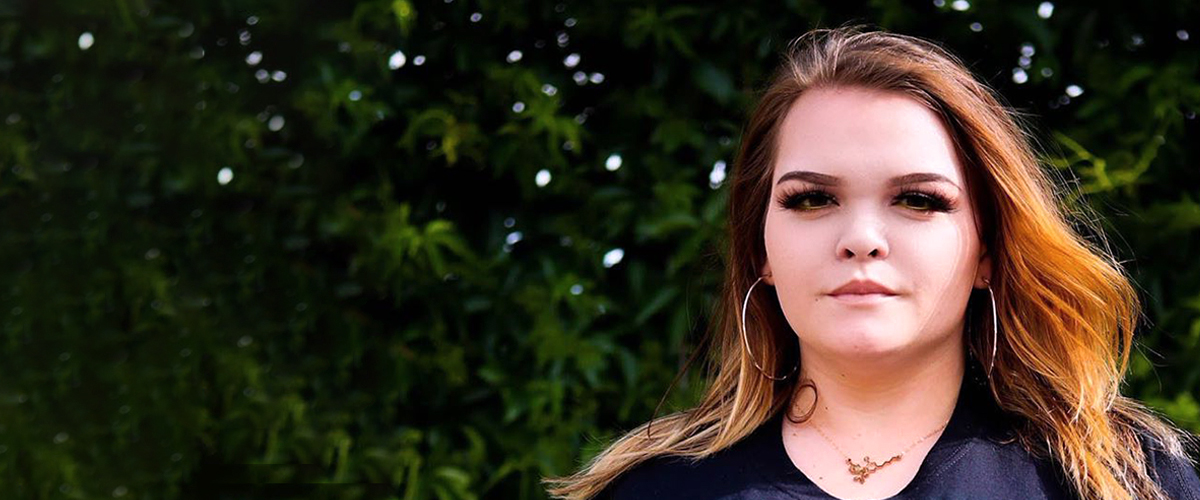 instagram.com/bonniejoc
Bonnie Chapman Reveals That She Was Hospitalized Due to a Bad Case of Sciatica in Update to Fans

Bonnie Chapman updated fans about what led to her hospitalization earlier this week. She was apparently in "excruciating pain" but is recovering.
The Chapman family have been going to the hospital back to back recently. This week, 20-year-old Bonnie's turn came when she suffered from sciatica and a high blood rate.
She took to Instagram stories to go into more detail about what happened to her. Bonnie returned home from the hospital on Tuesday. The captured story is found below.
In front of some mountain scenery, she wrote:
"Hey guys, I was hospitalized due to a bad case of sciatica. If you watched my live a couple days ago, I was in a lot of pain due to my back. This pain came back Tuesday, and yesterday I went to the hospital for the pain."
She further explained that her heartbeats per minute (BPM) was 130 when a normal rate is around 100. Thankfully, she's no longer in "excruciating pain" and is on her way to recovery.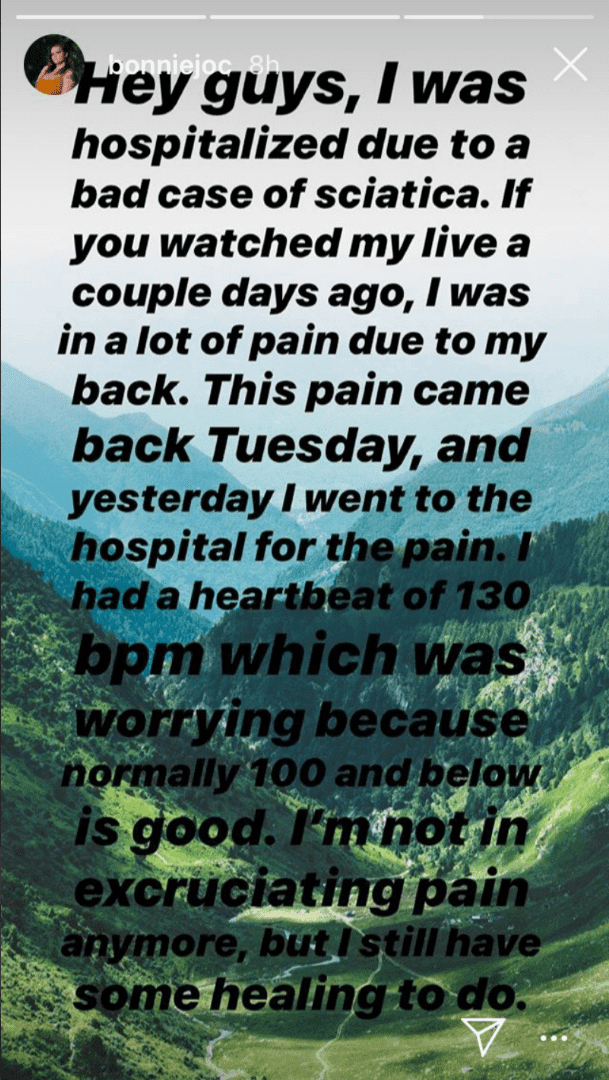 Bonnie Chapman updates fans after hospitalization | Photo: Instagram/ Bonniejoc
According to Yahoo, the Colorado-based makeup artist also went to the hospital mid-last week. Just a week earlier, her father Duane Chapman was hospitalized for a pulmonary embolism.
Prior to that, half-brother Leland Chapman went to the hospital for a severe knee injury incurred while he was bounty hunting in Colorado.
Bonnie showed support for her dad by posting a throwback family photo along with the caption, "Love you, pops." The photo showed Bonnie, her sister Cecily, and their parents chilling at home.
Duane blamed his heart issue on the grief he still feels from the death of his wife Beth who passed away at 51 on June 26 from throat and lung cancer.
Sometime before she died, Beth told Duane that he was going to be "so sad when [she] dies," but assured him that it would be alright. She also told advised him that the bible says "time heals all wounds."
Duane said that he checked and that's not in the Bible. Finally, Beth told him to make sure he keeps the tattoo of her name on his chest no matter what.
After meeting with Dr. Oz, Duane disclosed that a part of him doesn't care if he stays alive. Thankfully, he was convinced to change his mind and make changes for the sake of his kids.
Those changes include taking blood thinners, fixing his diet, and taking steps towards quitting smoking. Duane told People: "I'm not afraid to die anymore, but I really didn't care for awhile if something would happen. I do care now."
Even closer to her death, Beth spoke to daughter Bonnie, who later shared her mother's last words to her with the world. The mourning daughter screenshotted the text conversation they had.
In it, they discussed Bonnie's new nails. Beth told her daughter they were "very pretty" as the women spoke about how much it must have hurt. "No pain no gain," was Beth's very last message to Bonnie.
Please fill in your e-mail so we can share with you our top stories!